We all have different needs when it comes to planning our vacation. Especially where are we going to spend it, and by that I don't mean geographical location. Yes, the location is the most important thing when we talk about holidays but some of us like to be pampered
in a luxurious and comfortable environment instead of sleeping in a sleeping bag under the stars. Everything has its charms but today we will talk about luxury villas that will make you feel like royalty. What really sets apart luxury villa interior from ordinary home are materials and details.
1. Villa Lavie, Zadar, 16 persons
A luxury interior of this villa is a feast for the eyes with layers of visually stimulating colors, textures and forms. Marble in the bathroom, golden details in the bedrooms might just be the ultimate luxury statement. Use of large, oversized luxury furniture to fill these large spaces, with upholstery made from the materials like velvet, tufted furniture, silk covers on the bed and reflecting nightstands makes this villa a unique place to spend your holiday in.
Hard heavy drapes surrounding the bathrooms and, on the window, additionally give the impression of a somewhat baroque interior. Use of black, golden, gray, silver and brown color symbolizes wealth and gives a room luxurious note.
With one pool in the yard and another at the rooftop with bar, DJs pult, sun loungers and lounge aera, makes you feel like you're having fun in some club under the stars. Dancing and drinking cocktails... Maybe later you can relax in the jacuzzi or sauna. Need I say more?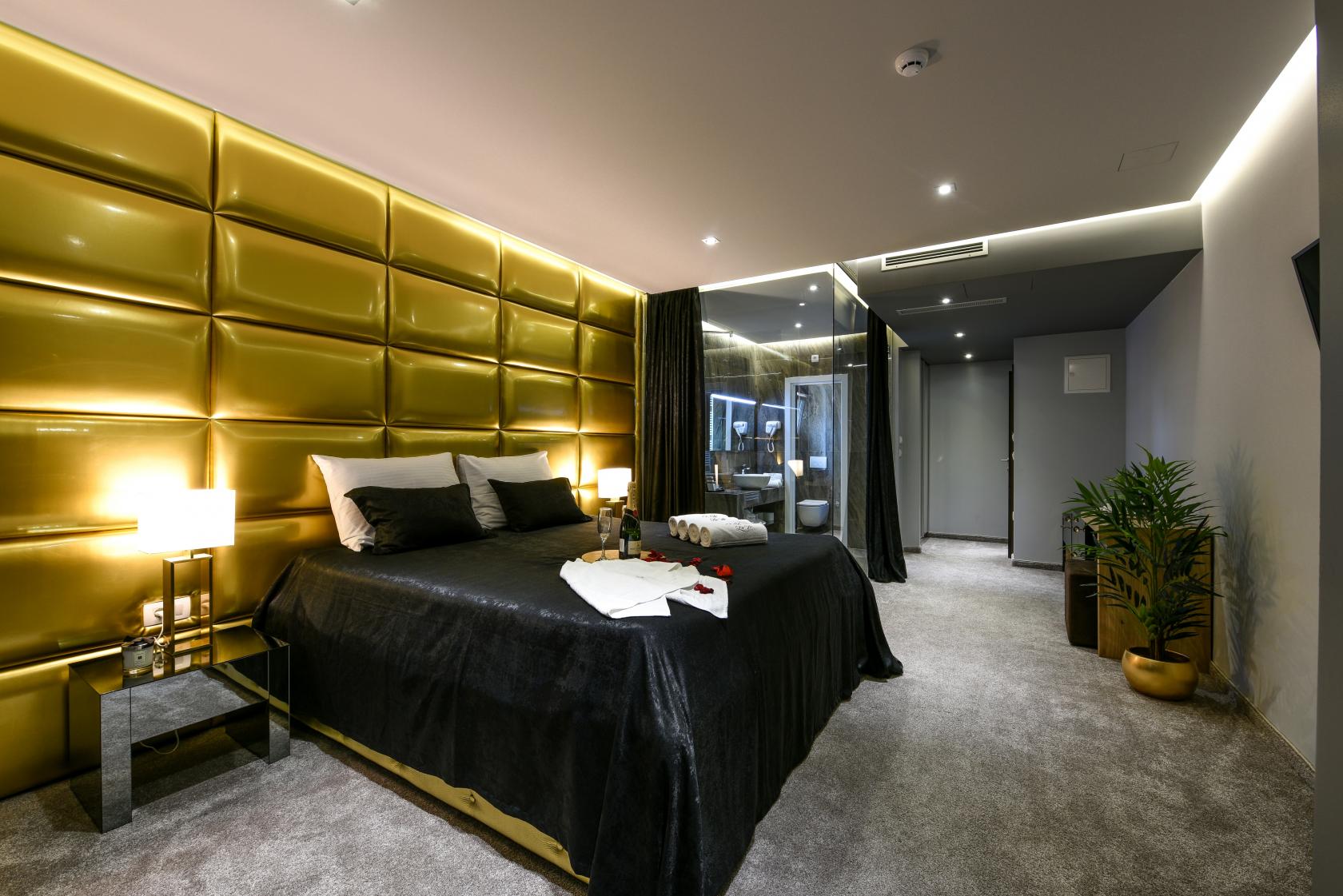 https://www.zadarvillas.com/en/villa-rentals-in-croatia/104/villa-lavie-zadar-16-persons/
2. Villa Adora, Gorica, 10 persons
One word- modern. Bright. Ok, those are two words but also insufficient to describe this luxury contemporary villa. Mix of pastel and white in the kitchen and dining aera combined with modern decorating gives an outstanding and fresh look. However, details of wood-colored furniture give the space much softer look and not so sterile.
Modern style furnishings and decor in this villa celebrate natural materials, neutral or earthy colors. Pastel pallet dominates in the living room and bedrooms. These lighter shades work perfectly with the velvet and satin cushions materials for an overall calming feel and gentle simplicity. Lots of natural light that comes from big glass doors and light sheer curtains give the impression of brightness. Calming wallpapers above the headboard give the bedrooms elegant and classy look.
The greatest surprise will welcome you on the lowest level of the villa where you can find a big lounge area with billiards, a large television screen and bar. Feeling tempted?
https://www.zadarvillas.com/en/villa-rentals-in-croatia/1/villa-adora-gorica-10-persons/
3. Villa Mirta, Novigrad, 6 persons
Do you really want to feel like a king / queen staying on a hill in your own castle and enjoying in the stunning view of the whole area? Then this is the right place for you. This villa is blessed with a sweeping panoramic view and that is one of the things that makes this home so special. Modern minimalistic kitchen opens to the cozy living room with sofa enriched with lots of different cushions, with a variety of textures and sizes to liven up the space.
In bedrooms this style is even more emphasized. A layered, thoughtful mix of materials and textures gives the space a custom-designed, luxurious look. Fluffy rugs, different kind of pillows, eclectic wallpapers, metallic details and chic chandeliers create a charming, inviting space in the bedrooms.
Luxury isn't only about aesthetics but about comfort too. I'm sure you will feel quite as comfortable in this splendid villa sipping coffee and enjoying in a spectacular view.
For fun you have billiards and for those active there is a gym. Outside besides the pool you can also enjoy in your private hacienda surrounded by plants and flowers.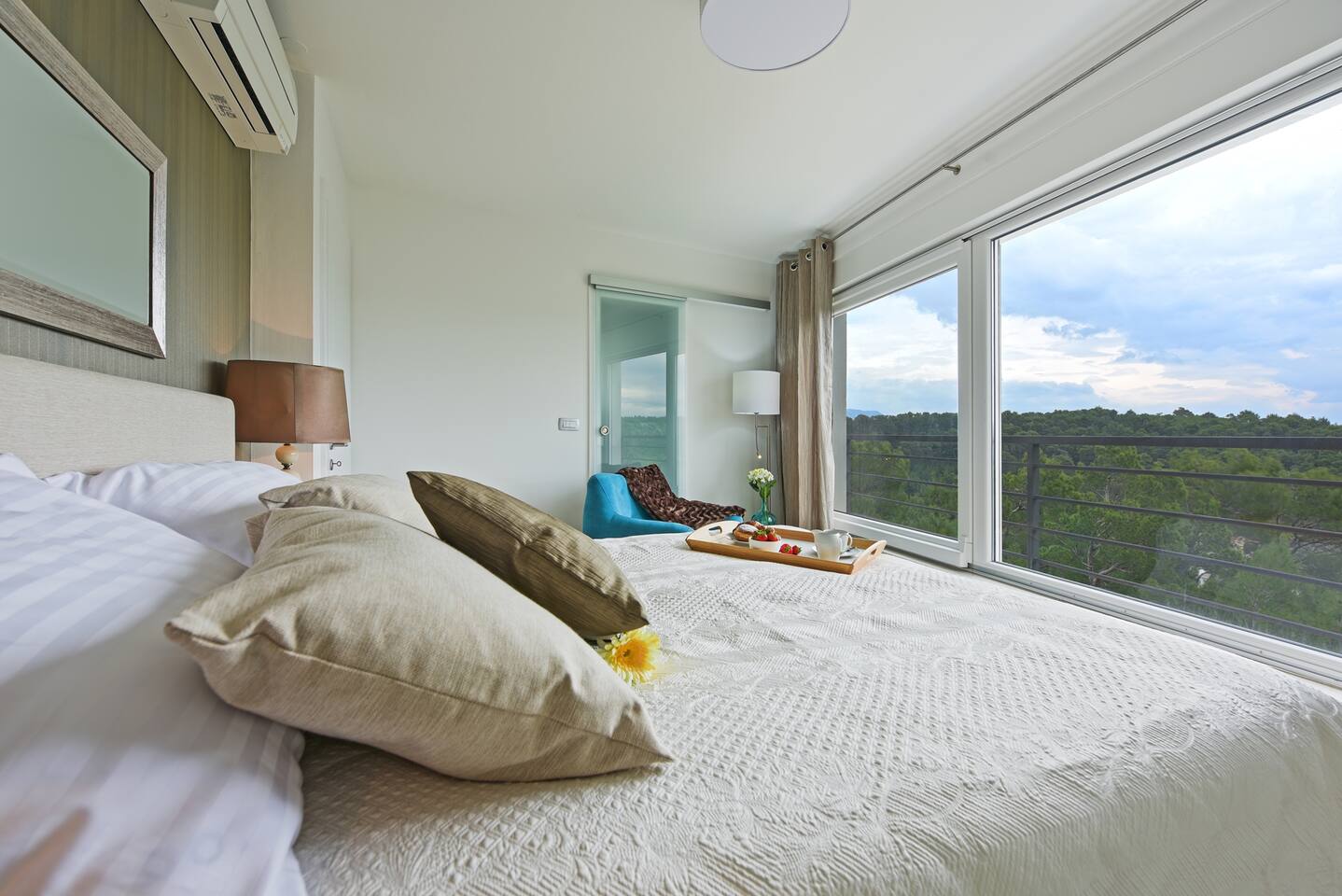 https://www.zadarvillas.com/en/villa-rentals-in-croatia/40/villa-mirta-novigrad-6-persons/
4. Villa Mek, Pridraga, 8 persons
Approaching this villa will make you feel like you have come to some tropic resort surrounded by palm trees with a private heated pool and jacuzzi. For those that like to stay active on their vacation, the villa has its own tennis court that can be turned into a football or basketball field. For the youngest guests there is also a playground. With its pale blue shutter's, its reminiscence of an old Dalmatian houses.
But what really makes this villa special is interior that will leave you speechless. Everything is decorated in rustic style with a dose of luxury. And with a big dose. It is furnished with quality high end rustic furniture with beautiful exposed stone walls and old ceiling beams recreating the original atmosphere in old Dalmatian villas. The kitchen is very charming with bronze faucet and handles. And living room with its wooden furniture, massive brown sofas and a coffee table that looks like an untreated piece of wood with iron legs really adds a feeling of warmth and comfort to this room. An addition is a unique armoire with vintage dishes and candlesticks in it and a fireplace.
The whole house is dominated by iron details including chandeliers, bed frames, nightstands or mirror frames. Bedrooms are equipped with high quality linen and in one room there is wooden canopy bed. Bathrooms are an additional decorating treat. Stone sinks, gold faucets and one bathroom with a barrel beneath the sink adds to unforgettable experience in this villa.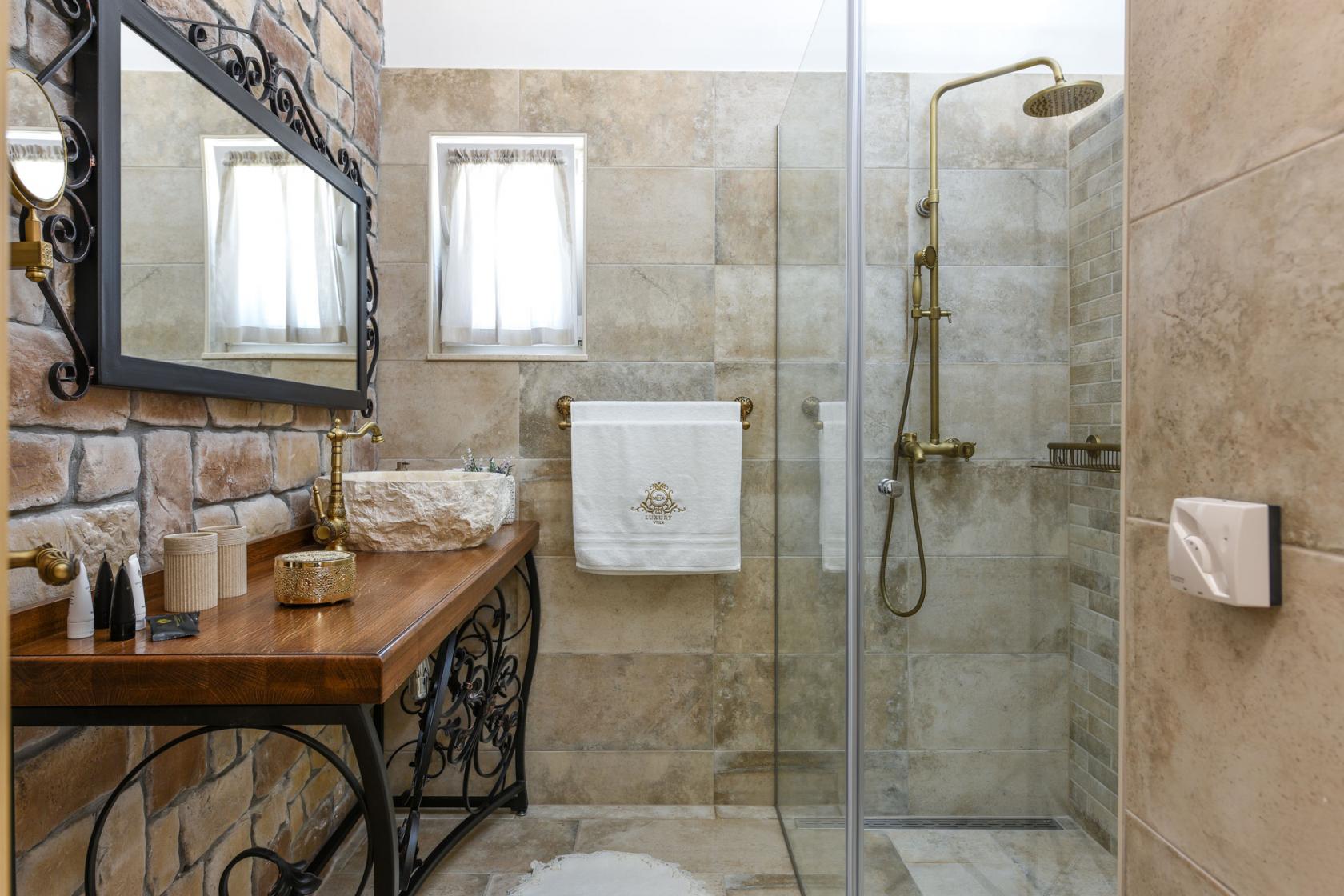 https://www.zadarvillas.com/en/villa-rentals-in-croatia/38/villa-mek-pridraga-8-persons/
All you have to do is visit us!
Stay safe and healthy!
ZadarVillas team