You got together with all your friends, their significant others or with your extended family and decided to spend an annual vacation together at least once in your lifetime. Perhaps you are afraid that considering the number of people, you will not find suitable accommodation, i.e. accommodation that would suit the majority and accommodation where you can all fit without renting individual rooms in the hotel. That's where we come in. We offer beautiful villas with a capacity of up to 20 persons with many amenities that will surely make your vacation fun.
Whether you come with a group of friends or with children, we offer you amazing villas with a tennis court, playground for children, a jacuzzi, a barbecue, a garden, and in some villas you can even bring your furry friends where they can enjoy themselves undisturbed. Don't hesitate to take a look at what we have to offer just for you...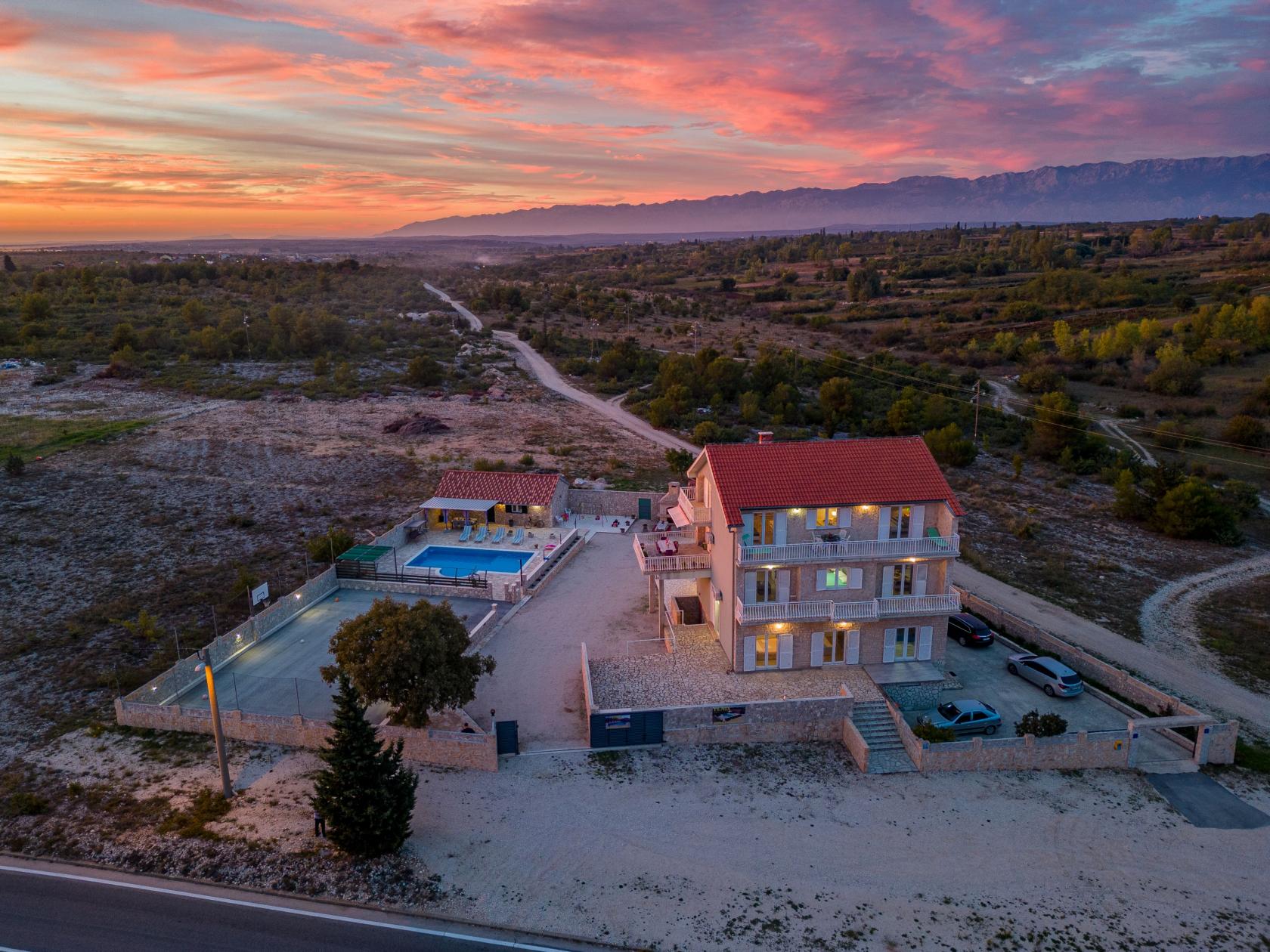 This impressive estate with a spacious courtyard and a private pool is located in Biljane Donje in the municipality of Benkovac. It is only ten minutes away from the Zadar airport in Zemunik, and you certainly won't miss it because it is located right next to the main road, surrounded by only a few neighbors and endless green fields that reach all the way to the Velebit mountain.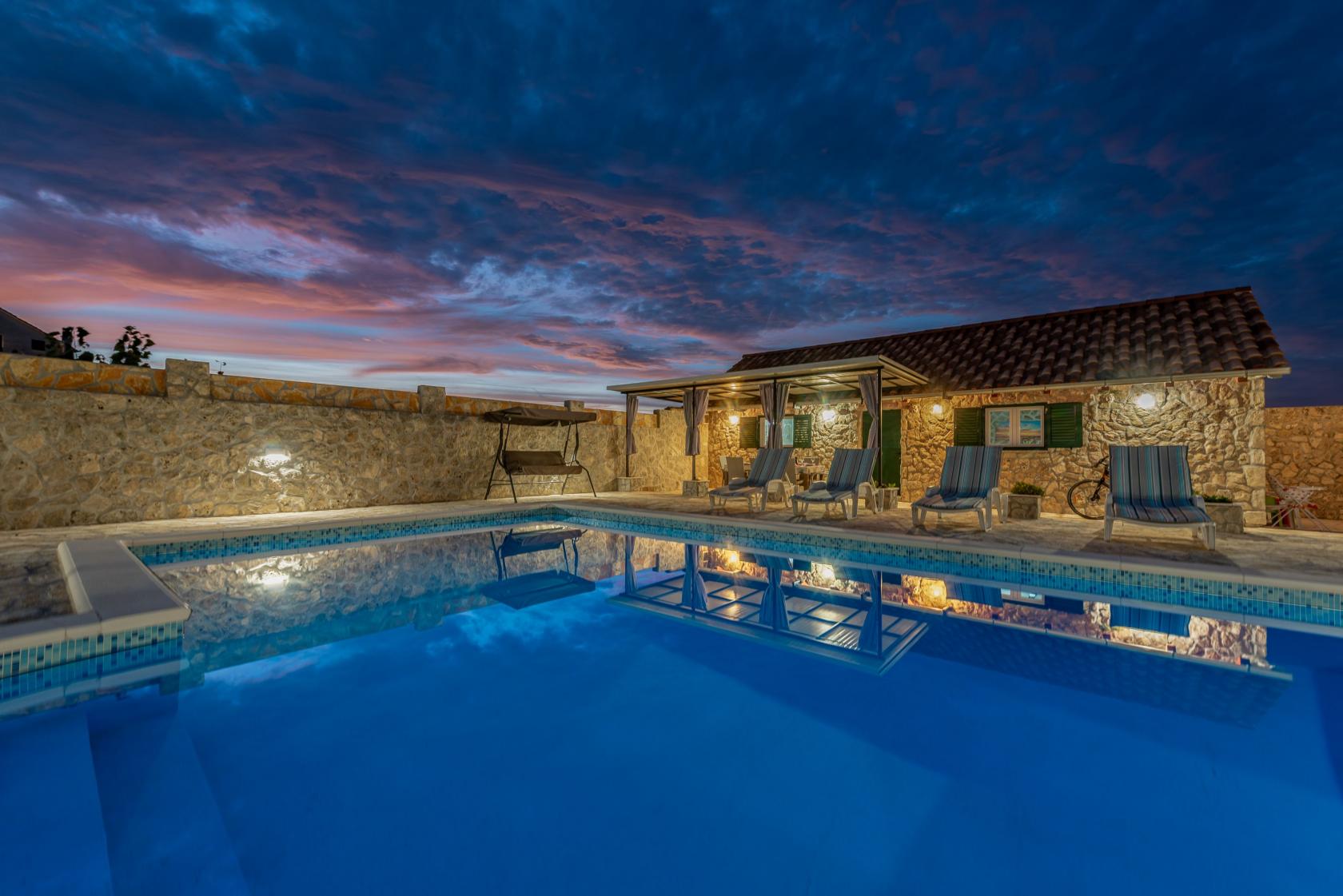 Villa Fenix ​​can accommodate 14 people in 8 rooms, 4 bathrooms, 2 toilets spread over two floors and two separate apartments, each unit with its own living room and kitchen. This villa is ideal for a large group of friends or several families where everyone can have their privacy and yet enjoy socializing in the common areas. On the ground floor there are two rooms with a kitchen, a dining room and a living room, as well as a bathroom and a separate toilet. On the second floor, there are two more rooms with a shared bathroom, kitchen, dining room and living room. In the courtyard two more separate apartments are located next to the pool, each with its own kitchen and bathroom.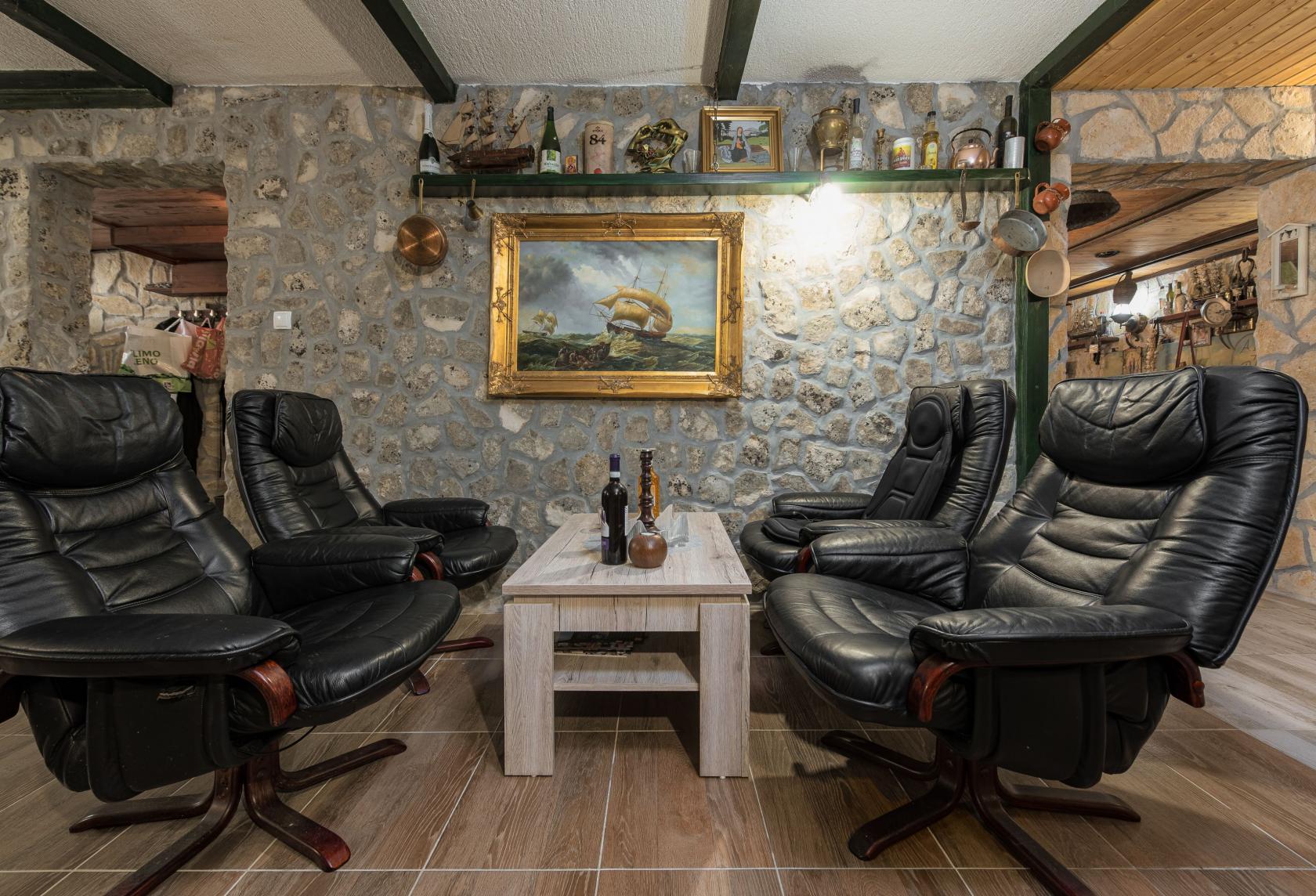 The pool is surrounded by sunbeds and umbrellas and has covered dining tables on each side. There is a grill for preparing traditional Dalmatian specialties and a children's playground. For entertainment, there is table tennis, darts, and a football and basketball court.
Within the house there is a traditionally decorated tavern with a bar, a dining table and a space for chilling, and a wine cellar. There are also 2 bicycles for exploring the surrounding areas, as well as a garage and an outdoor parking lot.
This beautiful modern villa is located right next to the sea in a small tourist place called Turanj. It is adorned with a long promenade by the sea full of small Mediterranean restaurants and cafes and beaches at every turn. In front there are two small islands Babac and Komornik and not far away is the famous heart-shaped island Galešnjak.
Villa Blue Sky is located only 100 m from the sea and offers a beautiful view of the blue sea and the nearby islands. The house is fenced so it offers complete privacy. The villa is designed as a semi-detached villa that can accommodate a total of 20 people in 8 rooms and 4 living rooms. So, each half is spread over two floors and has 4 bedrooms, 2 bathrooms, 2 living rooms, 2 kitchens and can accommodate 10 people. Each floor has two bedrooms, 1 bathroom and a kitchen with living room, which is ideal for more families or groups of friends who want to have their own privacy. In the yard you will find 2 beautiful swimming pools surrounded by deck chairs, 2 stone barbecues and 2 covered dining areas. In addition to the balcony from which you can enjoy the view of the sea and the beach, there is a roof terrace which is divided into two parts, each of which has a jacuzzi, barbecue, lounge area and another covered dining area. The view that awaits you on the roof terrace will simply knock you off your feet. So all major amenities are a plus one here!
If you are interested in an active vacation and are thinking about exploring the surroundings on a bicycle, there is also the possibility of renting a bicycle.
Villa Heaven is located in Zemunik Donji, only 10 km from Zadar and only 3 km from the airport. Zemunik Donji offers you peace and quiet in a rural environment, yet it is a few minutes' drive from Zadar, which is a real tourist center in the summer.
Villa Heaven has 4 studio apartments, a room with a double bed and a room with a sofa bed, 5 bathrooms, a common living room with a kitchen and a dining room, and can accommodate up to 12 people. It is ideal for several families or a large group of friends who come together on vacation and want to have their privacy. You can also spend your moments together in the spacious courtyard of the villa, which offers various facilities for your best comfort. The courtyard is dominated by a large heated swimming pool surrounded by deckchairs and a covered barbecue with a dining area for 12 people. Here you can enjoy the preparation of traditional Dalmatian specialties in the open air, while the others are enjoining the pool and the children are playing on the playground.
The villa also offers a covered area by the pool for drinking morning coffee or evening cocktails or simply relaxing in the shade. The special feature of this villa is the wine cellar / tavern, which will enchant you with its rustic decoration and Dalmatian flair. There is a dining room and a TV to make your gatherings as pleasant as possible. Villa Heaven also accepts pets and the property is completely fenced and offers complete privacy, so you don't have to worry about your pets getting lost.
Best regards,
your Zadar Villas team