The holidays are over, we are back at work and it is time to plan our annual vacation. Someone likes to relax in the countryside, someone at the sea, and let's be honest, we all like waking up to beautiful views of the sea or endless greenery. As of this year, we offer some new beautiful villas with even more impressive views that will not leave anyone indifferent. If you are currently planning your vacation, take a minute and see what we have for you...
Some are located right next to the beach, some are a few meters away, and some are surrounded by beautiful nature, but each has everything you need for a relaxing vacation: private pool, fenced yard, barbecue, fully equipped kitchen, high-speed internet, close to shops and restaurants, and a view... That majestic view!
Villa Mareni is located in the small town of Ražanac near Velebit. Ražanac is a charming coastal town located not far from Zadar on the southeastern side of Velebit. A quiet and secluded place, ideal for those who want to enjoy a peaceful and relaxing vacation.
This newly built villa will enchant you with its ambiance and superb location with a unique view of the magnificent Velebit and the sea that merges with it. Located on karst soil, with its modern appearance it is completely assimilated into the surrounding area. Fully equipped, it contains 3 bedrooms, 2 bathrooms, a large living room with kitchen and dining room and can accommodate 6 + 1 person.
For additional pleasure, in the spacious courtyard there is a swimming pool surrounded by deckchairs and a stone house with a grill and a dining table for preparing traditional Dalmatian specialties. There is also a covered terrace for drinking morning coffee or evening cocktails with a beautiful view of the Adriatic.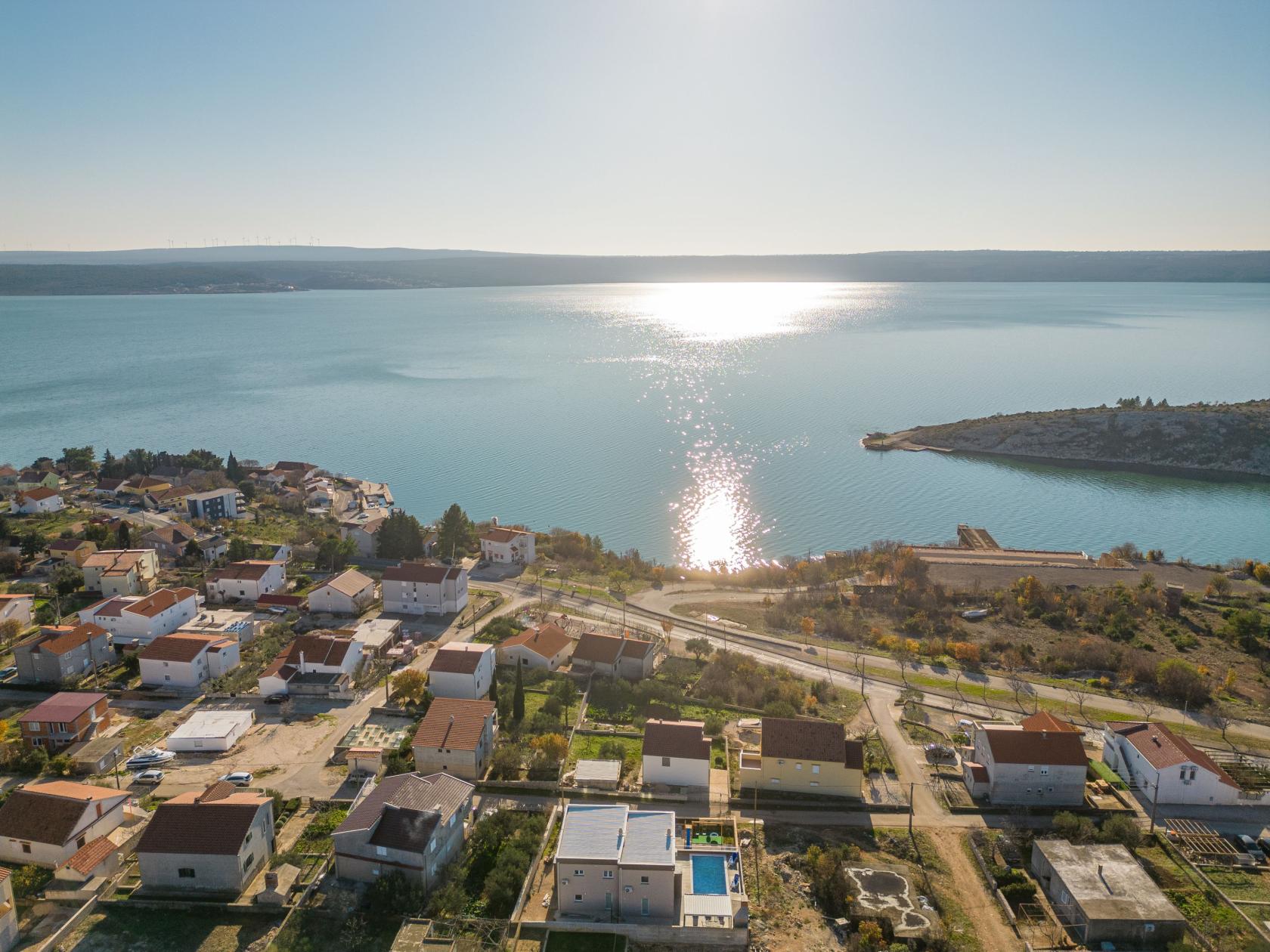 Villa Azeret is located in the quiet coastal settlement Maslenica. Maslenica belongs to the municipality of Jasenice and is located in a deep natural bay - the Novigrad Sea, not far from the mouth of the Zrmanja river. The symbols of this settlement are the century-old olive groves from which it got its name, which the locals still cultivate along the coast, and the Maslenica Bridge, which connects continental Croatia with Dalmatia.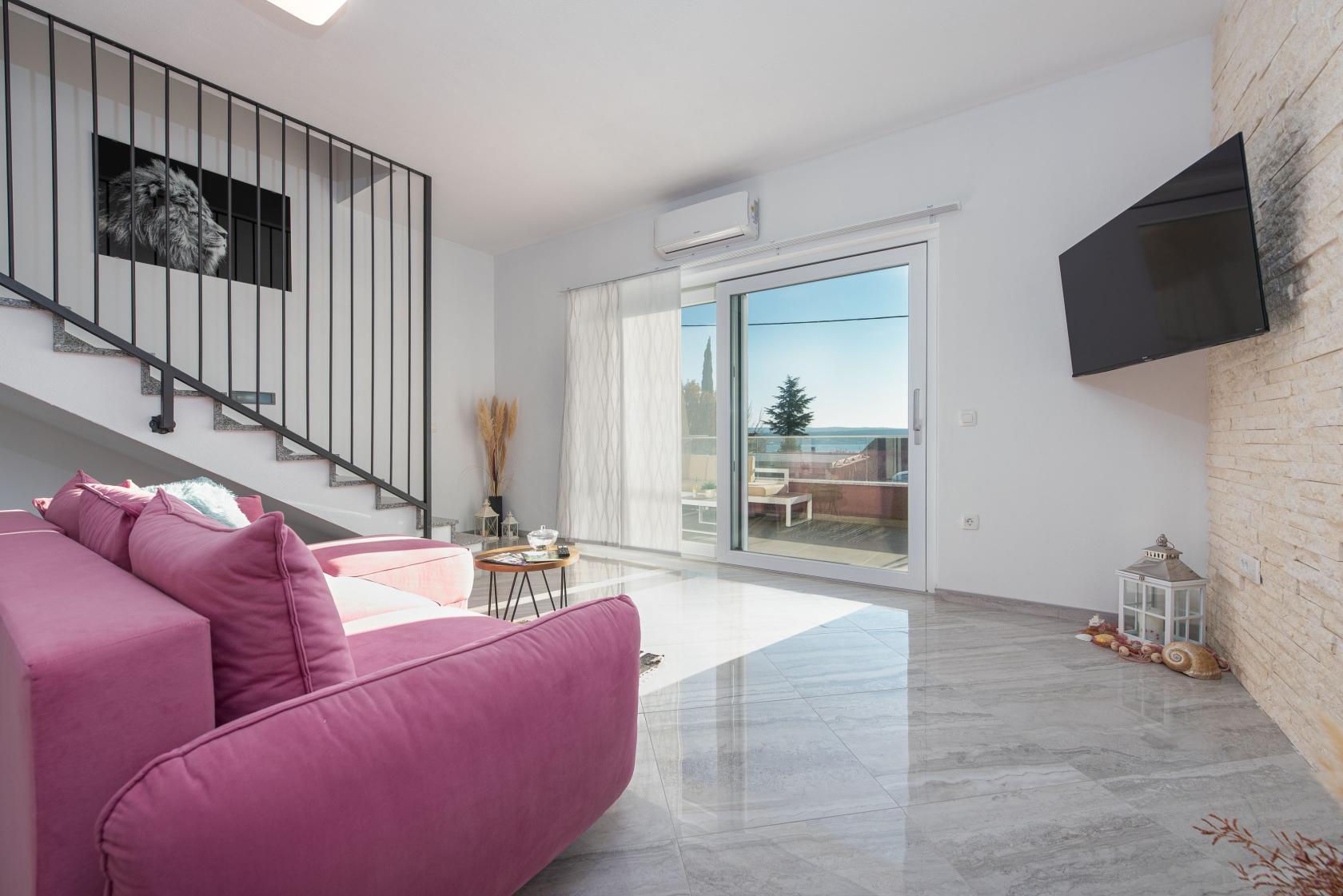 Villa Azeret has open space living room with dining room and a kitchen, 2 bedrooms, 2 bathrooms with a separate toilet and can accommodate up to 6 people. One room offers a bunk bed and a double bed, while the other room has one double bed. The outdoor area will completely delight you because it offers two terraces, one behind the other. On the lower terrace there is a playground for children and an entrance to the game room that offers billiards, table football, Playstation and various board games.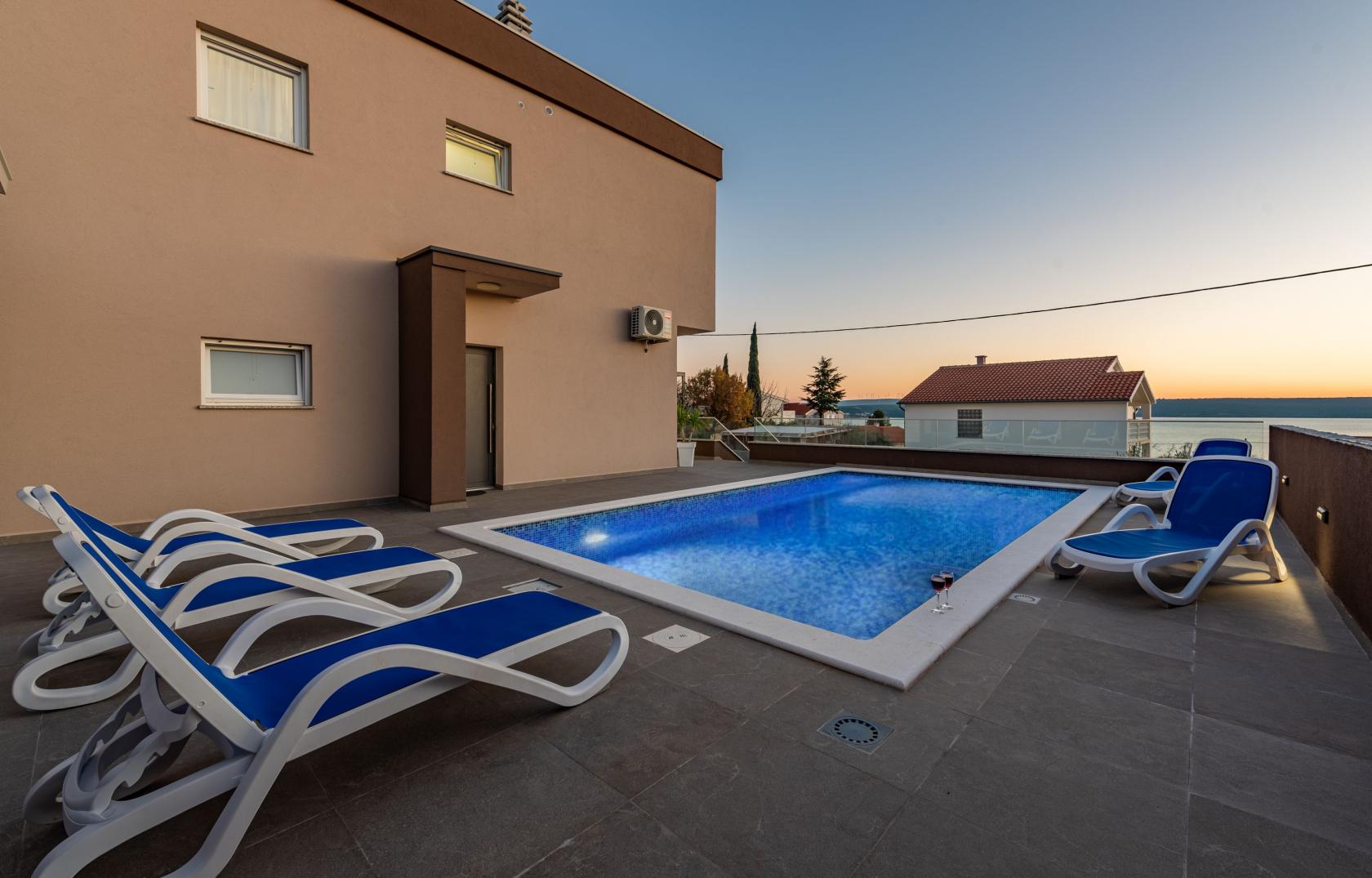 On the upper terrace of the villa there is a beautiful private pool surrounded by deckchairs with a view of the sea, which is only 180 m from the house. There is also an outdoor grill with a covered dining area and furniture for relaxing and drinking morning coffee or evening cocktails.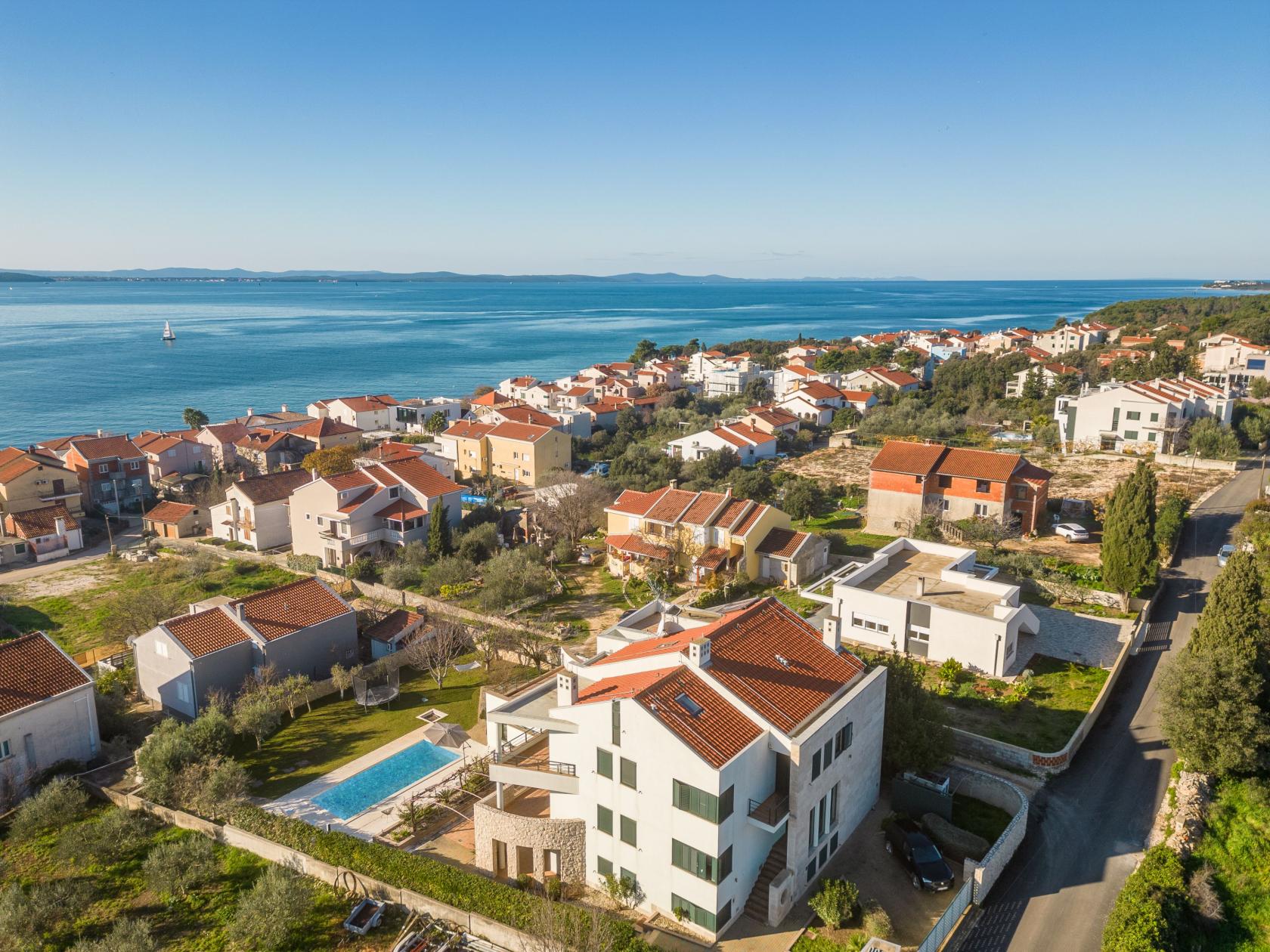 Villa Paradise is located in the settlement Diklo in the city of Zadar. The city of Zadar is a real tourist center and an ancient Mediterranean port whose beauty of the old town will delight you. Surrounded by walls on the peninsula and connected by a bridge to the new part of the city, the old town is a living monument of ancient, medieval and Renaissance art.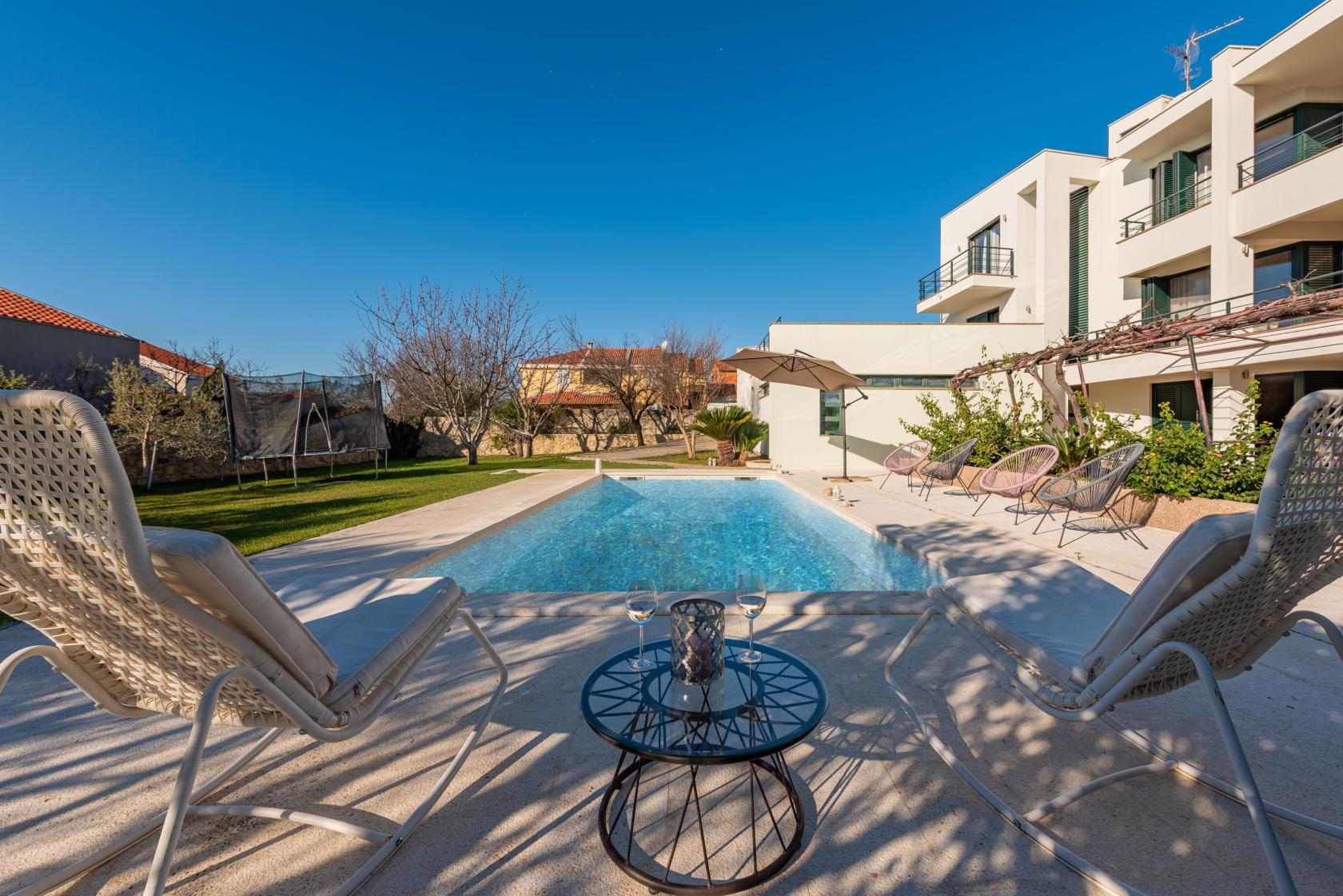 Even though villa Paradise is located in the city, it is completely surrounded by a hedge and a high wall and offers complete privacy. In the garden of the house there are olive trees and vineyard that surround a private pool with deckchairs for sunbathing and garden chairs for drinking morning coffee by the pool or evening cocktails. There is also a large terrace on the first floor where you can sunbathe and 3 more balconies to enjoy the view of the sea. There is also a trampoline for the youngest and in addition the villa offers 4 bicycles with which you can visit the surrounding beaches and the city of Zadar.
Villa Paradise has 6 ensuite bedrooms and a large living room with a dining room and kitchen and a wine cellar with an indoor grill and kitchen and a large dining room for 16 people. Upstairs there are two smaller living rooms with a kitchenette, which is ideal for a large group of friends or several families who come together on vacation and want to have their privacy.
This charming villa with pool is located in the village of Filipana in the southeast of the Istrian peninsula, only 15 km from Pula. Filipana as a part of municipality of Marčana is a perfect destination for anyone looking for a different form of vacation, away from the summer crowds, because untouched nature and a multitude of cultural and historical monuments await you there.
Villa Caerus is located in a quiet place with only a few neighbors and is surrounded by olive groves and endless greenery. The villa has 2 bedrooms, 3 bathrooms, a living room with a kitchen and can accommodate up to 6 people. Each room has its own private bathroom and another bathroom for shared use. Kitchen with dining room and open-plan living room offer everything you need for your vacation. At the very entrance to the yard, which is surrounded by a wall, a children's playground awaits you on one side and a heated swimming pool surrounded by deck chairs for sunbathing. There is also a covered dining area with a grill for preparing traditional Istrian specialties and enjoying shared meals with your family and friends.
There is also a separate part of the house with a gym and sauna.
For any further questions we will be at your disposal at any time.
Your Zadar Villas team