You came to Zadar for a few days and you don't know where to go for a swim or achieve that bronze tan that you dreamt of? With friends or family, it doesn't matter, we bring you 5 beautiful beaches in Zadar county that you should never miss visiting.
1. Sakarun beach

Sakarun beach is located in the northern part of Long Island, and it is 800 meters long. Saharun is a sandy beach with an extremely shallow sea that is ideal for families with children. It takes about an hour by ferry or catamaran to get to Long island and then you can go by bus or tourist train to the beach. The beach is sourranded by beautifull pine forest and has crystal clear turquoise waters. It was proclaimed one of the five most beautiful beaches in Croatia. Right on the beach there are no restaurants, but there are 2 nice little bars that offer coffee, cool drinks, ice cream and a few small dishes. If you find yourself in Zadar this is a place you must see.
2. Queen's beach
Queen's beach is the longest and most famous beach in Nin. It is over 3 kilometers long and extends from Nin from southeast to Sabunike on its northwest side. The beach is very accessible and it is located near the city center, just 10 minutes' drive. Because of the shallow lagoon it is very suitable for families with young children. Beach also offers a bar, free showers, beach volleyball, pedal boats and deck chairs. There is a legend related to this beach. King Tomislav's wife, who was the first Croatian king, was especially attracted to the beauty of this beach, so whenever the royal family came to Nin, they visited this place and enjoyed rare, relaxing family moments. That's how the beach got its name. What is also interesting that near is the largest known locality of medicinal mud in Croatia. The sea is warm and comfortable to swim in and even during the season you can expect a light breeze. Due to the frequent winds, this beach is home to many active athletes, most of them are kite surfers.
3. Zrće beach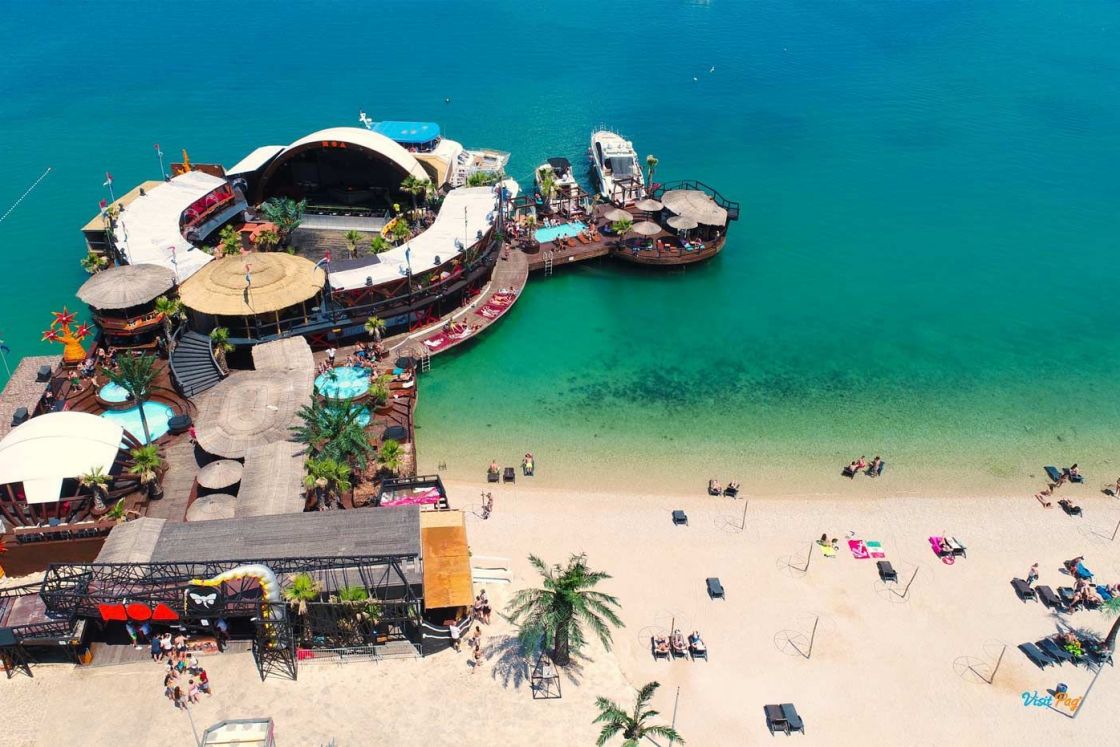 This is maybe one of the famous beaches in Croatia. It is situated on island Pag in Novalja.
Zadar is about 80 kilometers away, while the airports Zadar, Rijeka and Split offer transportation directly to Zrće. From Novalja, the bus to Zrće departs every half an hour, and there is a large parking space next to the beach if you are arriving by car. Beach offers various sports and recreational facilities and there are famous clubs like Papaya, Kalypso, Aquarius, and Noah where the fun goes on 24 hours a day. Beach Zrće is one of the most famous party destinations. With its length of 1500 m and width of 100 m is all covered with pebble. Due to this specificity, the extremely clear sea, pine forest, rocky landscape of the island of Pag and the view that stretches over the Velebit, it certainly occupies one of the leading places among the beaches of the Adriatic.
4. Zaton beach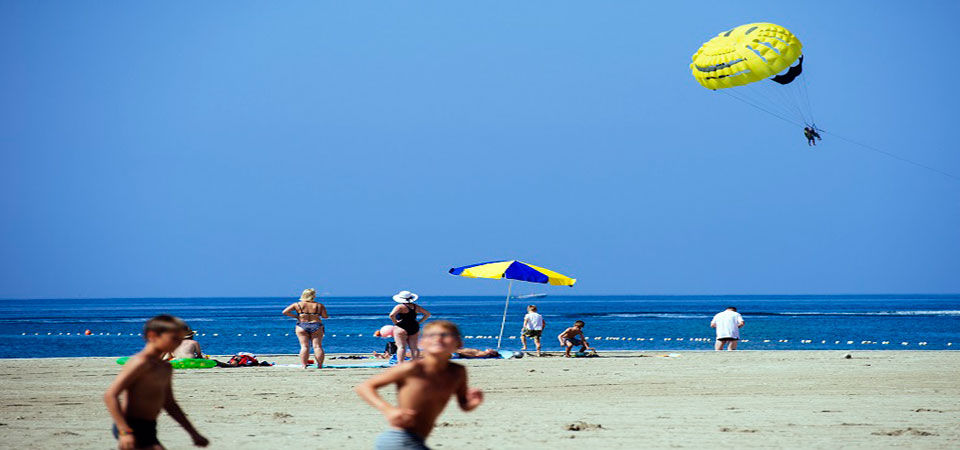 The beach located in Zaton Holiday Resort bears the Blue Flag as an internationally recognized quality and content label. It is situated near Zadar, just a few minutes drive. The beach is 1,5 km long and is surrounded by amusement parks for children, swimming pools and slides and has diverse gastronomic offer. This mostly sandy beach is without a doubt one of the best in Croatia. It is perfect for families with children who can build sand castles, take a swim in the shallow sea, use the numerous playgrounds and look for refreshments in the shade of pines or on deck chairs under the umbrella. Young people and adults can choose from a variety of fun activities and sports facilities. In addition, the paved path provides access for people with disabilities. For outside guests, admission to the Zaton Holiday Resort is charged.
5. Borik beach
Borik beach is certainly the most famous beach in Zadar. It is the main one because if you rent an apartment, room or villa in Zadar, all the roads will take you here. The beach is located 4 kilometers from the center of Zadar, next to the marina of the same name, and is easily reached by car and public transport. Borik sandy beach also has its pebble and tiled parts and seeks to please anyone looking for a place under the sun. Much more is offered here than lying in the sun and swimming in the clear warm sea. The days at Borik are days of action - there are windsurfing, jet-skiing, pedal boats, tubes, bananas, parasailing and other vessels. Plenty of amenities are reserved for the youngest, so Borik beach is an ideal place for a family vacation. The others will be won by beach dance bars and a restaurant along the coastline. Parking in the summer can be challenging because there is quite a crowd here - a guarantee of a good time on the main beach of beautiful Zadar.
Best wishes,
your ZadarVillas team