We offer our guests a wide range of villas with pool, from completely modern luxury villas to renovated stone houses that exude the charm of Mediterranean spirit.
Many guests who come to Dalmatia want to feel a touch of Dalmatian culture, tradition and history, and therefore, want accommodation which represents exactly that.
And who would resent them. Today's life is very hectic, we don't have time to enjoy in litlle things so everyone deserves an escape from the noise and all that modern amenities that surround us.
Many people recognized the charm of these old houses and, after buying them, or living in them, adapted them using their history, but connecting them with today. Stone is a material that exists everywhere in nature and it has marked the traditional construction of this region. Old Mediterranean houses where surrounded by a high wall and courtyards were completely intimate, family spaces. This is a great thing for guests because it provides complete privacy. Both the door and the shutters where painted green and sometimes in blue, and that is one of the characteristics by which we can recognize them.
If you want to sleep under old wooden beams, prepare meals with your family in traditional tavern with barbecue, pick fruits and vegetables in your own garden then you are at the right place.
1. Villa Petrovi dvori, Buković, 9 persons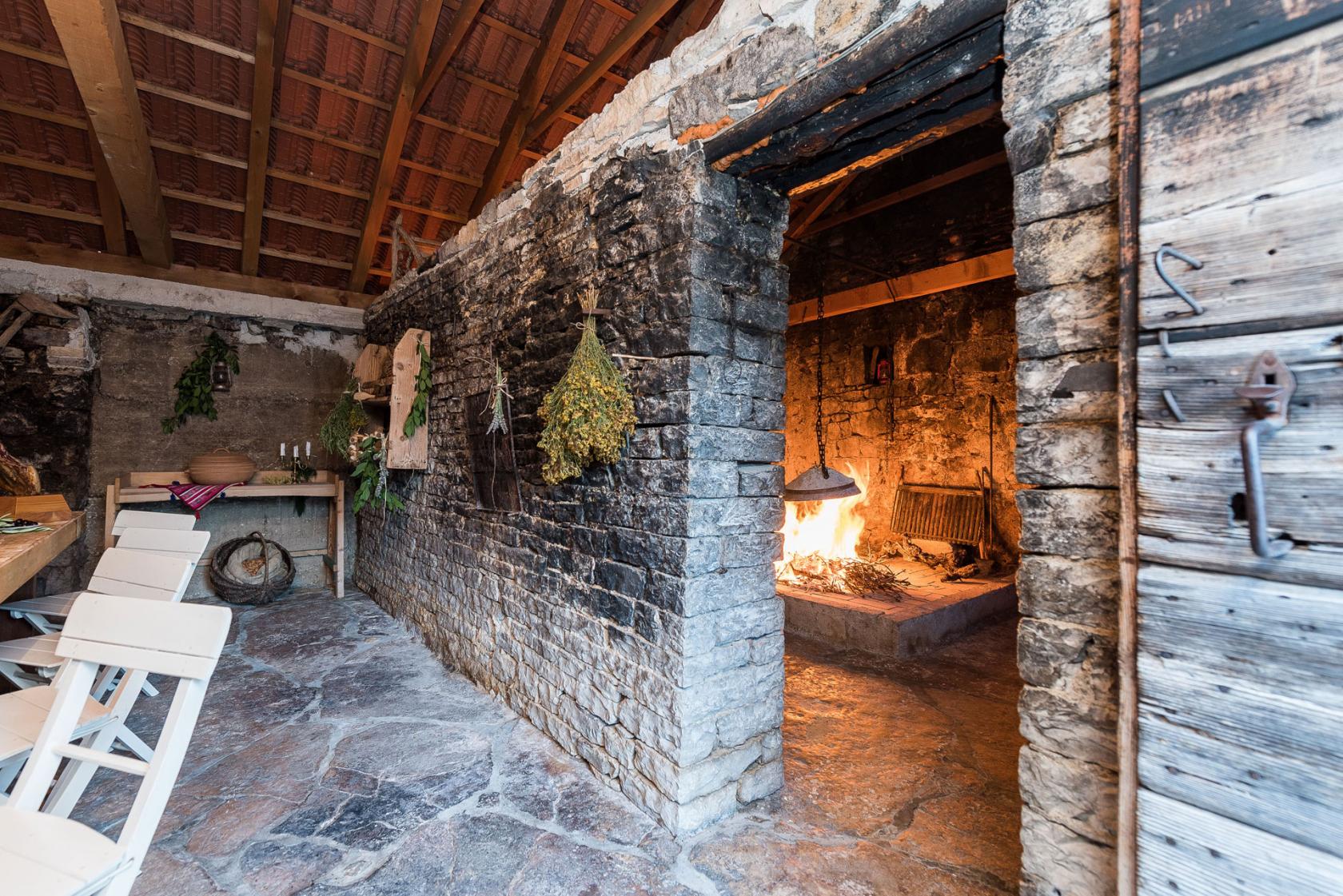 https://www.zadarvillas.com/en/villa-rentals-in-croatia/43/villa-petrovi-dvori-bukovic-9-persons/

Adriatic zone is characterized by group of houses that belong to one genus, surname or nickname, and they are called dvori, in Istria korte, which means that they were formed by developing and dividing families around the motherland. Petrovi dvori is one of these houses.
In the inspirational silence of rural peace, away from the city crowds and tensions, you will be welcomed by Petrova's courtyard, surrounded by stone walls.
After refreshing in the pool you can dine in the covered dining area on a beautiful wooden table with benches. On the ground floor, in the extension of the house there is a characteristic stone firehouse divided into two rooms. One room is a dining area decorated with Mediterranean plants and spices hanging on the walls, and the other is with fireplace placed almost at floor level in the middle of the room. This is the original form of how the fireplace first looked in this area. Mechanical device "winch" above the fireplace with which the housewife would easily slide the pots from the fire for the housewife was a "civilization" achievement. Low placement of the fireplace was maybe ungrateful (because of bending over), but it was favorable for those who where getting warm around the fire.
There are some restored pieces of furniture in the villa, like old wooden cabinet in the game room with vintage dishes. The interior is decorated simply in a traditional style with details reminiscent of the past. There is an old furnace in the kitchen which is used for heating and preparing meals in old fashioned way.
2. Villa Šišman, Zemunik donji, 10 persons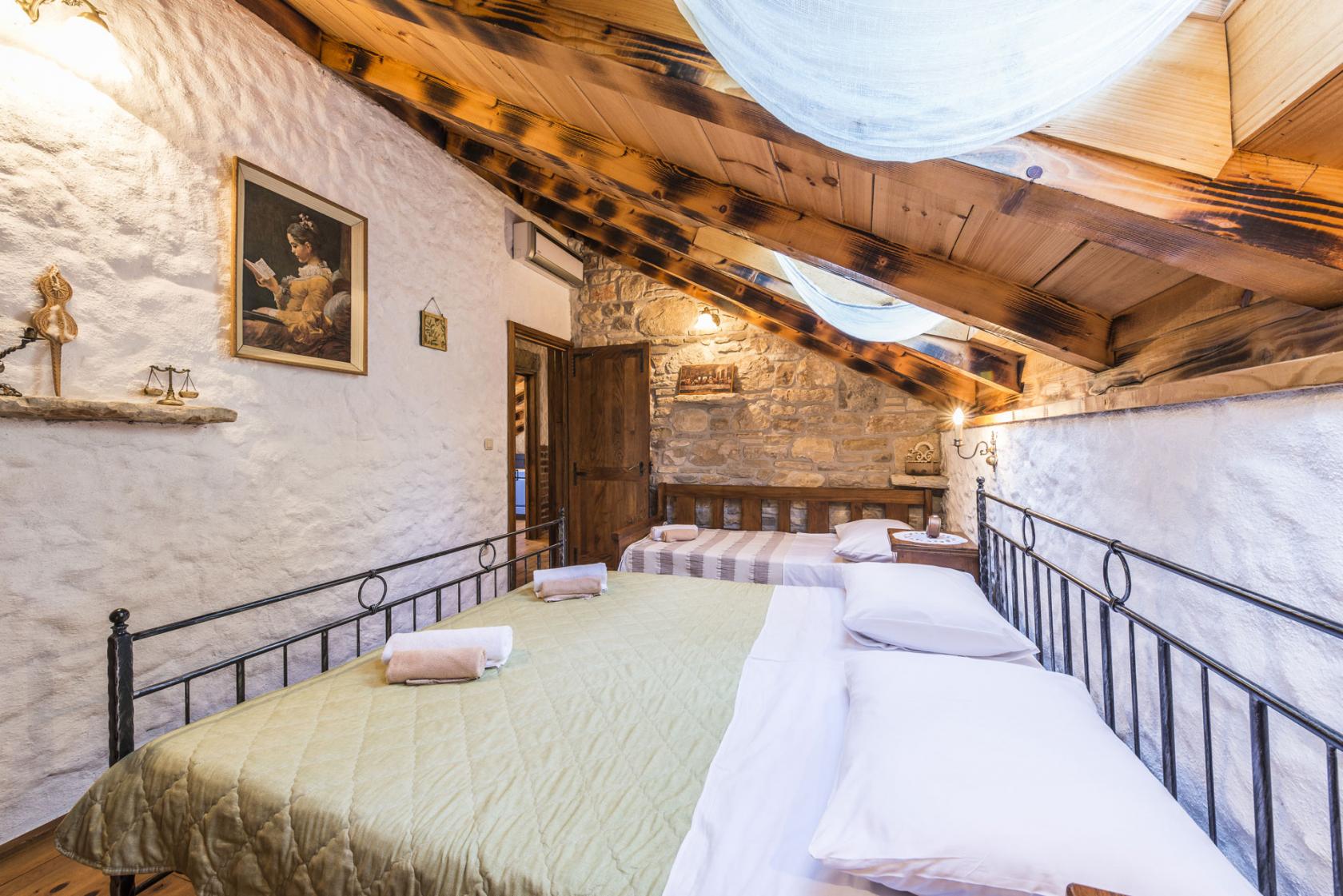 https://www.zadarvillas.com/en/villa-rentals-in-croatia/50/vila-sisman-zemunik-donji-10-persons/
This spacious century old stone villa was built around 1920 and completely renovated 2010 in Dalmatian style. With a touch of nostalgia and history offers all the comfort necessary for modern man. You will be greeted by a spacious courtyard with a well maintained garden rich in Mediterranean plants, surrounding the pool and enclosed by wall. In front is a big covered terrace with traditional wooden table with benches and barbecue.
The interior of this old Dalmatian house will really amaze you. Inside you will find an indoor fireplace, a large wooden table in the kitchen with old wooden furniture and a stone sink. The whole house is covered with exposed stone walls and old ceiling beams and wooden floors. Wooden ceiling beams are one of the main features of old Mediterranean houses.
Each piece of furniture tells its own story. All rooms are decorated with restored wooden pieces, and it is unique experience to sleep under the curve of wooden beams on the second floor. Whole house is dominated by iron details like bed frames, stair railing, old sewing machine that fits perfectly into the whole story. Stone sinks with bronze faucets in bathrooms
exudes the patina and personality of an old stone house. Enjoy in this rustically einvorenment where every piece of wood hides a secret from the past.
3. Villa Palace, Zemunik donji, 8 persons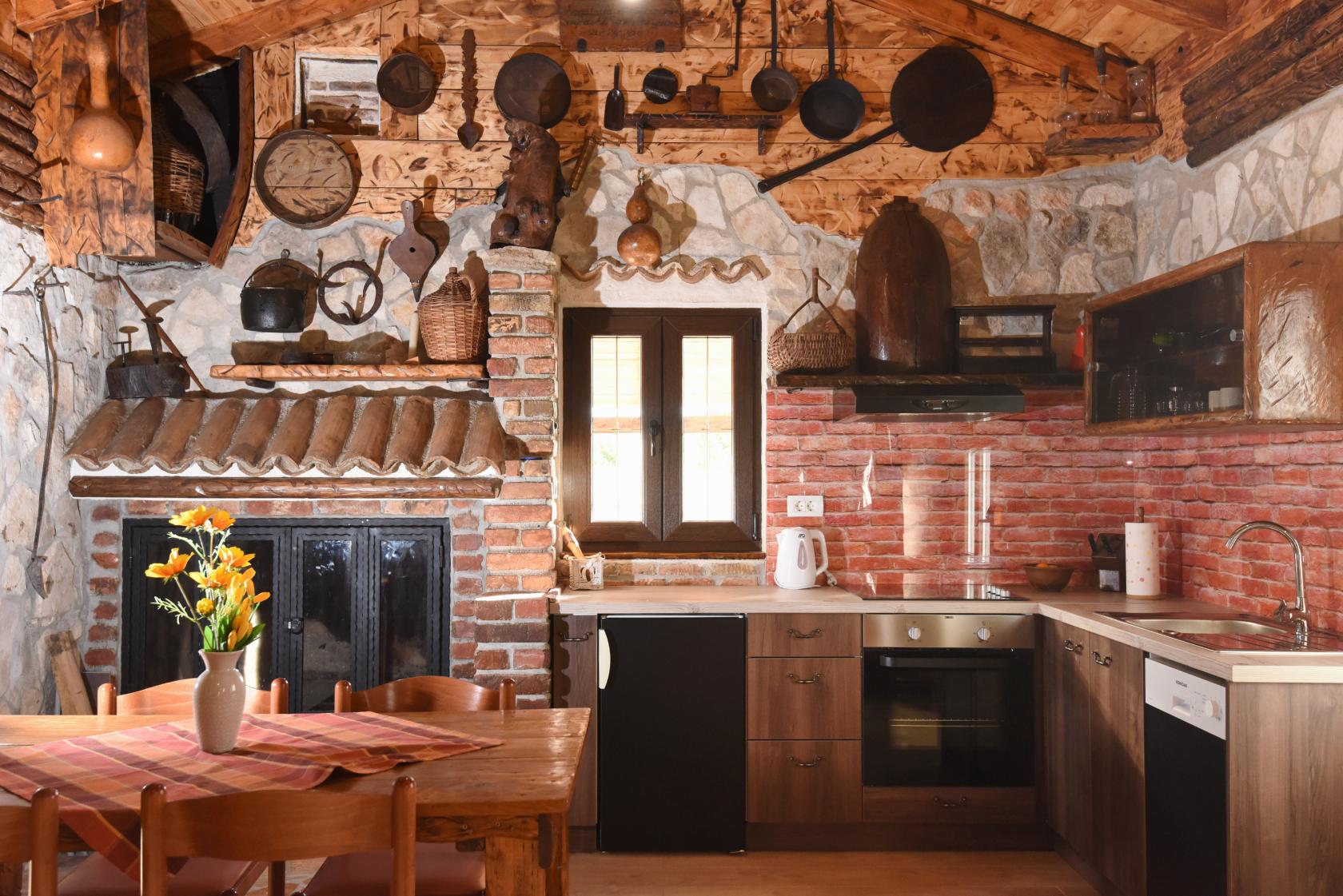 https://www.zadarvillas.com/en/villa-rentals-in-croatia/77/villa-palace-zemunik-donji-8-persons/
This old Dalmatian stone house was completely renovated in authentic style. Within the stone walled yard there is an outside barbeque with large stone and wooden table, an outdoor relaxation area which overlooks the pool. Right next to the terrace there is a grapevine that provides shade during the hot summer days.
Inside awaits you traditional furniture in the kitchen, inside fireplace and old dishes lined up the walls under the wooden beams. In addition to being used for food preparation and heating, inside fireplace looks very effective in the space.
Preserved stone walls and old wooden beams are the basic elements in this tastefully decorated interior. Bedrooms are furnished with some new and restored furniture. Most of the furniture has been preserved from the original construction of this house and thus contributes to the traditional charm of Dalmatian life.
4. Villa Oak, Smilčić, 10 persons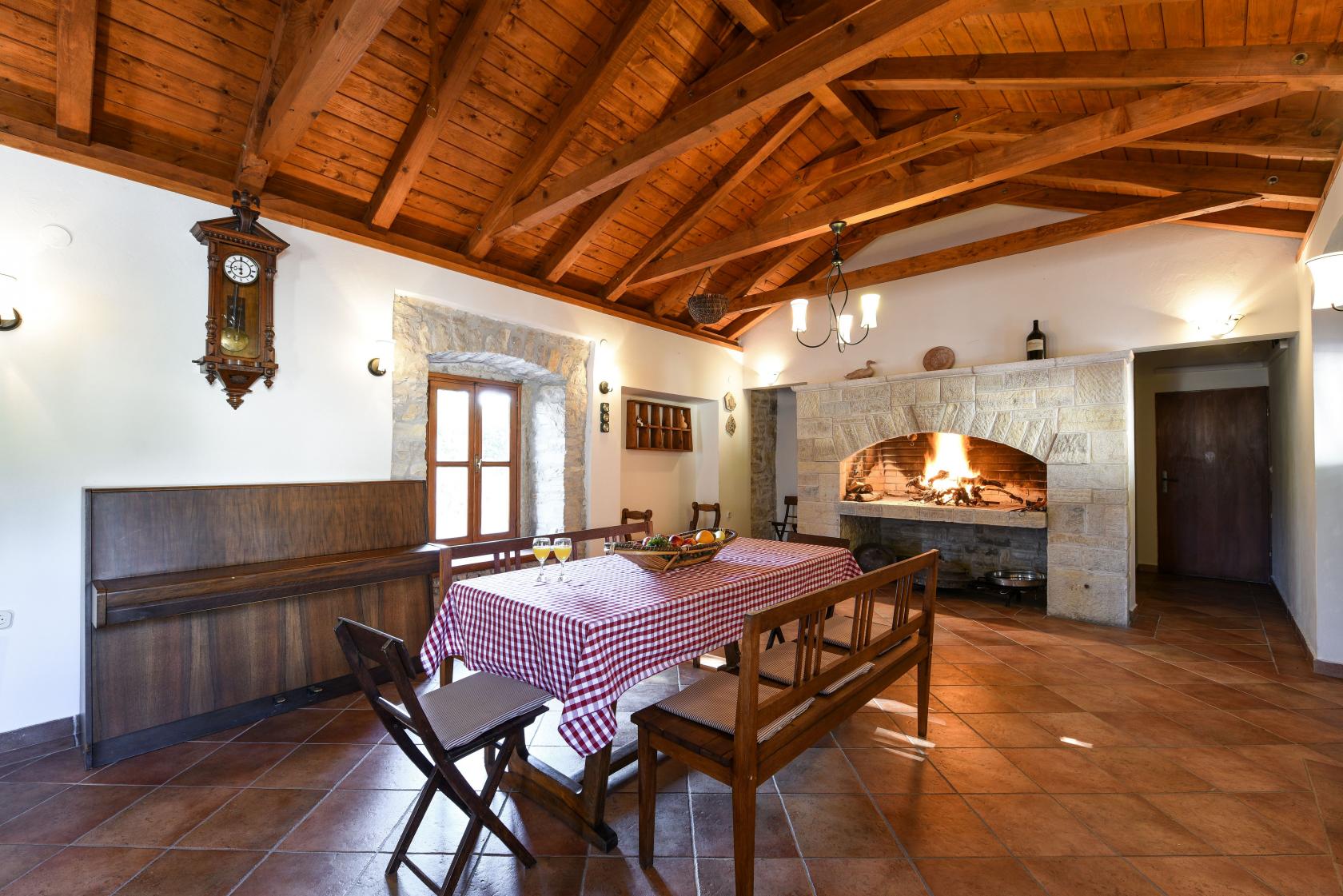 https://www.zadarvillas.com/en/villa-rentals-in-croatia/73/villa-oak-smilcic-10-persons/
This is a stunning historical stone villa with an old tradition. Built in 1820 and renovated to adopt new lifestyle this villa offers an oasis for family and friends gathering. Property is completely surrounded by high wall which hides a real little empire. Courtyard is dominated by a large pool and a separate unit with kitchen, big stone fireplace, dining area, wooden piano and old furnace.
In old days the main house remained the room with the fireplace (chimney), and that is the kitchen. It is always placed on the ground floor located next to the courtyard for easier communication. There is an important reason for this. Many years ago, the way of peasant life was tied to the yard (chants, barns and other economic facilities) so it was important that kitchen and fireplace where close.
Climbing along the iron stair railing we come to the second part of the house with bedrooms, bathroom and kitchen with beautiful antique pieces of furniture and old paintings.
You will enjoy sleeping in beds with wrought iron frames and walk on the parquet floors. All rooms are decorated with pictures or photographs of interesting details of the cultural and natural heritage of the surroundings, scenes from traditional life and family photos.
5. Villa Bandela, Visočane, 9 persons
https://www.zadarvillas.com/hr/odmor-u-dalmaciji/10/villa-bandela-visocane-9-persons/
Recently restored in its original rustic style, villa offers its guests a touch of history where a more than 100 years old stone house is assimilated with modern living space. Through a large wooden door, we enter a stone courtyard dominated by the swimming pool. Everything is enclosed by a stone wall. In the yard is an olive tree as a recognizable symbol of the Mediterranean as well as planted seedlings of various fruits.

On the covered terrace is a dining area, and then you enter the old but renovated kitchen with an indoor fireplace and beautiful rustic furniture. Stone is exposed on the walls and on the ceiling are characteristic wooden beams. Bathrooms and bedrooms are furnished in modern style.
With its blend of uniqueness and modernity, it creates a welcoming feeling and is a haven for those wanting to indulge in a week of complete relaxation. Villa offers eco garden with season vegetables - where every morning you can take a fresh and eco vegetables for you and your family.
Regards,
ZadarVillas team