You came to Zadar for the first time in one of our beautiful villas and you don't know how to use your free time other than swimming and lying in the sun? Do not despair, we will present you the most popular attractions in the city and show what you must visit in Zadar area.
1. Enjoy in sunset on Sea Organ
A unique experience with the natural waves creating a symphony from the 35 pipes below sea level - atmospheric at sunset which was reputedly Hitchcock's favorite location to see this. Because the sea is always shifting and changing, the sea organ never sounds exactly the same twice. This gets very busy/crowded each night so you need to arrive early if you want a good spot on the steps near the sea/sea organ. Even without the music, the white marble steps sloping into the sea are extraordinarily beautiful and make a perfect vantage point to appreciate Zadar's splendid sunsets.
" Zadar has the most beautiful sunset in the world, more beautiful than the one in Key West, in Florida" Alfred Hitchcock
2. Greet the sun on Greetings to the sun
This artistic circle made of solar panels and LED lights is a simple, yet beautiful monument to nature and astronomy (don't miss the planets lined up on the coast stretching away from the sun). This remarkable installation made out of 300 photo-sensitive glass plates that absorb daylight and transform into a wondrous light show at night was designed by Nikola Basic who also designed Zadar's sea organ, During the day, the solar-powered attraction absorbs enough light to power not only itself, but also to produce half of the total amount of energy required to light the whole waterfront. After sundown, when it gets dark enough, all that produced energy is used to power an attractive light show.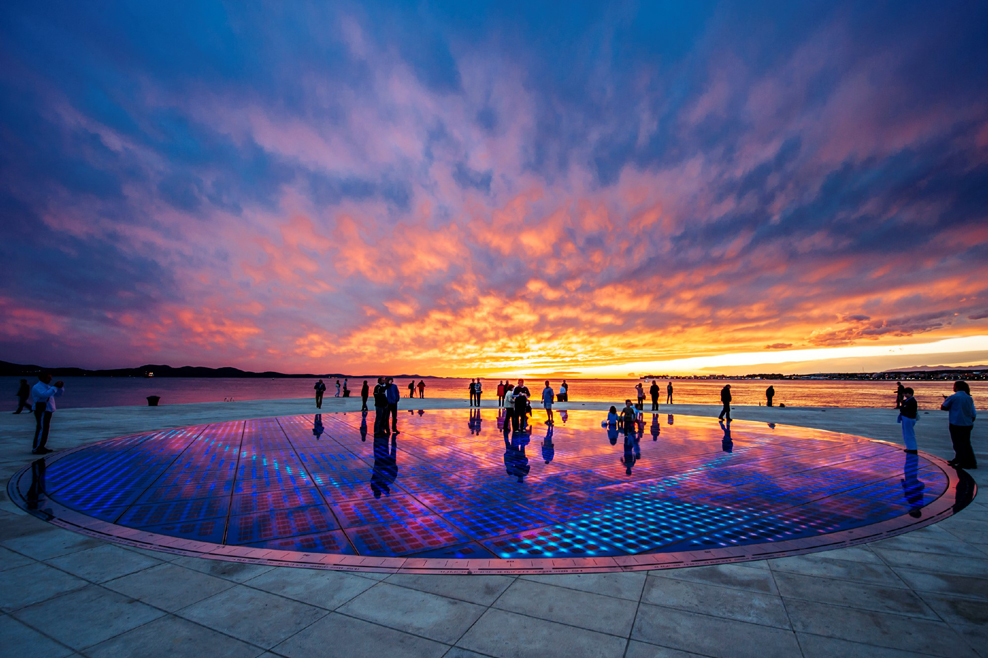 3. Enjoy history and art in museums
Zadar is a city of rich cultural heritage and history and if you decide to spend a day in the center you have some interesting museums to explore. Starting with museum of Ancient glass where you can witness a glass blowing demonstration, and see how a glass jewelry is made.
If you want to see the statues of Caesar, Augustus and Tiberius, then take a look at the Archaeological Museum located across the Roman Forum. Do you want to know something about the history of the Zadar region or about the religious art of Dalmatia? Visit the Zadar National Museum and the Silver and Gold of Zadar. Try some amusing and awesome tricks in Museum of Illusion that will teach you about vision, perception, the human brain and science, so it will be easier to perceive why your eyes see things which your brain cannot understand.
4. Enjoy on Saharun beach
Sakarun beach is located in the northern part of Long Island, and it is 800 meters long. Saharun is a sandy beach with an extremely shallow sea that is ideal for families with children. It takes about an hour by ferry or catamaran to get to Long island and then you can go by bus or tourist train to the beach. The beach is surrounded by beautifull pine forest and has crystal clear turquoise waters. It was proclaimed one of the five most beautiful beaches in Croatia. Right on the beach there are no restaurants, but there are 2 nice little bars that offer coffee, cool drinks, ice cream and a few small dishes. If you find yourself in Zadar this is a place you must see. Transport is organized from Božava to Sakarun with a tourist train, which departs every two hours.
5. Visit Krka waterfalls

If you want to experience preserved untouched nature, Krka National Park is a place you must visit. It is named after the river Krka, which is 72.5 km long. It springs in the foothills of the Dinara mountain range. The national park is 76 km away from Zadar, which is about 1-hour drive. The top attraction of the Park are its seven magnificent waterfalls, including the famous Skradinski Buk waterfall which is one of Croatia's most famous sights. Other highlights include the small island of Visovac and Roski Slap waterfall. A boat trip through the park (included in the entrance ticket) is a great way of seeing much of the Park. Best of all, it is possible to swim in some locations in Krka National Park! For cycling enthusiasts there are a total of fourteen cycling routes in the Park.
6. Visit Plitvice lakes
The Plitvice Lakes National Park, Croatia's most popular tourist attraction, was granted UNESCO World Heritage status in 1979. Located roughly halfway between capital city Zagreb and Zadar on the coast, the lakes are a definite must-see in Croatia. The beauty of the National Park lies in its sixteen lakes, inter-connected by a series of waterfalls, and set in deep woodland populated by deer, bears, wolves, boars and rare bird species. Its about 1 hour and 50 minutes drive from Zadar and you can go by car or attend many excursions or day trips from Zadar. Plitvice is a truly beautiful National Park. It's a combination of lakes, waterfalls and streams all connected by a number of well designed pathways that provide scenic views and a choice of walking times. There are a few cafes in the park to provide food and drink or just a place to sit and relax.
7. Try Zrmanja rafting
Zrmanja starts its 69 kilometers long journey in the southern part of mountain Plješevica. On its way to Novigrad's sea, in which it floats into, it goes through arable narrow valleys and magnificent 200 meters deep canyon. It is typical karstic river – it has numerous waterfalls, cascades and rapids, which make it perfect for white water sports.
Rafting lovers have named it beauty and the beast, because when the water level is high, it offers one of the best rafting experiences in this part of Europe. On the other side, Zrmanja is one of the most beautiful rivers in Europe. During the summer time, it's quiet, peaceful and it carries you lightly through breathtaking landscapes. It's only one hour drive from Zadar and you have many excursions that you can attend.
8. Visit town Nin
The Nin bay hides a strange and unusual heritage: sandy beaches, medicinal mud, salt pans, a rich bird life and rare endemic plants. Nin is the oldest Croatian royal town 3000 years old. It is situated 14 km north-west from Zadar in the middle of the east side of the Adriatic Sea surrounded with amazing sandy beaches. You cannot leave Nin without first visiting its many churches. One of the most famous ones is the Church of St. Nicholas, a symbol of the town and the Church of the Holy Cross, also known as the smallest cathedral in the world.
9. Explore Kornati Islands
It is made up of 140 islands and islets in an area only 35 kilometers long and 14 kilometers wide. The islands on the inside of the National Park seem deserted. When you enter Kornati, you've arrived somewhere completely different.
Whether you have your own yacht, or come on one of the many tour boats offering day trips around the National Park, you will also get to experience the outer side of the archipelago. The contrast between the calm inner space of Kornati and the wild world of the open sea is unmistakable. Sheer cliffs offer spectacular scenes and dramatic sounds, from crashing waves to the echo of the human voice.
10. Explore Paklenica National Park
The Park is south of the Velebit range of mountains (the largest in Croatia) and covers an area of just under 100 square km. It had a mixture of high peaks with stunning views and deep gorges, covered in beech and pine forests. The Park is an ideal place to visit for the adventurous – there are several challenging hiking trails, and climbing is also popular here. For those who like things a little more laid-back, there's more gentle walks available too, with just as much to explore. National Park is just 27 km away from Zadar and about an hour drive.
Have fun on your holiday!
your ZadarVillas team