Lun, the northest town on the island of Pag, is becoming increasingly famous for its olive groves and olive oil. Almost every family from Lun and surrounding places has their own olive trees, scattered on all sides, inherited from their great-grandparents. Today, Lun is a settlement of three hundred inhabitants, 20 kilometers away from the town of Novalja and Zrće, the most famous party place on the eastern Adriatic coast.
But there are no parties in Lun. A true Mediterranean oasis of peace and tranquility located in the vast forest of unique Lun olive trees. The Lun olive grove covers 400 hectares and has more than 80,000 trees.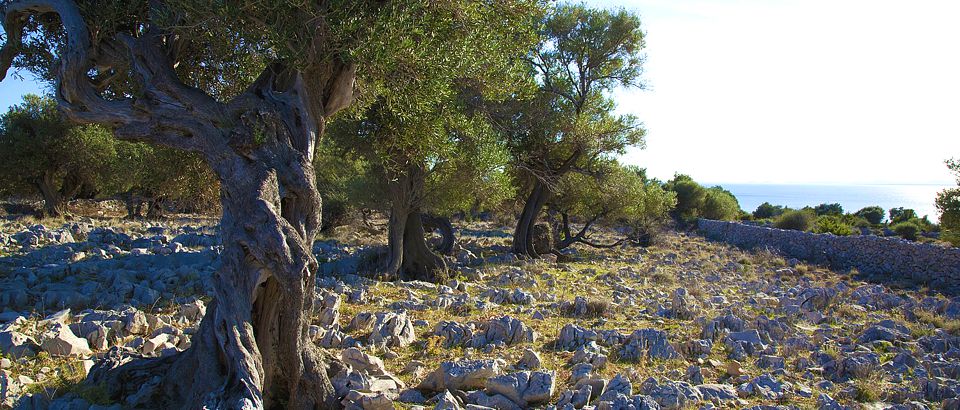 Scientists have proven that there are more than a thousand trees among them that are older than a thousand years! Nowhere, but nowhere in the world, are there so many wild olives older than a thousand years in one place. Unique in their own way, and completely different from each other, fused with the stone they are surrounded by, it seems like they have always been there. And they almost are, because the oldest olive tree is two thousand years old!
Inhabitants believed that their thickest olive tree was actually joined by two or three olives that had grown together over time, but DNA analysis determined that it was actually a single tree! Scientists hold that it is 2000 years old, so dates from the time of Christ.
Similar wild olive reserves in the Mediterranean still exist only in Israel and Greece, but even they cannot be compared to the number of Lun millennials. Lun olives have survived both good and evil in this environment of the Mediterranean climate. You have many examples where you can see exactly the shape of the olive tree growth caused by the dominant wind over the centuries, the Velebit "bura". This game of wind with centuries-old trees has developed a specific figure in each tree, so looking at these shapes, each olive seems to tell its own story of fighting the wind.
We can say that here we have an example of Dalmatian "dišpet", defiance, where olives defy the wind like the true inhabitants of Dalmatia.
For easier access through the olive grove, more than seven kilometers of macadam paths have been built, so as stone benches and baskets, info points, stone houses for selling local products and souvenirs, a reception with a presentation hall at the entrance, and there are three electric vehicles for touring. This is an ideal place to visit on your vacation in Zadar and the surrounding area.
We wish you a great stay!
your ZadarVillas team