Have you ever wondered what it's like to ride on a professional fishing boat and to fish for the most powerful fish in the Adriatic Sea in order to catch the Big one?
If you are interested in experiencing something a little bit different on your vacation, Zadar city offers you big game fishing trips (deep sea angling) for catching tuna and other large fishes in the Adriatic Sea.
Experience the thrill of big tuna fishing with a professional fisherman on this trip from Zadar. You can just watch or try your hand at the whole process of catching big beasts. You will learn many new tips and tricks from experienced crew. Stay amazed by the beautiful panorama, taste a traditional Dalmatian meal and just relax, swim and dive after fishing.
What is big game fishing?
Big-game fishing, sometimes called offshore sport fishing or offshore game fishing, is a form of sport fishing, aimed at catching large bony fish such as tuna and swordfish on the high seas, often very far from land. Strong will and physical fitness are required here, as in competitions. Big Game Fishing takes place in various locations around the world where such fish are found - off the coast, North Carolina, Florida, California and Hawaii, the east coast, New Zealand and Australia, across the Caribbean and near Mexico, and in South America, among other places and in the Mediterranean as well, as here in the Adriatic Sea. Offshore game fishing requires a boat, with sufficient capacity, speed, stability and the ability to transport a single crew over some greater distances that carry a large amount of equipment. They need to maintain stability even when fighting fish that in extreme circumstances, can weigh over 500 kilograms, and safely bring the crew back in bad weather conditions. Crews of many big game fishing vessels typically use larger boats 9 to 15 feet (30 to 50 feet) in length.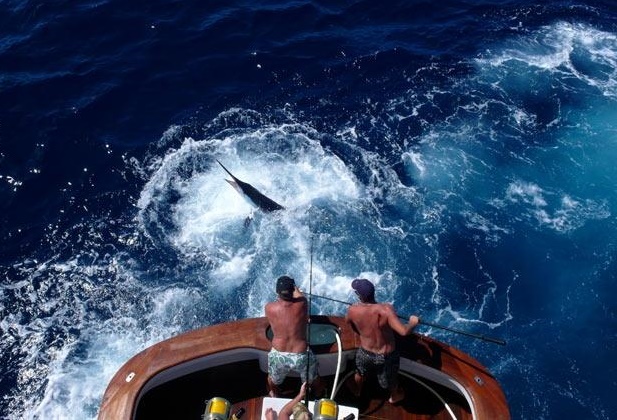 When is the best time for big game fishing?
As a rule, except for a few months of the year and during the hunting season, with a real and experienced tuna hunter, any time of year is a great choice. However, from the second half of August until November is the best time to hunt for capital bluefin tuna. In November, it is possible to catch tuna weighing up to 300 kilograms.
Sea fishing techniques
For a good catch on the high seas in addition to experience and boat, it is necessary to have very high-quality fishing equipment, and above all professional rods for catching tuna and other large fish. The most common technique is DRIFTING, i.e. hunting from a floating boat. The drifting technique is used to catch tuna, swordfish and other large fish weighing 50 to 300 kg. In addition to the DRIFTING technique, fisherman also use the JIGGING technique for catching toothfish, bonito, gophers and other well-known specimens of fish from the Adriatic Sea. Guests are also interested in the TROLLING technique, which is practiced in the spring and takes place on the open sea. With this technique, smaller specimens of tuna, halibut and albacore are caught on artificial lures that are towed behind a moving ship. Stronger fishing gear is used, rods up to 50 lbs. For this fishing technique, it is necessary to have a lot of rods (up to 6 pieces).
How does a day on board look like ?
The adventure begins in the early morning where you sail near the island of the Zadar archipelago towards the open sea. You can be involved in the fishing process as much as you want to be - maybe just watching from the side or helping the fisherman prepare the baits, throwing them into the sea to lure tuna into our area and the most exciting part - catching big tuna and pulling them out. Your captain will reveal all the secrets to you - if you are interested in something in particular, feel free to ask him, but keep in mind that it takes a lot of experience to become a professional fisherman. Please note that this is strictly sport fishing and all caught fish will be returned to the sea (but you will certainly be able to photograph them before then).
Feeling tempted?
"Sretan put i mirno more" it is said in our region!
your ZadarVillas team