When talking about the Mediterranean, some of us will think of delicious food while others of the crystalline azure sea and scattered islands bashed by sun rays. Let us not forget the scents of the Mediterranean, which not only our landscape exudes, but also our restaurants, households and streets. Croatia is not just a small country for a big vacation, but a real hidden gem with many surprises. Thanks to the Mediterranean climate, favorable geographical position by the sea, we can enjoy the beautiful nature which benefits we can use not only in gastronomy, enology and medicine, but also in cosmetics. The benefits of nature and Mediterranean plants have been discovered by many experts who have decided to transfer all advantages of this plants into skin products. Why not take immortelle hand cream as a souvenir next time from your trip to Croatia, and as a gift for your loved ones lavender body butter? Mediterranean natural cosmetics is inspired by nature and beauty of the Mediterranean, where every ingredient is precious and every product is created to feel good using it.
In addition to a healthy lifestyle and a healthy Mediterranean diet, natural cosmetics also have a high place. It is important that the cosmetic product you apply to your skin every day is made up of as many natural ingredients, high-quality oils and plant extracts as possible. The effect of such product is beneficial for the skin, and over time it gives good results. The advantages of natural cosmetics are that they are made from basic natural ingredients that do not contain parabens, artificial colors, fragrances and preservatives, which are certified by relevant institutions, not tested on animals and produced according to the principles of sustainable development in Croatia. Natural cosmetics, because they do not contain artificial preservatives, is always fresh. Today we will introduce you to several natural Croatian brands and products that you must try today, because you can order everything online. Next time you visit us, do not forget to go to the nearest drugstore for your new supply of your favorite products.
1. Immortella-Mediterranean beauty
The brand symbol is Immortelle plant, that constantly remembers us of its strength and quality. It grows from the rock and has the flowers that never fade. Never- fading flowers contain golden essential oil with magnificent properties and bring natural beauty to you. In the rock and karst of the Mediterranean countries in late spring, under the hot sun, millions of this flowers bloom. They did not call this flower in vain immortelle, immortal. Every year, in places where only rare plants can find their home, persistent life flourishes in its immortality. Immortelle, through its lush bloom on dry karst, gave life to Dalmatian homes and timeless beauty to the skin of generations of women. It works against wrinkles and revitalizes and regenerates tired and mature skin exposed to external and internal stress. Immortella- Mediterranean beauty has face and body products in their offer, so I am sure that you will find something for yourself and take a touch of Mediterranean timeless beauty with you.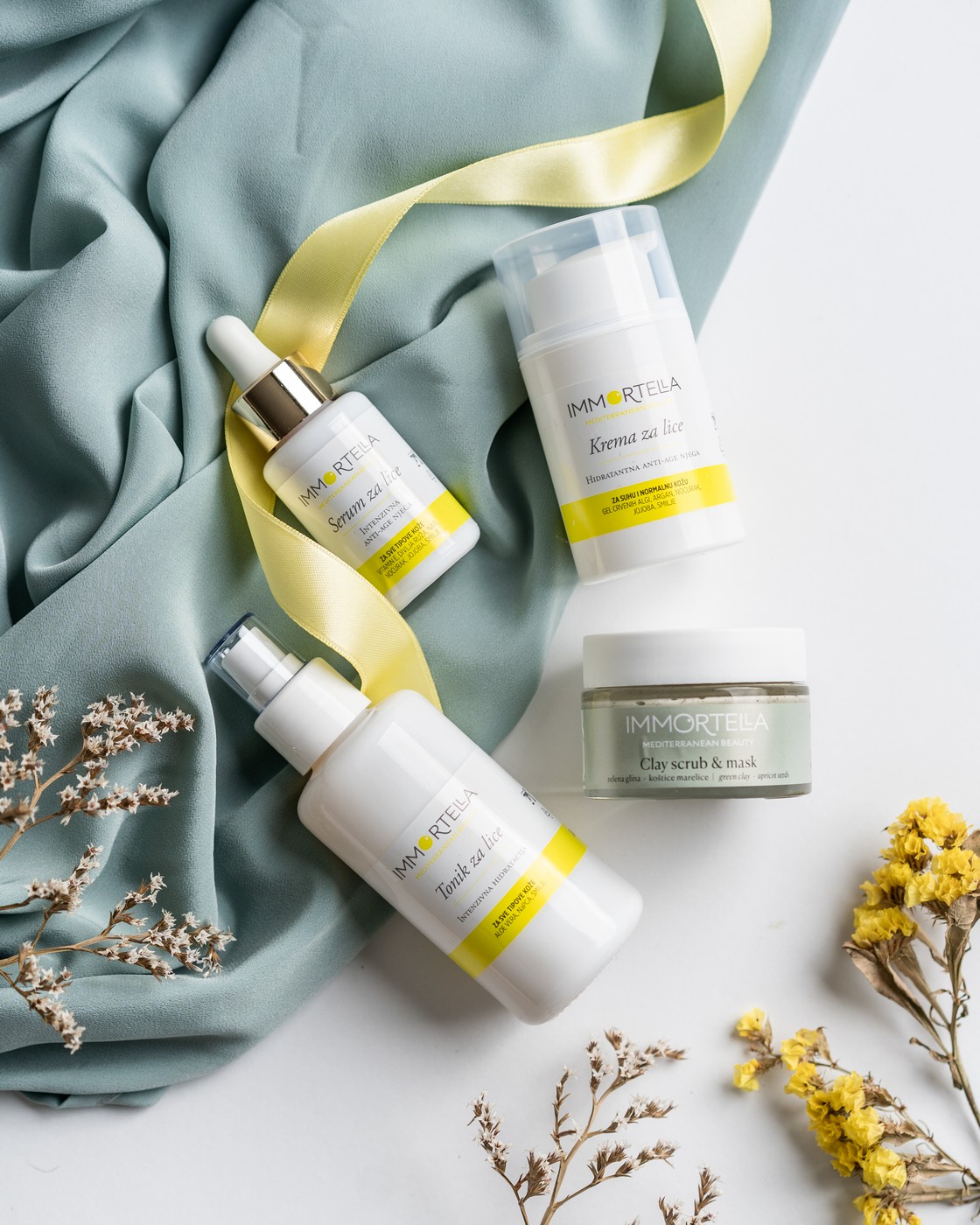 2. Mala od lavande
By choosing the name 'Little Lavender', this brand discarded all other plants and clung to this aromatic, Mediterranean beauty. What else can lavender, apart from its relaxing effect, give us, how is it used? The lavender blossoms contain nurturing essential oils for the skin which have a balancing and soothing fragrance. As an essential oil, it is used for body care and for spiritual harmony. The most ancient civilizations already used this plant in different procedures to take advantage of its many therapeutic properties and its magnificent fragrance in perfumes and cosmetics. For skin care, the lavender essential oil stands out for being a great skin cell regenerator. It is used in treatments of acne, dehydrated and abused skin, as well as sensitive skin. Mala od lavande offers creams, deodorants, peels, toothpastes, perfumes…
In addition to lavender, they use tea tree, immortelle, St. John's wort and many other Mediterannean plants in their products.
3. Sapunoteka
Sapunoteka is a real little surprise - with its offer and affordable prices. They started the production of natural cosmetics from soaps that are really special - smell, composition, packaging and effect on the skin, which does not dry it out like many other soaps. They are made in the simplest way possible, and once you try them, you will not want to separate from them. Along with soaps, I would especially highlight their hand creams, especially the one made from hemp and shea butter and the almond body lotion that leaves the skin soft and hydrated. They are easy to apply and have a simple, but extremely pleasant and striking scent. Their vanilla body scrub deserves special praise, which thanks to cold-pressed almond, coconut and olive oil does not dry out the skin, but, in addition to being deeply clean, leaves it soft and supple.
4. Tinktura
It is a Croatian company that produces natural cosmetics for face, body and hair care, but also teas and tinctures. The offer includes face and body balms, daily face care creams, liquid and hard shampoos, conditioners, soaps, hand creams, lotions, butters, cocoa bars and body scrubs, and teas. Their hard shampoos and face creams are especially appreciated, especially those made from green tea. What is tincture? It is a concentrated plant extract that is easy to make. The tincture extracts and concentrates the ingredients of the plant, which makes it an effective and long-lasting medicine. They are practical for treating because they are taken in small doses. Unlike teas, tinctures are more concentrated, richer in medicinal ingredients thanks to alcohol, which extracts the healing properties of plants much better than water. Therefore, it takes less time to see the results of their actions. One of the most famous Tincture products is certainly the carrot balm for a better tan, for which they receive praise from customers from many European Union countries. Also we must mention Black Magic medical charcoal soap for problematic facial skin prone to acne and acne, green tea balm with which they went to market and irresistible body tea made from green tea and ivy, which has a special effect on the skin of the body.
5. Olival
Olival cosmetics have developed on old pharmaceutical recipes, natural ingredients and new knowledge in cosmetology and technology. Knowledge, expertise and experience has created a small successful company that has been engaged in the production of cosmetic products for body care and protection for 21 years. They offer hair, face, body, sunbathing and special preparations of old recipes. A common ingredient in their products is immortelle oil which nourishes the skin and slows down its aging.
Inspired by the tradition of using olive oil as a sunscreen and achieving a healthy and evenly tanned complexion, Olival presents SUPER Olive sunscreen oil intended for people of darker skin who are exposed to the sun for a shorter time. This oil with mild sun protection (SPF 4), unlike traditional olive oil, absorbs quickly, is easier to apply and wraps the skin with a pleasant summer scent. The high-quality olive oil in Olival products is extra virgin and obtained by cold pressing because it preserves a high percentage of unsaturated fatty acids and vitamins A and E, which it is rich in, but also retains its antioxidant properties.
Still haven't tried it?
Your ZadarVillas team