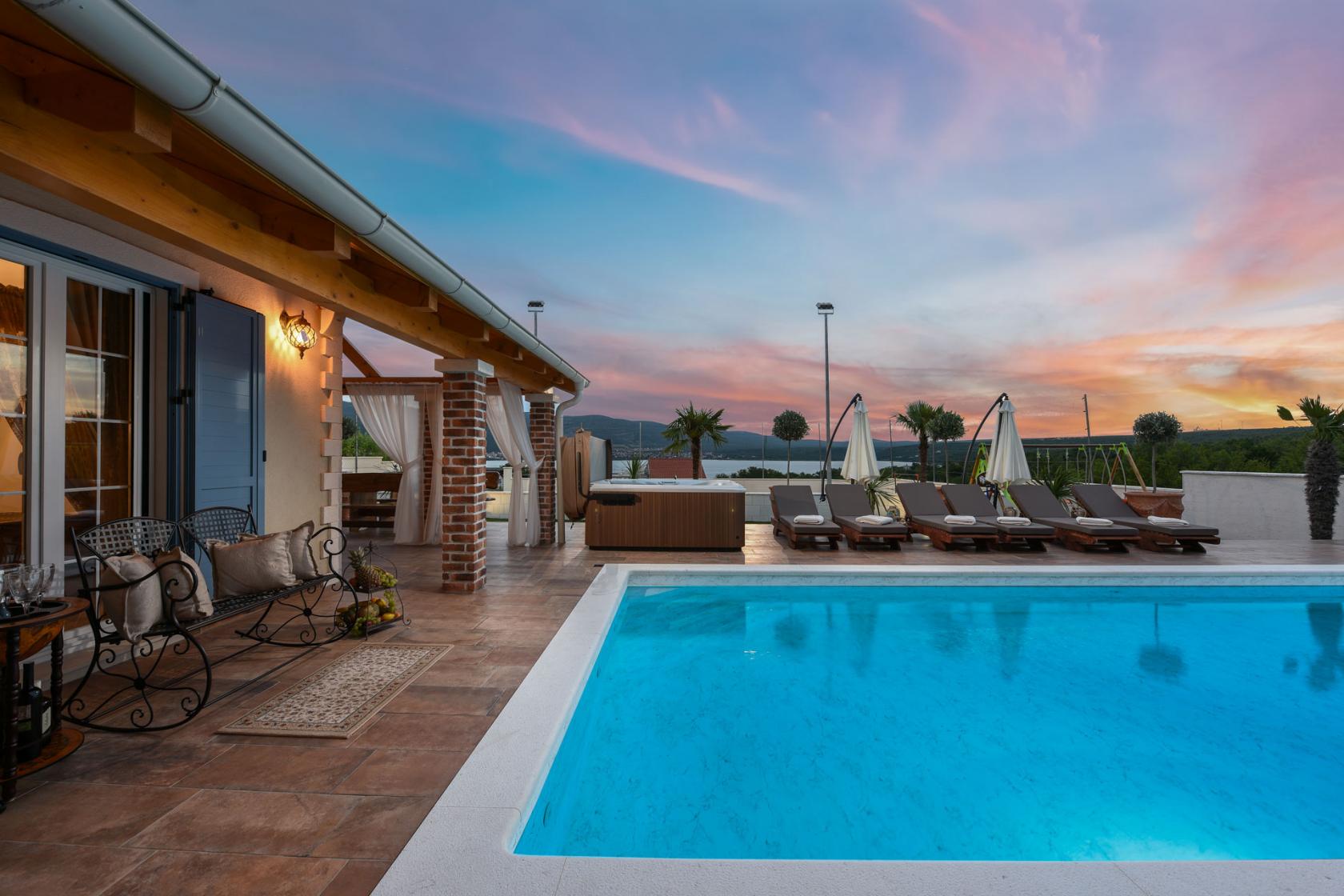 With the arrival of warmer weather, we started thinking about where we could go on vacation to rest our body and soul… What sweet torments ha? If you are planning to take your children with you, feel free to contact us to help you find a family villa that has enough content for little ones so that they don't get easily bored. Today we will present you a few family friendly villas that you and your children might like and don't forget that we still have lots of villas like that in our offer.
Sometimes it's good to leave the children with grandparents to take a break from everyday problems, but there is nothing more beautiful than family vacations that connect and bring the family closer to each other. Family moments strengthen family ties, bring the family closer, enable children to create the most beautiful memories that will last a lifetime. Nothing can replace the wonderful children's laughter and talking about shared family moments. What characteristics define our villas as a family friendly?
It is important that the villa is enclosed by a wall so that you can carefree let your children play in the yard and of course that the yard is spacious enough for the children to have enough space to play and run around. When you see how large are the courtyards of our villas you will be amazed. What else is important? It is important that there is enough content for both older children and small ones. You are bringing your little baby and worrying about where the baby will sleep? No worries, most of our villas have a crib and a high chair for feeding so you don't have to carry all that with you.
For big boys and girls, we have video games and for joint play with children you have board games, table tennis, table football and billiards. Spacious courtyards offer children's playgrounds with swings, a trampoline and a slide. Sounds like a true paradise for kids and adults, right?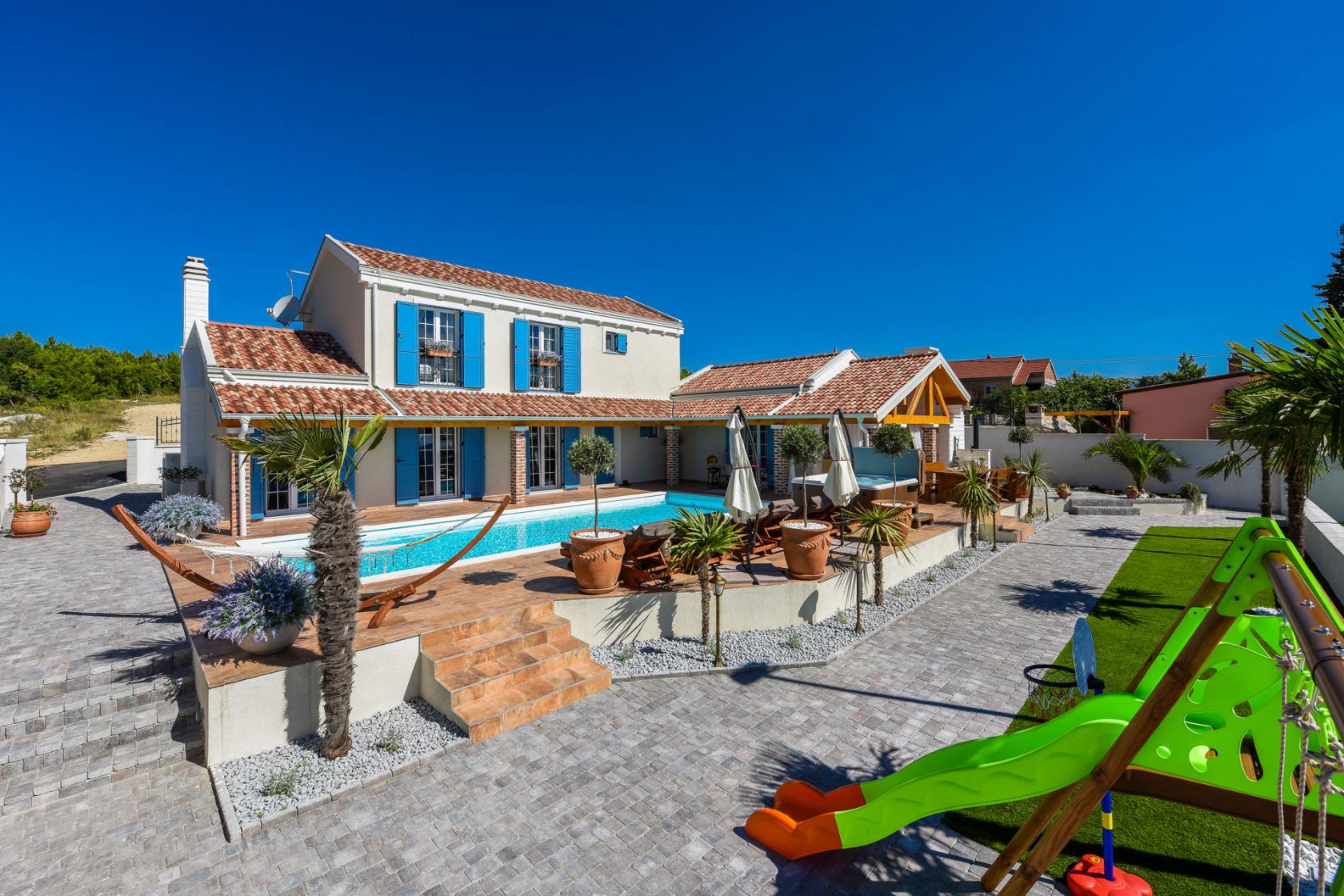 Villa Mek, Pridraga, 8 persons
Let's start with this beauty, shall we?
This stunning villa is situated in a small village called Pridraga, which is 35 kilometers away from Zadar. Villa Mek is definitely something worth experiencing. It consists of 3 bedrooms, 3 bathrooms and 1 toilet, open space living room and kitchen. It is surrounded by palm trees with a private heated pool and jacuzzi. For those that like to stay active on their vacation, the villa has its own tennis court that can be turned into a football or basketball field. For the youngest guests there is also a playground with swings, a slide and small basketball hoops for the little ones. With its pale blue shutter's, its reminiscence of an old Dalmatian houses. While resting on your deck chair, drinking cocktails and enjoying the view, you will wish your vacation never ends. This place will give you peace, tranquility and a sense of rural ambiance. You will enjoy the long walks on its sandy beaches and the fresh mistral wind that blows from the Velebit.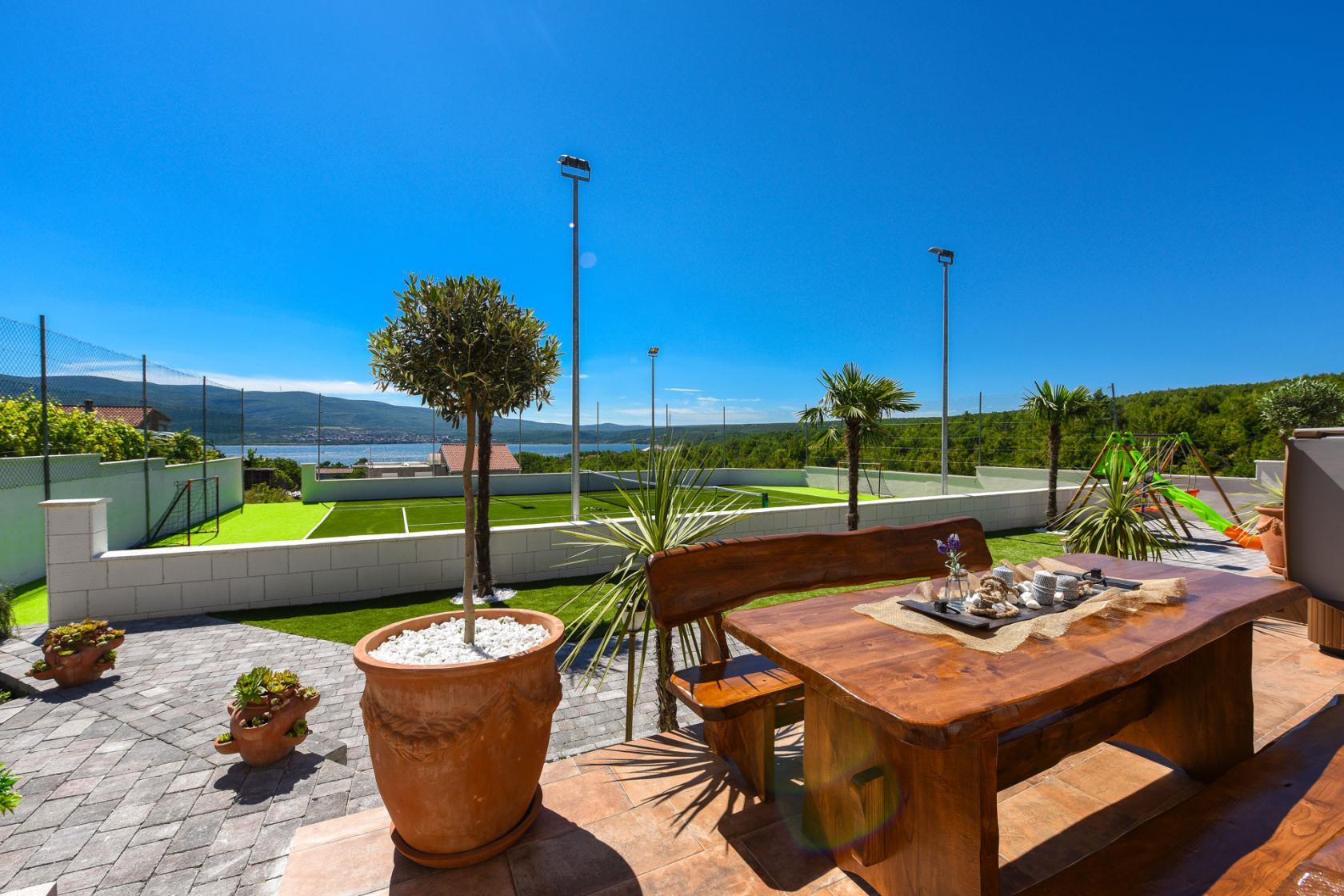 Villa Idassa, Briševo, 10 persons
Staying in this villa is a really one of a kind experience. You'll feel like you've come to some tropical resort with it's stunning outdoor space. It is located in a small village called Briševo.
Villa consist of 4 bedrooms, 3 bathrooms, toilet, open space living room and kitchen. Everything is decorated in modern design with lots of natural light and use of light wood. It's no wonder this house blends harmoniously into the landscape upon which it sits. Exterior has large swimming pool surrounded by sun loungers, covered area with barbecue and summer kitchen, dining and lounge area. On one side villa offers tennis court that can be turned into basketball or football field, and on the other side an outdoor exercise area. Also there is playground for children with trampoline and enough parking space. The yard is so spacious that your children can run around the house without worrying about them. In the game room you can play table football, darts and video games with older children. There is plenty of things to do for all generations in this villa, don't you agree?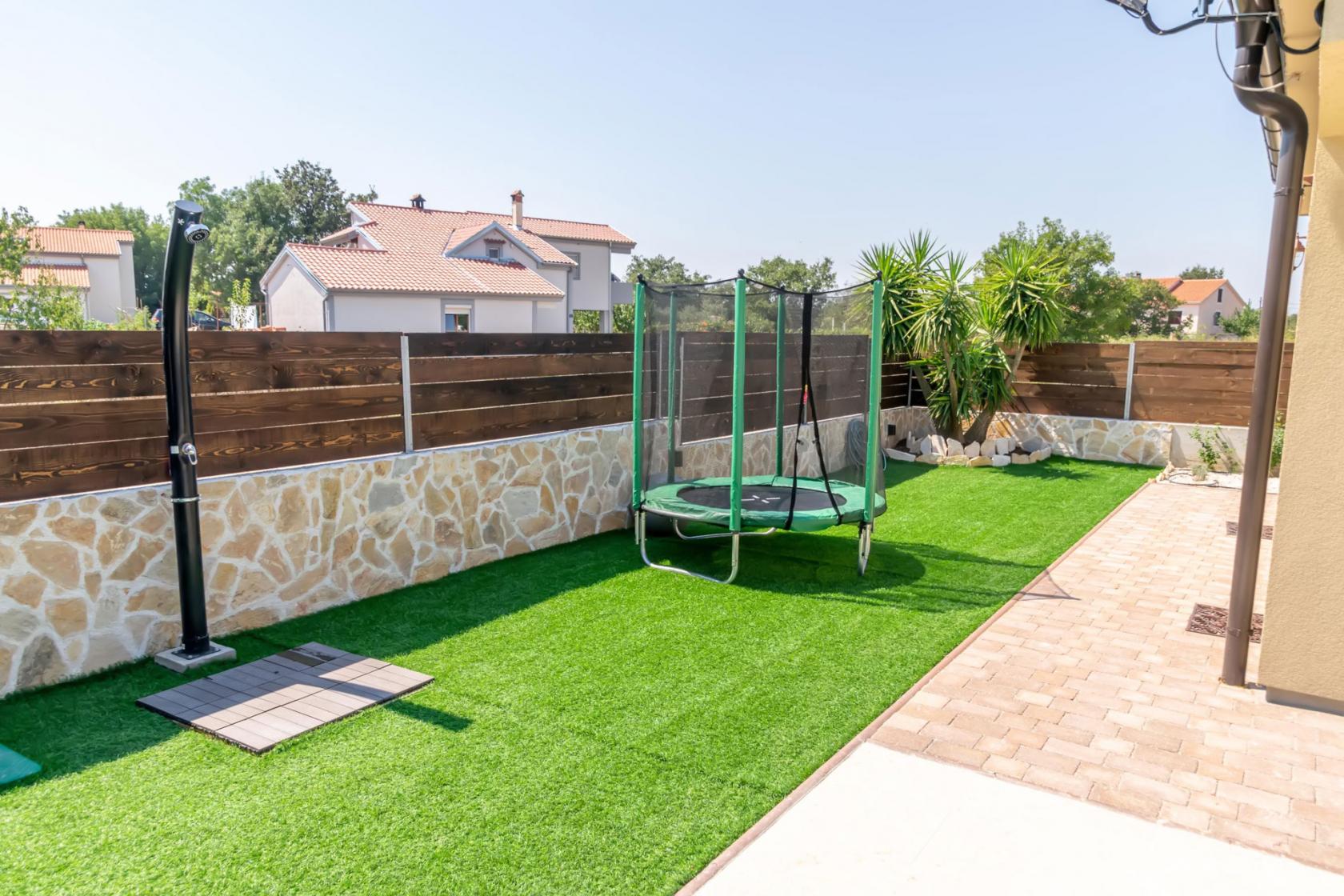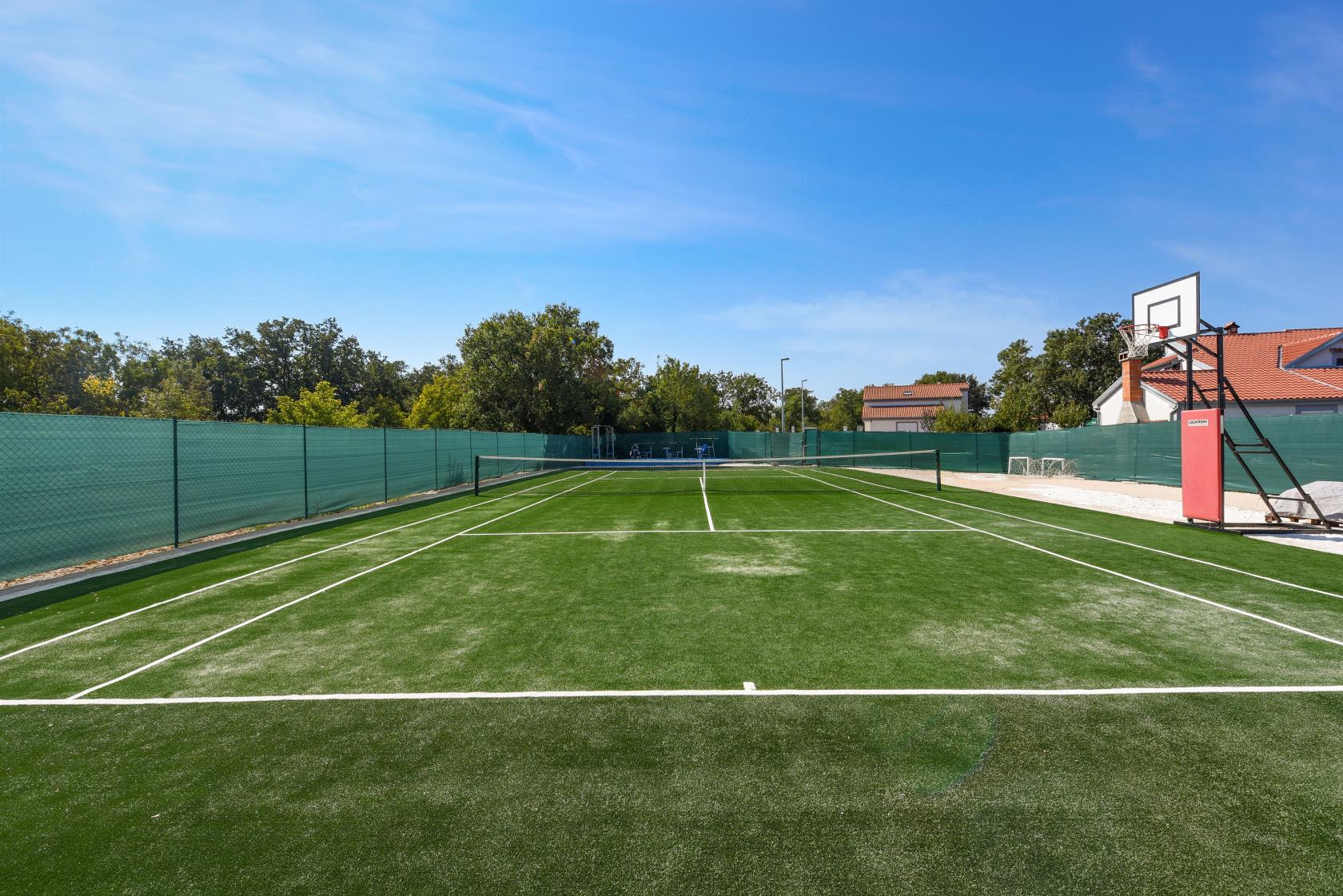 Villa Maris is located in a small place called Tinj. Tinj is situated in Benkovac county and is near Biograd and Benkovac. Biograd na moru is one of Croatia's popular holiday destinations, and also very popular as a sailing destination – this is the most indented part of the Croatian coast, so ideal for those exploring by sea. It is also an ideal location from which to visit a number of Croatia's national and nature parks. Villa Maris has 3 bedrooms, bathroom and courtyard with private pool. There is a double sofa bed in the living room so villa can accommodate 6 + 2 people. Exterior of the villa is really spacious. There is covered dining space outside so you can enjoy with your family or friends in preparing traditional Dalmatian specialties on barbecue. Children can play in the playground while you relax on sun loungers by the pool. There is a trampoline, swings and a slide. What else a child could wish for? Villa itself is placed in a secluded area in pure nature and is surrounded by a high wall so you will have total privacy.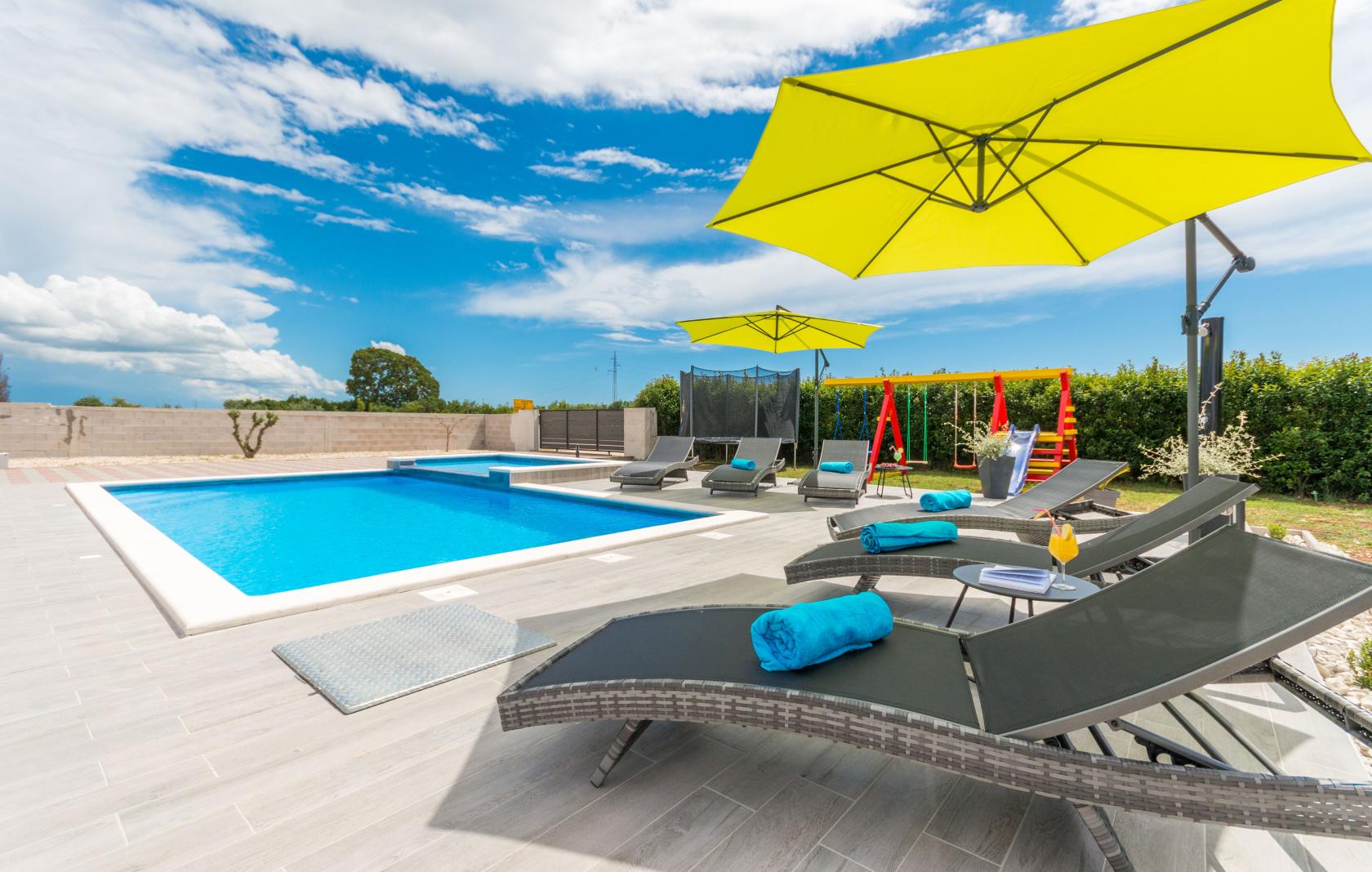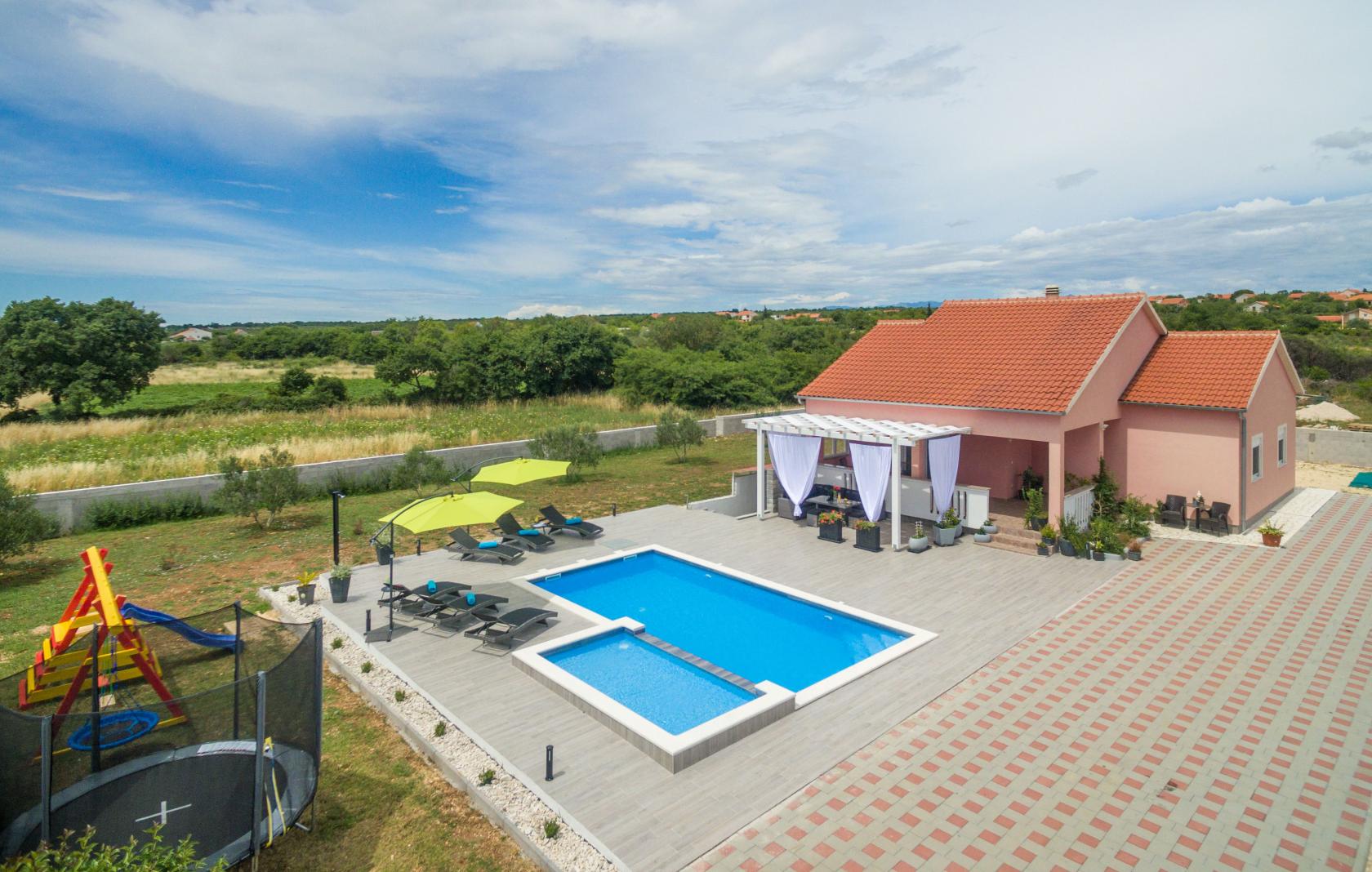 Villa Lorena, Zemunik gornji, 7 persons
This charming villa is located in small village Zemunik Gornji which is just 11 km from the city Zadar. It is perfect for people looking for an escape from the hustle and bustle of everyday life.
Villa Lorena has 3 bedrooms, bathroom, toilet, living room and a kitchen. It can accommodate up to 7 people. Interior is fully equipped for everything you need for your vacation. Villa itself is surrounded by nature and offers you complete privacy. Exterior of the villa is perfect for family relaxation and enjoyment. There is playground for kids, swings, trampoline and 3 bicycles. Children can drive on kids scooter and on a small vehicle. Villa offers private pool with sun loungers and a barbecue with covered terrace where you can enjoy sipping coffee in the morning or cocktails in the evening. It is a perfect family getaway.
Best regards,
your ZadarVillas team