Immortelle is a typical Mediterranean plant which grows on sunny rocks and does not tolerate cold weather. There are over 560 species, of which the most famous is the Mediterranean immortelle or narrow-leaved immortelle, coastal immortelle (Helichrysum italicum) which grows on the sunny Mediterranean rocks. This species grows up to 60 cm, has narrow leaves and yellow flowers, and is best known for its effectiveness against skin aging. The botanical name of this plant comes from the Greek words helios - sun and chrysos - golden, which indicates attractive yellow flowers.
In our country it grows wild on the coastal area and on the islands of Istria, the Kvarner coast and Dalmatia. It is believed that immortelle has the power to erase the traces of time on the face, which is why the French called it immortelle, meaning immortality, a flower that never fades, a plant of immortality or simply: immortelle because of the flowers that remain yellow even when dried. This plant was for a long time forgotten, but more recently it has become a major attraction in the world in the cosmetics and pharmaceutical industries.
What is Immortelle?
Immortelle (Helichrysum italicum) is an indigenous plant species of the Mediterranean area. It is a perennial semi-shrub plant from the Asteraceae family. It grows up to 60 cm in height, a
its branched stems bear tiny, hairy leaves and an inflorescence composed of several tiny flowers. Flowering takes place in the period from late May to July. It is indispensable in cosmetic anti-aging products due to the active substances with which it "erases the traces of aging" from the face. It contains a very strong perfume scent, and the percentage of essential oil in this small golden flower is less than 0.05%, so a liter of essential oil requires more than a ton of fresh flowers. The oldest way of extracting active substances from the plant, before the distillation, was the so-called maceration: soaking a fresh plant in various vegetable oils, as vegetable oils dissolve essential oils well. Macerate, a semi-finished product obtained by this process, has a very intense immortelle scent, and is used to produce wonderful face and body creams. Today, in addition to maceration, mostly immortelle is distilled, and essential oil is used, but many do not know that the water that remains after the separation of essential oil, is full of active and medicinal substances from this plant.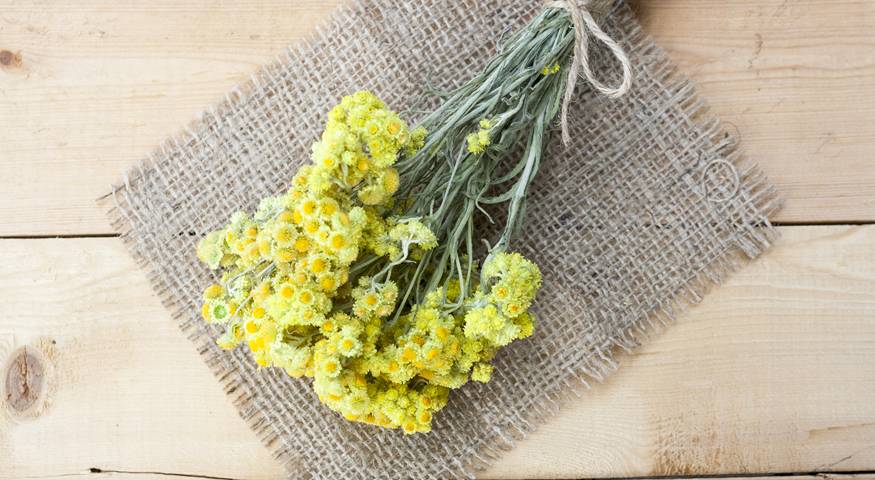 Immortelle essential oil
The cosmetics industry is the largest user of the expensive immortelle oil. This is because this oil is attributed with almost miraculous properties that have a healing effect on the skin. The essential oil is rarely used alone; it is most commonly added to tonics, milks, creams, serums, oils, gels, soaps and other cosmetics. Immortelle essential oil can penetrate deeper parts of the skin and stimulate the microcirculation of the skin and its cleansing and renewal. It also stimulates collagen production, improves skin elasticity and has an antiseptic effect. As it contains antioxidants, immortelle oil protects the skin from the bad effects of free radicals, and thus from premature aging. Preparations containing immortelle essential oil are recommended for the care of irritated and damaged skin to accelerate the recovery of the skin from burns, bruises, bruises, scars and stretch marks. They can also be helpful for eczema, dermatitis, acne and psoriasis, and dilated capillaries and veins. In general, preparations with the addition of immortelle essential oil slow down skin aging, act against wrinkles and reduce blemishes on the skin. Thus, the skin becomes soft, moist, elastic and protected from external influences. Such preparations are especially recommended for people with dry and mature skin.
But before immortelle essential oil became known, immortelle tea was used for centuries to treat various ailments. In the Mediterranean countries, drinking immortelle tea was part of a tradition that is unfortunately somewhat forgotten. This does not mean that we should completely ignore immortelle tea, but get better acquainted with its effects.
Use of immortelle for medical purposes: for the treatment of respiratory and cough, allergy, headache and rheumatism.
You can also find immortelle flowers at the market where you can buy it to decorate your house. However, we must mention that wild plants can be harvested only with special permits from the Ministry of the Environment of the Republic of Croatia, which allows and sets harvest dates, and this year the immortelle season is scheduled for the period from June 15 to August 15. But the best time to harvest immortelles is around July 1, provided they are not harvested when it rains. In fact, it is harvested only after the rain stops, because from the moment the immortelle is harvested, we get the best percentage of oil.
Enjoy the aromas of Mediterannean immortelle!
Best regards,
your Zadar Villas team