Whether you want to spend your vacation somewhere on an island, on the coast near the sea or inland, the Mediterranean is certainly your best choice. Pleasant climate, good food, beautiful architecture and even more beautiful people. That's the Mediterranean. Whether you want to throw pebbles into the sea from the balcony of your villa or enjoy the rural views of the olive groves and vineyards, we are here for you. We have 4 new beautiful villas for all hedonists and lovers of clean lines and minimal decor. Come and immerse yourself in the world of modern design and Mediterranean environment.
What is modern design?
White, beiges, and even some shades of black are the main color palette for modern design, but it can incorporate color as an accent, so long as it leans towards earthy. Modern design has a large emphasis on natural materials, so keeping things in a more natural color palette is key. Furniture, instead, should differentiate spaces, like a kitchen counter providing a visual distinction from a living or dining room. Abundant natural light is also necessary to help a space feel more airy and open, so windows are kept unadorned.
This is an impressive, contemporary luxury villa, located in the peaceful village of Poljica Brig, part of the town of Nin, in Zadar County.
This spacious, stylish and modern villa has 3 en suite bedrooms, spacious living room with corner sofa, kitchen and dining room. The privileged location and clever architecture allow for seamless transition between indoors and outdoor area. There's uninterrupted, stunning views on endless olive groves.
The living room opens onto the enclosed terrace equipped with a wood-burning fireplace, a large dining table, a wine fridge and a toilet. In the continuation of the terrace there is a large area covered with pergola, a private pool which has a heating and cooling function, and an outdoor shower. Also within the terrace there are two swings and a trampoline for children. Whole house is Air-conditioned throughout and an abundance of natural light exist from lots of glass. There's a choice of numerous chill-out areas inside and outside the house, including a gallery with an open view of the living room on the ground floor. There are two more rooms in the basement for you to enjoy. One is equipped with a pool table, table football and darts, while the other room is intended for exercising.
Relax in the peace and quiet of Villa Aya on the beautiful island of Iž.
The island of Iž is located on the doorstep of the Kornati National Park. It is an hour and a half away by ferry or 40 minutes by fast boat from Zadar, a city with a 3000-year history. With its position and unique beauty of the environment, it is synonymous for wild and untouched preserved nature.
This new and modern, comfortably equipped Villa Aya is located on an elevated position and offers a beautiful view of the marina and neighboring islands. It seems like the Knež Bay is in the palm of your hand. Villa offers three bedrooms, three bathrooms, living room with kitchen and dining room, which opens onto the terrace with covered dining area and heated pool with barbecue. Parking is provided in front of the house. Small pets are welcome too.
Since there are a dozen islets around Iž, all of you who have a boat or rent it, you can enjoy a tour of the bays and beaches, in complete solitude and intimacy.
The special atmosphere of the island makes it ideal for family vacations and rest for your body and soul.
This beautiful new villa is located in Debeljak. Debeljak is a village in the municipality of Sukosan, Zadar County.
A truly stunning Casa Kasijan is a modern style pool villa. From the moment you walk through the courtyard doors this villa impresses you: from private pool surrounded by sun loungers and covered terrace outside, to the beautiful hardwood dining table, light wood beds, and comfortable, elegant furniture throughout the interior. This villa consists of 3 bedrooms, 4 bathrooms, kitchen and living room. Another convenient detail that this beauty offers is a summer kitchen with a fireplace and dining area. There is also a playground for children and another dining table on the terrace, with a space to relax and drink coffee by the pool. Villa's natural charm and modern design are perfect for your next holiday escape.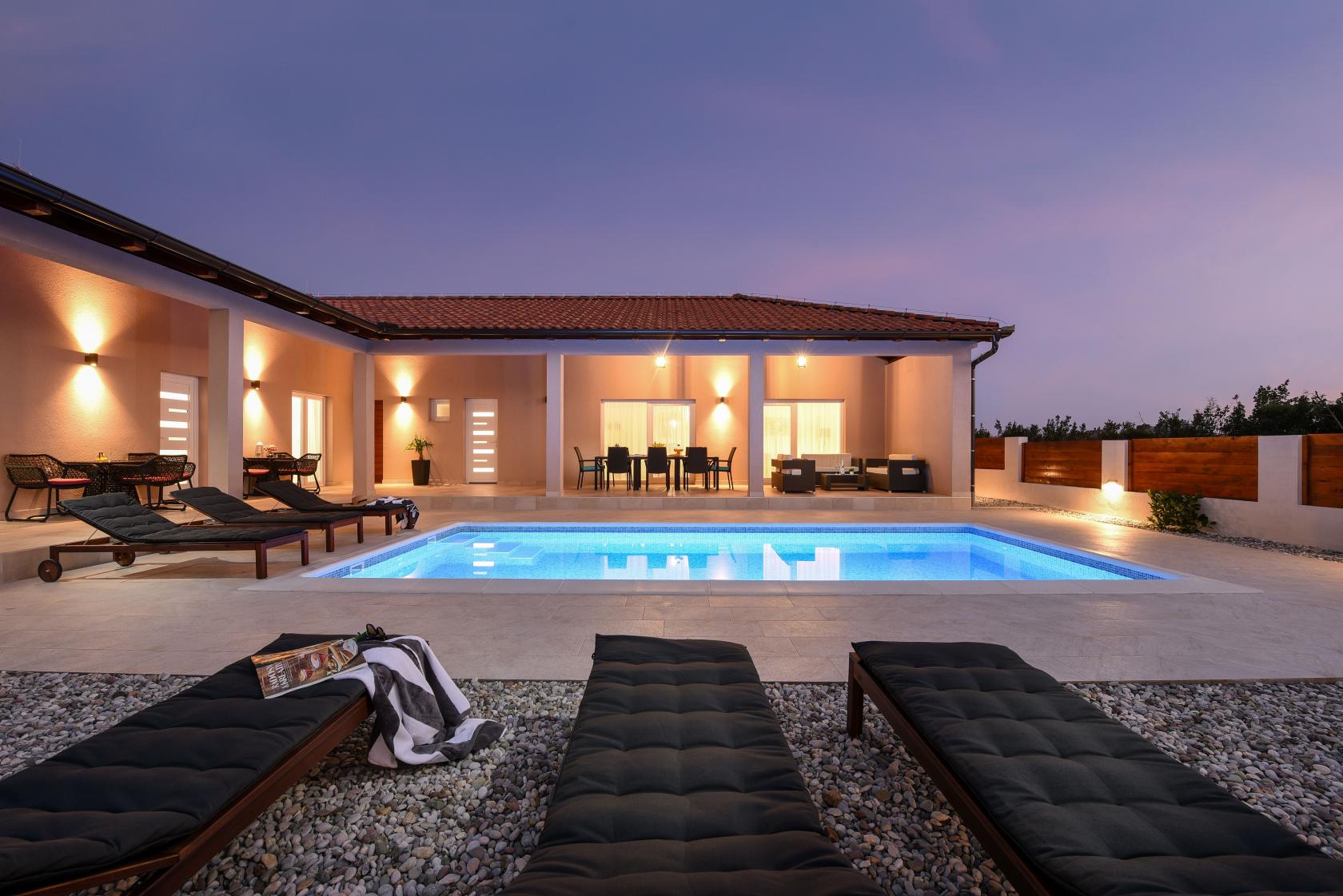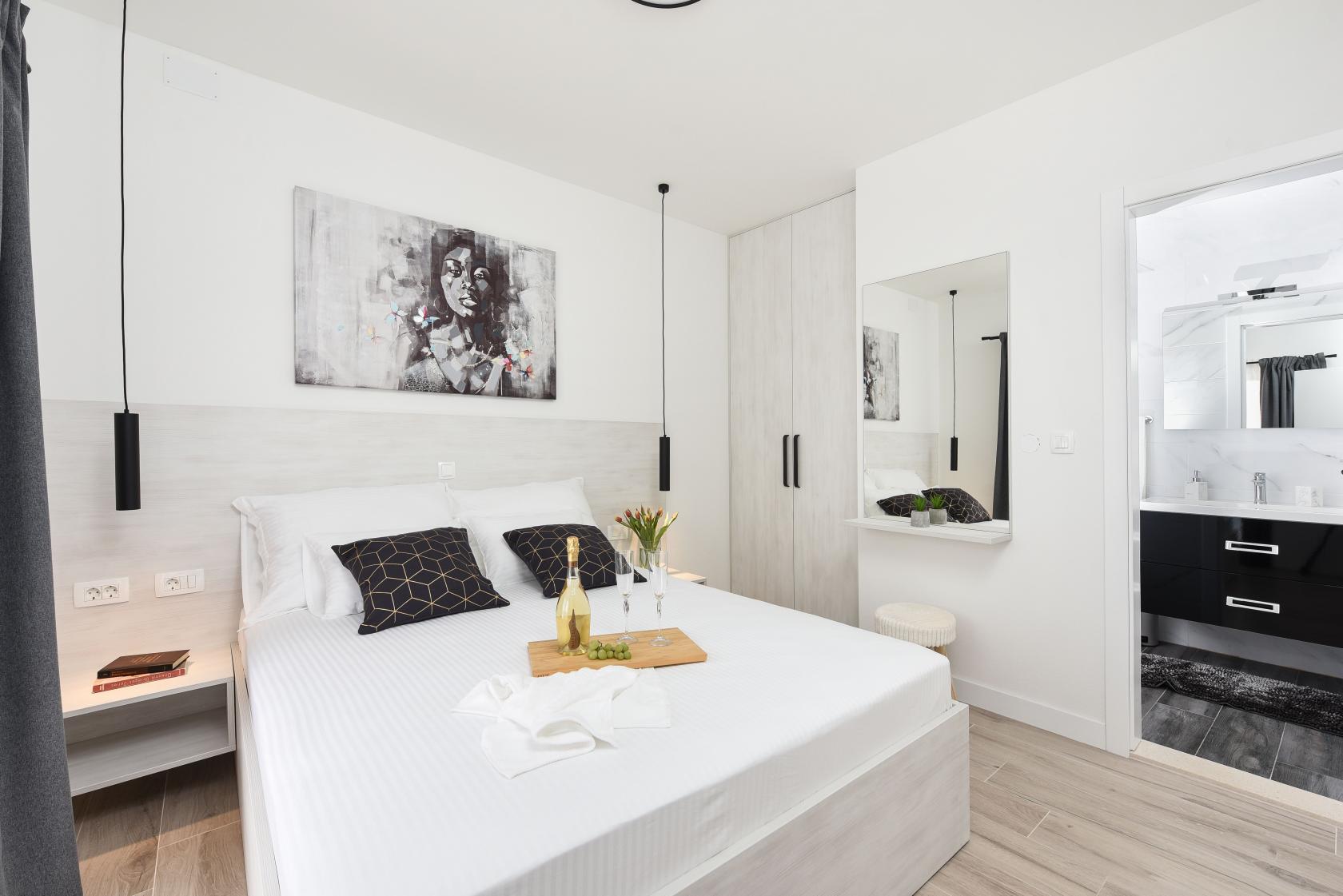 Villa Tara is located in a small place called Tinj. Tinj is situated in Benkovac county and is near Biograd na moru and Zadar. Zadar, one of the most popular summer holiday destinations, has certainly earned this title, along with culture, art, it's the city of the sea organ and the city with the most beautiful sunset in the world. Biograd na moru is another of Croatia's popular holiday destinations, and also very popular as a sailing destination – this is the most indented part of the Croatian coast, so ideal for those exploring by sea. It is also an ideal location from which to visit a number of Croatia's National and Nature parks. There are 4 National Parks that you can visit from Zadar area: Plitvice, Krka, Paklenica and Kornati, and in the immediate vicinity is the Vrana Lake Nature Park and Fun Park Biograd - fun for the whole family.
Villa Tara has 3 bedrooms, two of them with its own private bathroom, open plan kitchen with dining room and living room. There is a double sofa bed in the living room so villa can accommodate 6 + 2 persons. Exterior of the villa is really spacious. There is covered dining area on the terrace so you can enjoy in your meals outside and drinking coffee in lounge area by the pool. Children can play in the playground while you relax on sun loungers or on swing chair while soaking up the sun. Villa itself is surrounded by a high wall so you will have total privacy. Accommodation also offers table tennis, billiards and darts. You can bring your small pets too.
We wish you a pleasant stay!
your ZadarVillas team