Set in a wooded countryside, right on the sea and near the beach, or close to the largest party destinations, you will find a large selection of villas to choose from. They all have that one important feature that connects them, and that is complete privacy. Some guests like more, some less privacy, and for all those who want to enjoy complete solitude, peace and tranquility we offer beautiful houses from modern villas with swimming pools to rustic charmers. There is something for everyone.
If you dream of a summer on the sea, the possibility of immersing yourself in the crystal-clear blue water without leaving your private villa, then you should most definitely visit villa Otus. Located directly by the sea, it offers its guests a magnificent view and sunsets that you will never forget. Villa Otus is located on the island of Pašman in the Zadar archipelago. You can reach the island by ferry from Biograd or Zadar. Apart from the beach directly in front of the villa, the nearest beaches are only a short walk away. Near the villa is also a small dock to which you can moor your boat if you happen to come by your own boat.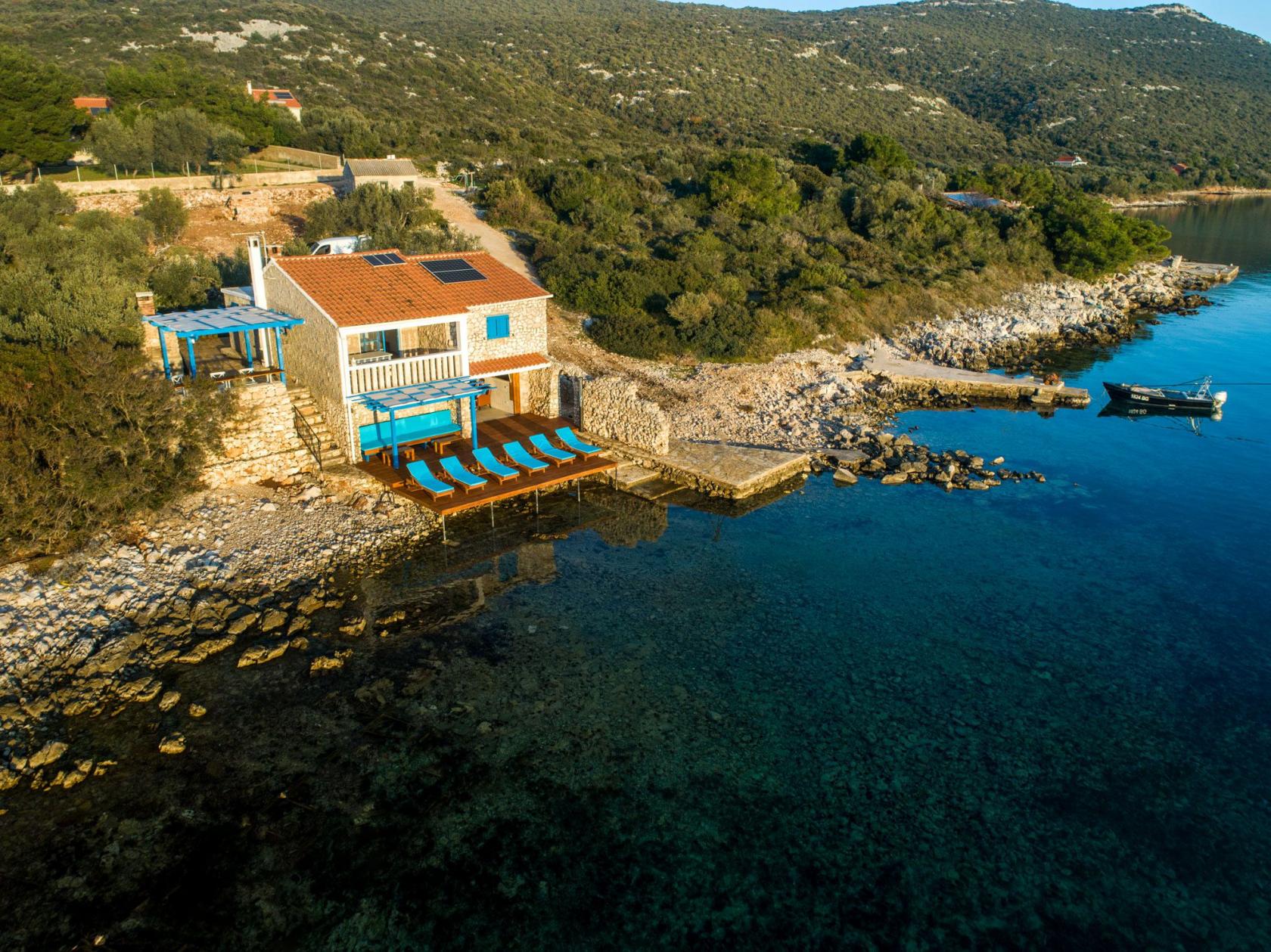 Villa Otus opens onto a bathing platform making the sea an integral part of your holiday. The house is divided into two floors, and can accommodate up to 6 persons. Villa consist of 3 bedrooms, a bathroom, a kitchen and a living room. In the kitchen together with the dining room is a stone stove for the preparation of the local specialties. In front is a beautiful covered terrace also with a dining table. The villa also offers an outdoor kitchen with a lounge area that opens directly onto the platform from which you can jump straight into the sea. So the living room is actually outdoors, yes you heard me well, outdoors! Yes you have a roof over your head, don't worry, but you are free to run into the sea from the armchair because one side is completely open.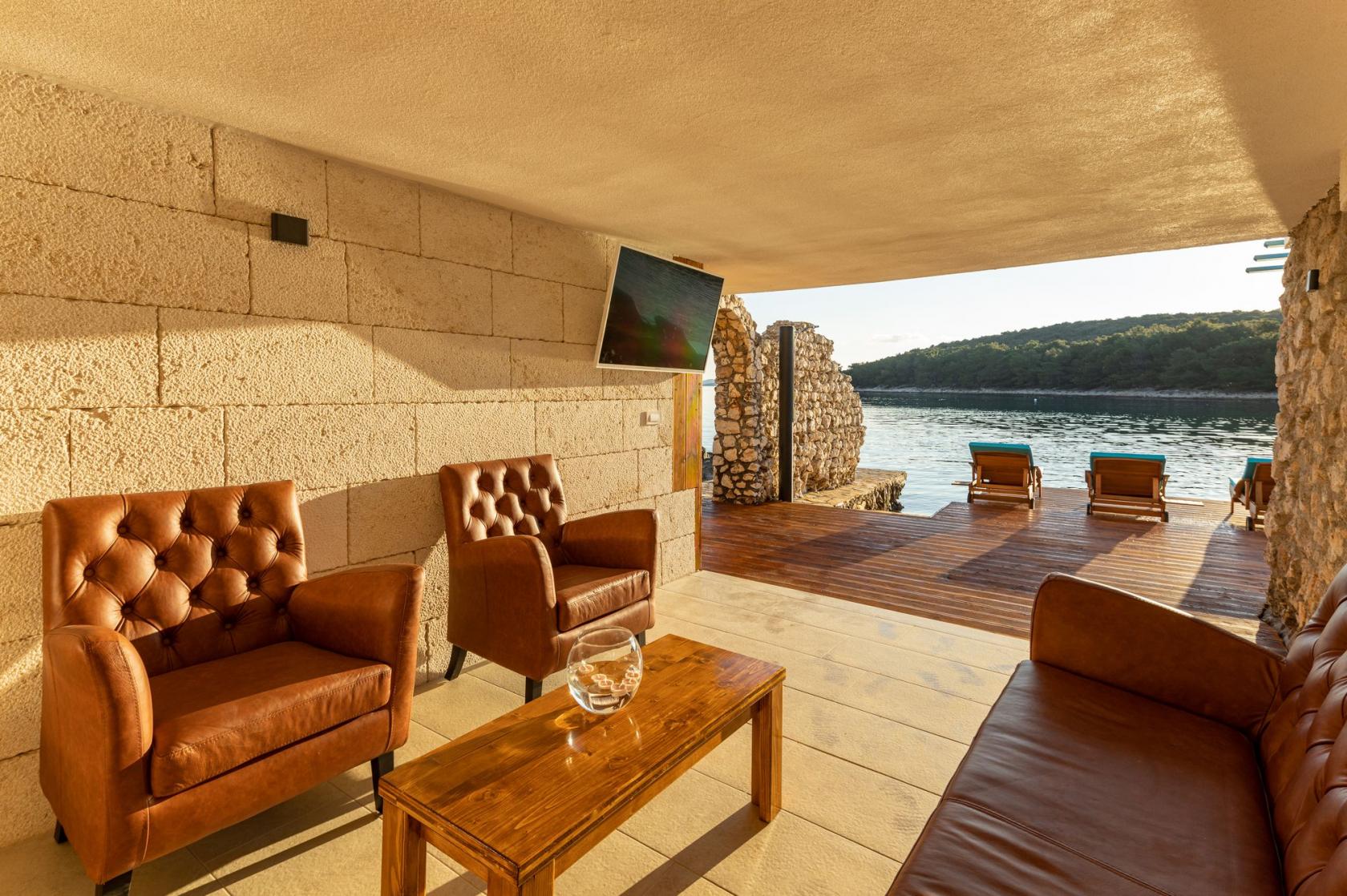 Sun loungers and another section for relaxing and sipping coffee or evening cocktails awaits you on the platform. On one side of the villa is another covered dining area and an outdoor barbecue. You can even bring your pets to enjoy in this private paradise with you. With your own private beach by the villa, you won't be needing anything else.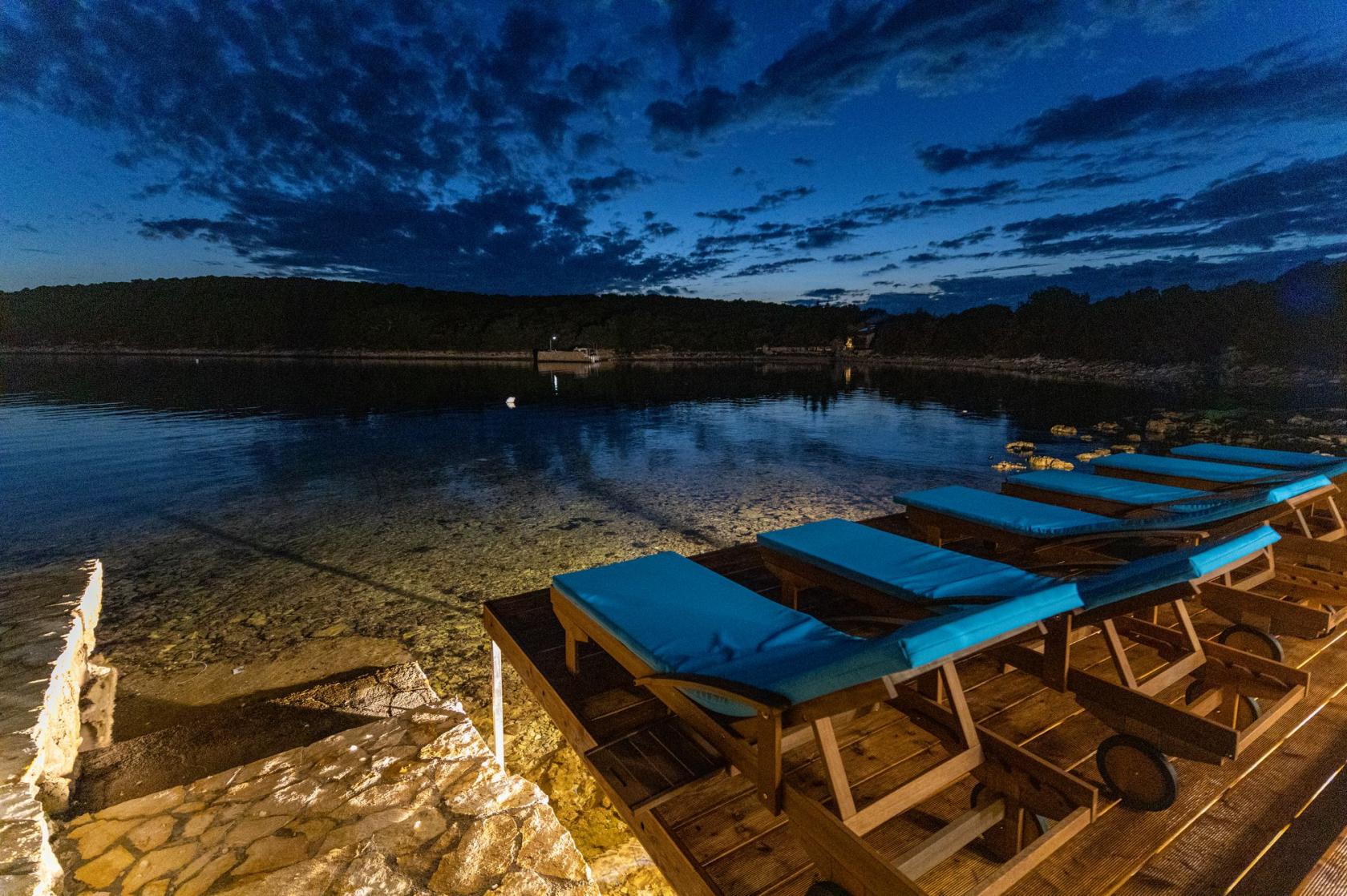 If you came on holiday with your friends and want to be in a villa that has no neighbors so you can party in the evening by the pool, then villa Laurel is the right choice for you. This amazing villa is located on estate with more than 10 000 square meters, just 4 km from center of Novalja and just 6 km from best party destination in Croatia - Zrće beach. If you want to enjoy in complete privacy during the day, and in the evening enjoy in the crazy parties for all ages, this villa is what you need. The beach is just 800 m away.
At first glance a real Mediterranean residence with canopies and sun loungers, and a view of the endless olive groves that reach all the way to the sea. During the hot Croatian summer, you have at your disposal large swimming pool, jacuzzi for 5 persons, sundeck and private tennis court. If you are hungry there is a barbecue by the pool for preparing Dalmatian specialties. The interior is decorated in a rustic traditional way with many different details that remind you that you are still in Dalmatia, on the Mediterranean.
A real example of tradition is the villa Zen Promona where you will feel at home and enjoy the untouched nature of the surroundings. Dalmatian villa is located in Puljane, a part of National Park Krka. Krka National Park lies about 10km inland from Šibenik in this part of Dalmatia. Named after the Krka River, the Park covers an area of just over 142 square km and includes two thirds of the river itself. Villa Zen Promona can accommodate 8 guests in 3 spacious bedrooms. Villa itself consists of 3 bedrooms, 2 bathrooms, a kitchen with dining room and a living room. You will surely enjoy the outdoor space. It provides several places to sit and enjoy, and the scents of Dalmatia are felt everywhere.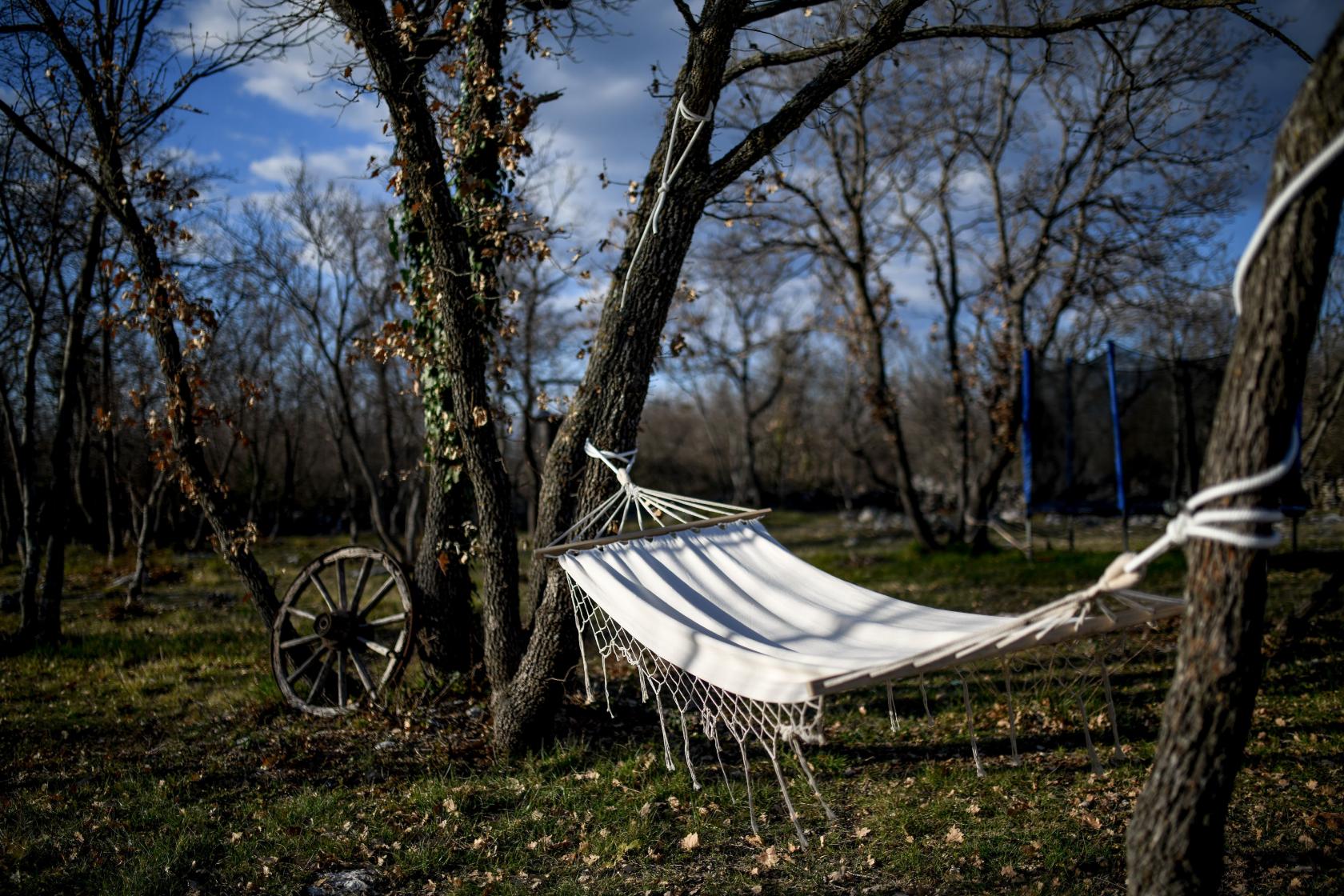 The main feature is the private pool surrounded by sun loungers. There is also a barbecue where you can prepare traditional Dalmatian specialties and an outdoor dining area. For leisure, billiards and ping pong table are available for joint play and a trampoline for children. Villa also offers table tennis and table football, and a special addition for grown-ups- bocce field. What is really special about this villa is closeness to National Park Krka which is only 1 km away. Also, visit the town of prosciutto - Drniš, romantic Skradin and historic Šibenik. Don't forget to visit beautiful Zadar also, which is settled in the heart of Dalmatia.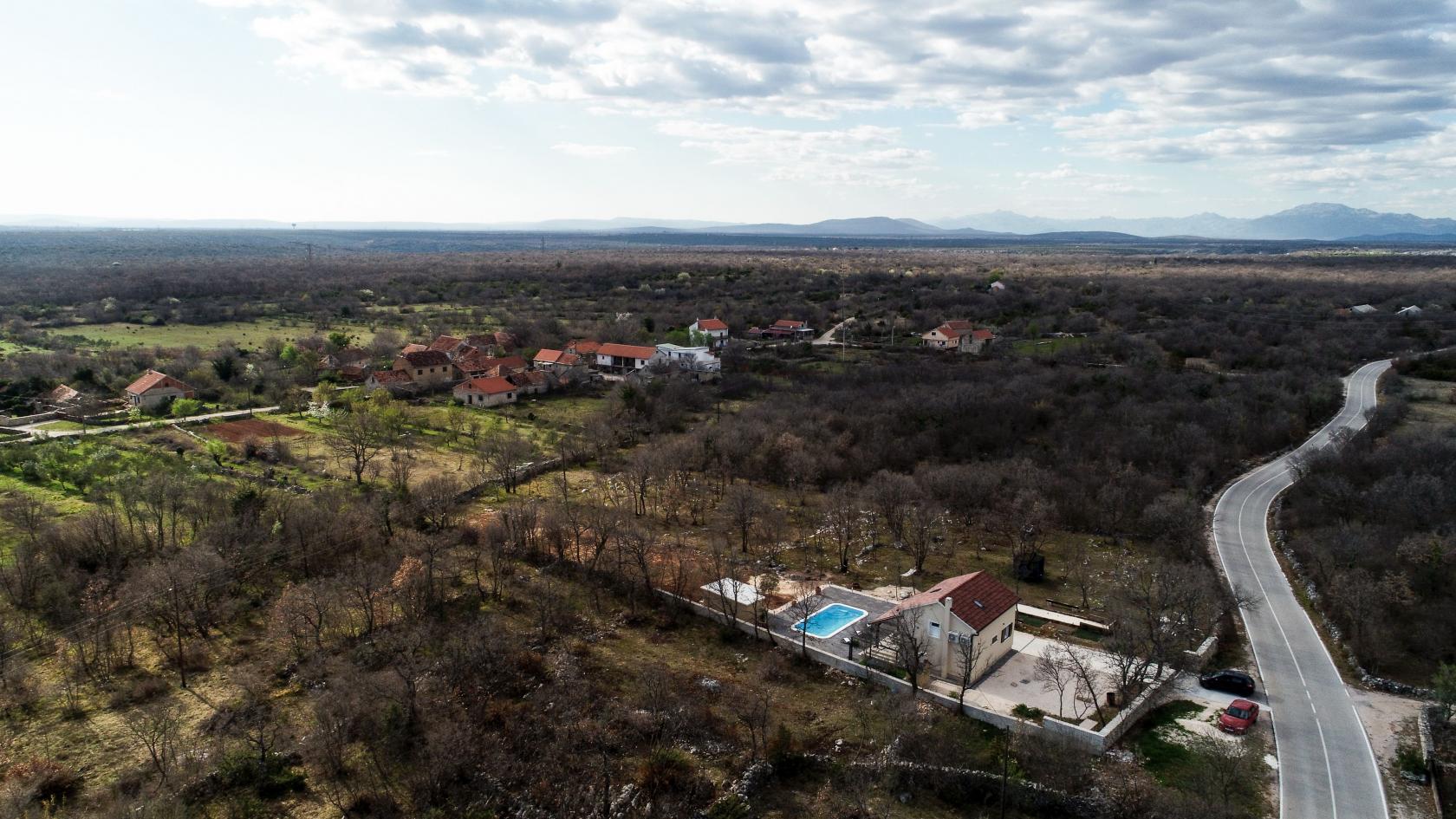 Best regards,
your Zadar Villas team