Private pools are not just limited to large villas for many people. If you are a married couple with children, you will find in our offer beautiful cozy villas with swimming pools for 5 people that offer not only a private pool but Jacuzzi, barbecue, garden, mostly everything you could want on vacation. If you are a large group of friends and still want to have your own privacy, we have a wide selection of villas with swimming pools for up to 16 people. Outdoor spaces contain large sections for barbecue, dining area and summer kitchen where you can enjoy moments together and still have your privacy in the villa.
All you need is to visit our website and enter your preferences in the search engine and the date you want to book. Today we will present you three new villas with pool that will certainly not leave you indifferent. We have some villas in rural area, some villas at the seaside and in the city, so we are sure that you will find something that will be your cup of tea. So, let's start...
Villa Lorema is located in a quiet place Raštane Gornje (12 km from the town of Biograd).
It is an ideal starting point for many excursions that can be made during the holidays. Villa consist of 2 bedrooms, 1 bathroom, a kitchen, a living room and can accommodate up to 5 persons. The interior of the house is decorated with taste and pleasant details to make the guest feel at home.
Guests have at their disposal wireless internet, PlayStation 4 with 4 games, Tablet, satellite programs, Smart TV, Netflix and HBO programs. The ground floor has two bedrooms, a fully equipped kitchen and a large balcony overlooking the entire courtyard (vineyard, olive groves, various Mediterranean plants and fruit trees). Guests have at their disposal a garden with a variety of vegetables that they can freely consume.
The whole property is fenced (5000 m2) so guests can feel comfortable and enjoy privacy while children can play undisturbed (badminton equipment, table tennis, 2 swings and slide, and trampoline). The exterior of the building is full of greenery and provides peace and quiet. Next to the pool there are sun loungers and parasols, and a large covered terrace with quality garden furniture and barbecue, and a massage bathtub for 4 people.
This next amazing villa with pool is located in Privlaka in Zadar County. Privlaka is an oasis of sandy bays, an ideal destination for a family vacation, a place of long fishing tradition and living stories and legends. The place abounds in long, shallow, sandy beaches that are perfect for family tourism.
This modern cube villa is nestled on the coast, near the sandy beach, surrounded by nature and only a few neighbors. Villa Ela will delight you both with its exterior and modern luxury interior. Villa Ela has 5 bedrooms, 4 bathrooms, a beautiful open plan living room with kitchen and dining area. Big glass walls provide a view of the pool and outdoor space, and merge into one whole. The outdoor area is dominated by a heated pool surrounded by sun loungers. There is also an outdoor dining area with barbecue facilities and a covered summer kitchen. The whole house is surrounded by greenery designed as a tranquil oasis and a high wall that provides complete privacy.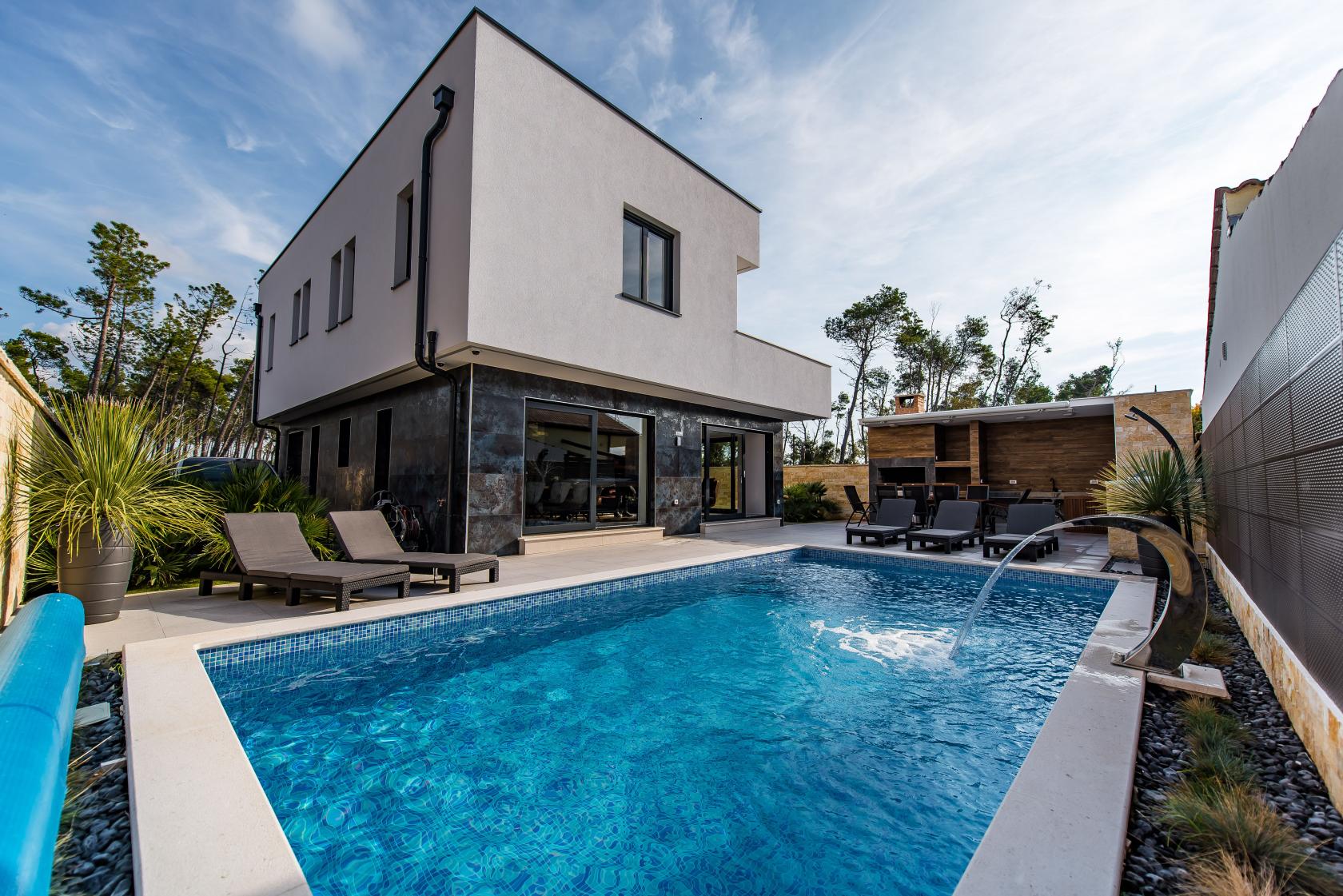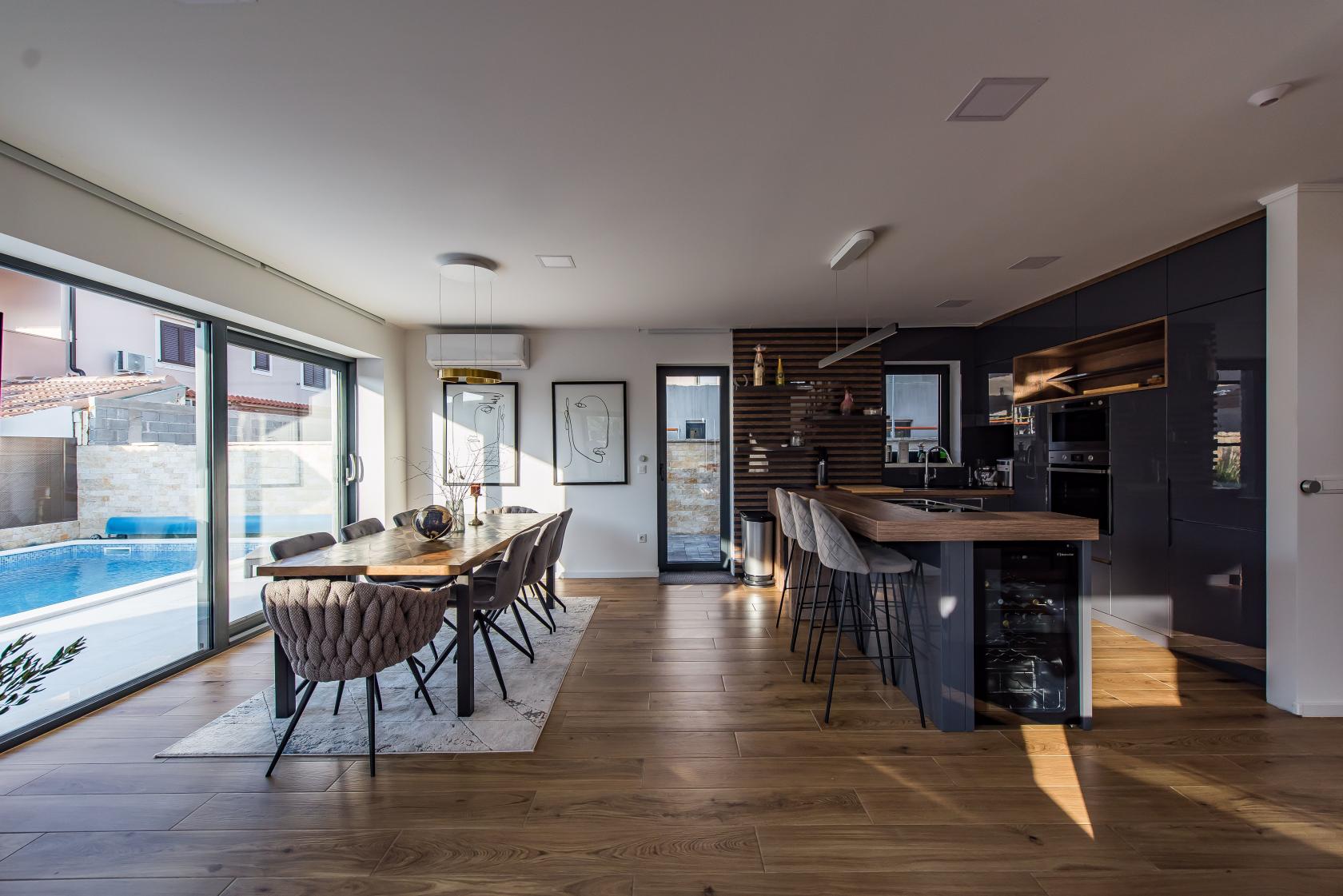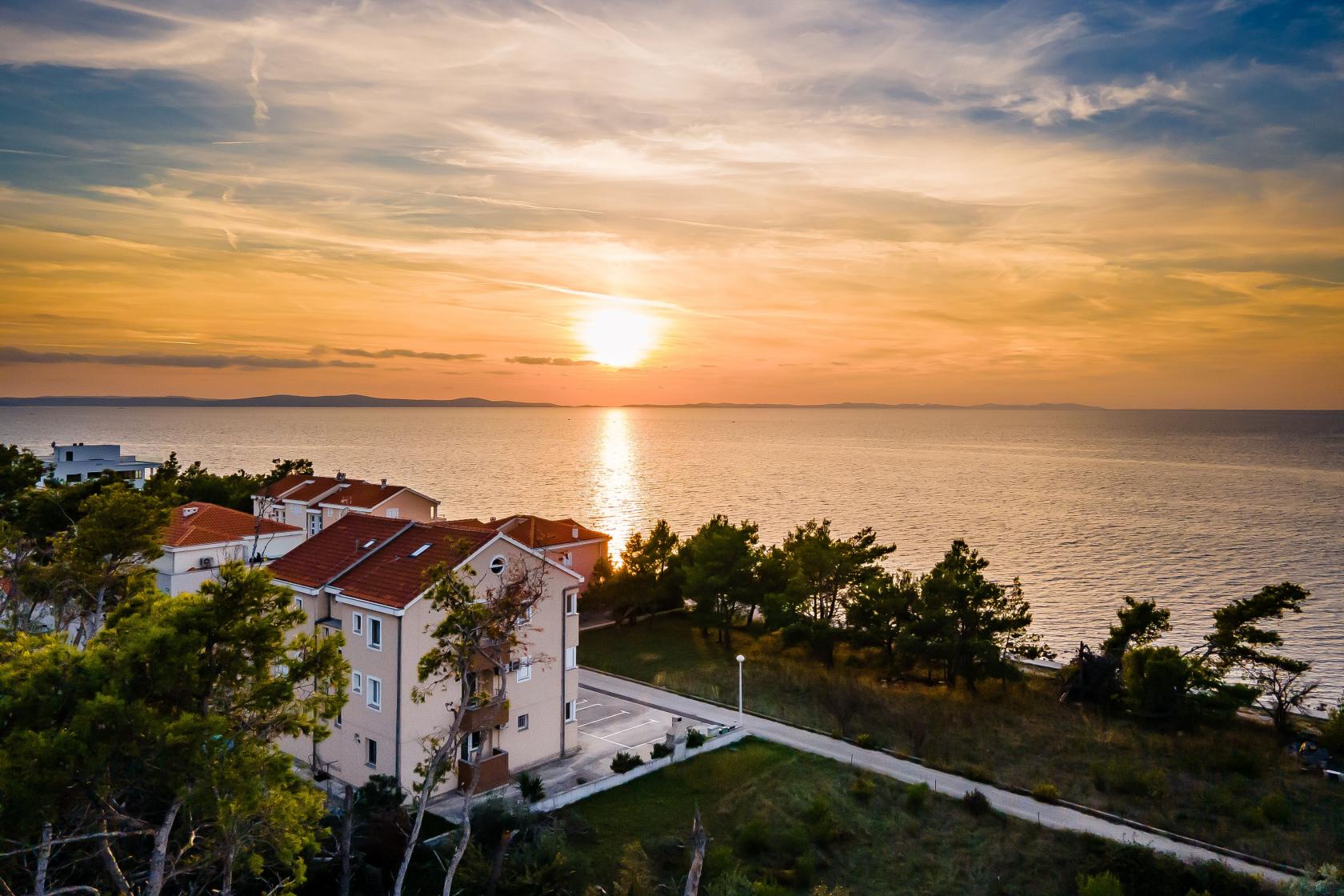 Spacious villa Petra is located in Bibinje, only 7 km away from Zadar. Bibinje is a small and charming tourist place that will enchant you with its diverse offer. Restaurants, taverns and small bars are lined up on the coast side, while the whole summer is dotted with events, foolish evenings, festivals and concerts. Beaches facing the Zadar islands covered with smooth pebbles will delight guests of all ages, while the largest marina on the Croatian coast with top facilities luxury gastronomy and catering service will be a dream come true for lovers of nautical tourism.
Villa Petra located only 100 meters from the sea is divided into 4 residential units and ideal for a large group of 12 people. It consists of a total of 7 rooms, 5 bathrooms and is perfect for several families who can socialize in the garden with barbecue, summer kitchen and covered terrace including an outdoor dining area, while in the evening you can spend your time apart.
The outdoor area offers a private pool surrounded by sun loungers and parasols, as well as a barbecue, a summer kitchen and a covered dining area. Pets are welcome with an additional charge. From the balcony of the house, there is a beautiful view of the sea and islands.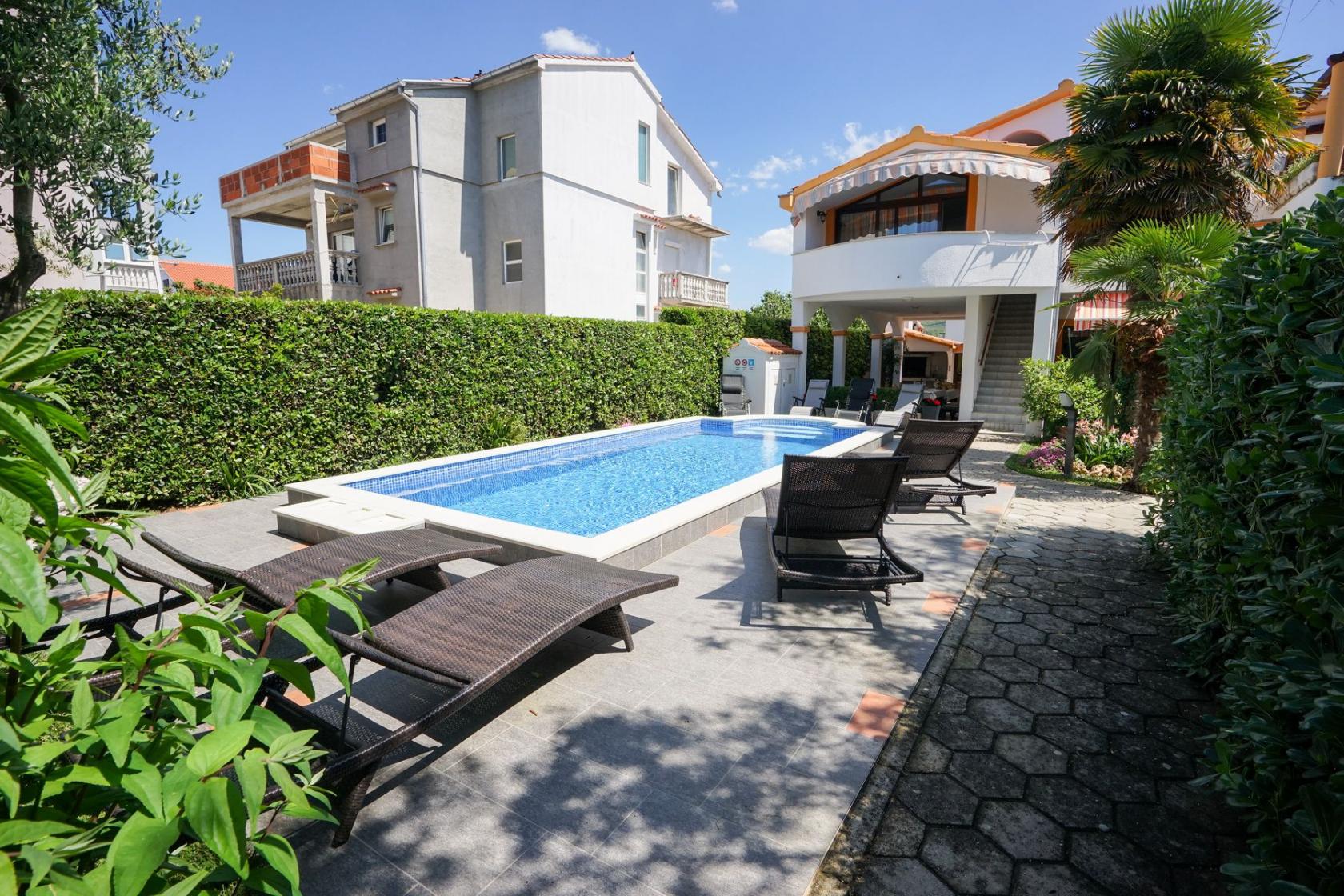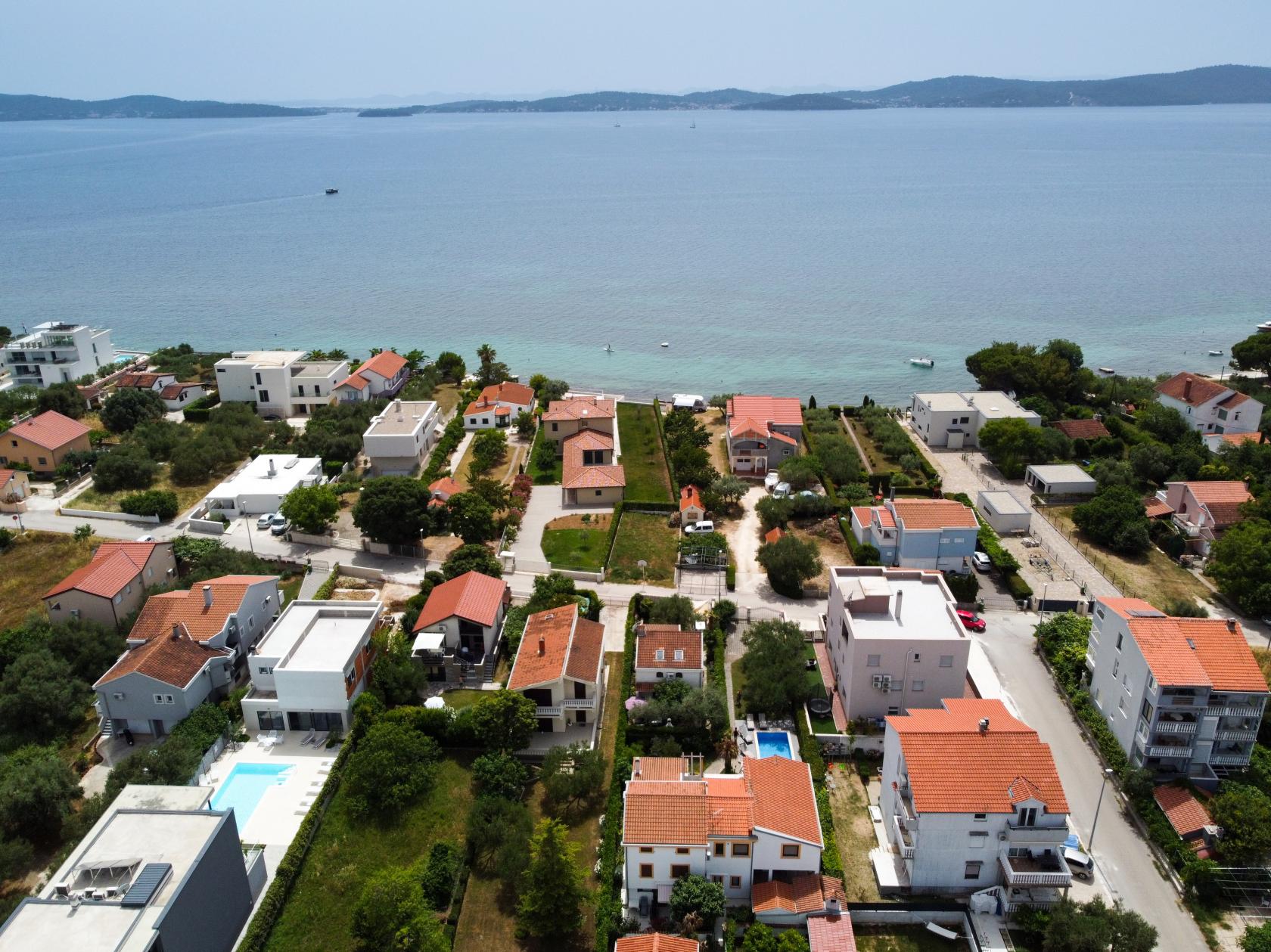 For any further questions you can contact us any time!
Best regards,
Your Zadar Villas team