Are you a big animal lover and don't separate from your pet even during the holidays? You are not comfortable leaving your furry friend to relatives or friends, and consider your pet an equal member of the family? This is great because we also love animals and, in our offer, we have a lot of interesting pet friendly villas that will not only please you but also your pets!
What makes our pet friendly villas so special for your pets? The most important thing for our little friends is that the yards are completely fenced with either a high wall or a fence so that in addition to having complete privacy, you can let your pets run around the yard without any worries that they will wander somewhere. In addition, most of our pet friendly villas have a very spacious yard with a lot of space for your pets to play and enjoy without interruption. While you enjoy the pool or sunbathing, they can roll around on the grass or sleep in the shade in the garden. Of course, if you take a dog or cat with you on vacation, it may require a little more extensive cleaning, so for pets, in addition to the price of booking, pet fee is acquired. Dalmatia and Zadar County are really beautiful places where you can take your pets, and some of our villas are located in rural areas where your pets can play on meadows and in forests. There are also pet friendly beaches where you can take your pets to enjoy in the water.
Today we will present you several pet friendly villas that you are free to view and book with one click.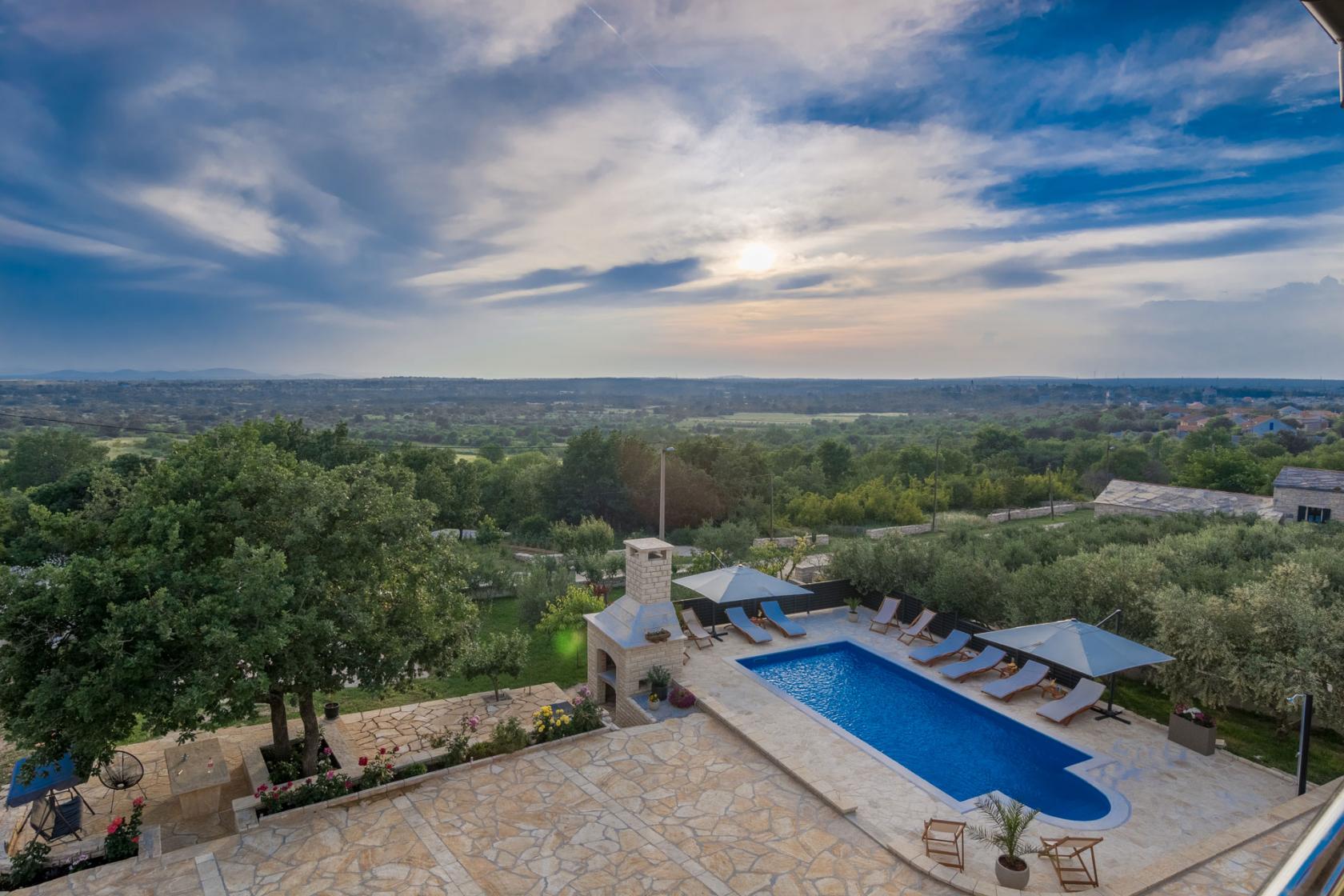 Villa Balen, 12 persons, Lisičić
This spacious villa is situated in a small village called Lisičić, near Benkovac city. It is located on a secluded area with just a few neighbors surrounded by olive trees and vineyards. Complete privacy is provided. Villa consists of 6 bedrooms, 4 bathrooms, 3 living rooms, 2 kitchens, sauna, jacuzzi and a game room. For those who want to stay active on their holiday there is a gym. All you could hope for, for a relaxed and fun vacation. It can accommodate up to 12 people. Courtyard of 2000 m2 is a paradise for your children and pets. For little ones there is a big playground. The paved part is surrounded by an olive grove and everything is surrounded by a high wall. What awaits you outside the property of the villa is endless areas of forest and meadows. The nearest beach is located in Karin Donji. You have opportunity to experience the old way of life through meals, wine and customs of our hospitable people. Visit the famous vineyards and treat yourself with the pleasure of tasting top quality wines.
Villa Tilia, 10 persons, Gornje Raštane
This new villa is placed in small village called Raštane Gornje, just 18 km from Zadar and 8 km from the beach. It's a dream come true for those interested in an active holiday. The yard of 2600 m2 offers everything you and your pet can wish for. The exterior is dominated by a large swimming pool. Apart from the pool, this villa offers a tennis court, table tennis, and a playground for kids. After tennis match, you can relax in the sauna and jacuzzi. This stone Mediterranean villa with its pale blue shutters and exposed stone walls in the interior will make you feel the touch of the Mediterranean past and tradition. Interior is equipped with luxury furniture. On the ground floor is a large living room connected with kitchen and dining room. On the first floor are placed 4 bedrooms and all have a private bathroom. All of them are equipped with Wi-Fi, air-condition and all of them have direct exit to the large terrace. Your furry pets will enjoy playing in this large yard and climbing the stairs on the terrace. And outside the property also awaits you forests, meadows, olive groves... Pure enjoyment!
Villa Noa is located in the vicinity of Zadar center, just 4 km away. Villa is unique because of its position. In one way you have feeling that you are in the village because 1 km around the villa is just nature, without any traffic and neighbors. In other way, if you want to be close to the center and feel summer with lot of events, parties and activities, you just need to pass 1 km to the road and be part of summer madness. The interior of the villa is decorated in rustic style. On the ground floor are placed living room, kitchen, and bathroom. On the first floor, there are 3 bedrooms (TV, air-conditioned) with 1 bathroom. In the master bedroom, there is a unique view on the Zadar archipelago, on islands and the sea. Also, you will participate in the best sunset in the world for which Zadar is known for. Outside the villa is a large fenced property, surrounded by vineyards and olive trees on 5000m2. In the yard is placed large swimming pool (10x5m) and a place for chilling during the hot Croatian summer. Also if you want to prepare traditional Dalmatian specialties, there is a big barbecue for your friends and family. For your little ones there is a playground and big lawn area with olives where they can run and play along with your pets.
Villa By the river, 8 persons, Posedarje
Our newly built beautiful villa is a one of a kind accommodation? Why?
Because it combines best of both worlds: a modern and creative but simplistic design and the environment consisting of a river flowing right by the house, magnificent fruit, cypress, olive and other trees. A beauty immersed into wilderness that awakens your senses. Just imagine how would your little pet enjoy in this courtyard among beautiful trees and greenery. Everything is enclosed by a high wall so you will have no worries. Villa consists of 3 big bedrooms with en-suite bathrooms and one separate toilet. Living room is connected with dinning room and kitchen so together they make up one extremely lively area of the house. Exterior of the villa consist of charming patio with exterior sofa overlooking the swimming pool, where you can enjoy morning or evening drinks and food. Interior is decorated luxuriously in a modern design. In this villa you and your pets will enjoy both indoor and outdoor space.
Best regards,
your ZadarVillas team