Autumn has already started on the calendar, but the weather is still warm, ideal for walks, tours and even swimming. You didn't have a vacation during the summer, so only now after the season do you have time to rest, but don't be sad. You may have missed the summer madness, but autumn charms await you. Autumn is the ideal time to relax, the heat and crowds are over, you don't have to wait in lines to enter restaurants or shops and it's not yet so cold that you'd rather shut yourself in the house. Even if it gets cold, we offer beautiful villas with a heated pool, indoor fireplace, barbecue, jacuzzi and everything that can make your vacation more relaxing.
VILLA MALA, PRIVLAKA, 8 PERSONS
Luxury villa Mala is a unique combination of modern decoration and old materials that are integrated into this newly built house. Villa is made of environmentally friendly materials. In the construction of the roof of the house is built over 100 years old oak timber, which was removed from the old Slavonian house. The house is lined with stone on the outside while the ceiling beams are exposed on the inside to give the authentically look. Luxury Villa Mala is located in a quiet location and only 300m away from the sea in a small fishing village Privlaka. Clean air and healing black mud make this location attractive to people with health problems and children.
Villa Mala consist of 3 bedrooms, 3 bathrooms, a living room, a kitchen and a dining room. Everything is decorated in a modern luxury style for the best possible feeling of comfort on your vacation. Villa also offers sauna. The spacious courtyard of Villa Mala is completely enclosed by a wall so provides complete privacy. In the center of the yard there is a large heated pool surrounded by sun loungers and a barbecue with a covered dining area. The whole yard is surrounded by olive trees. Also 6 bicycles are available for guests to use to explore beautiful surroundings.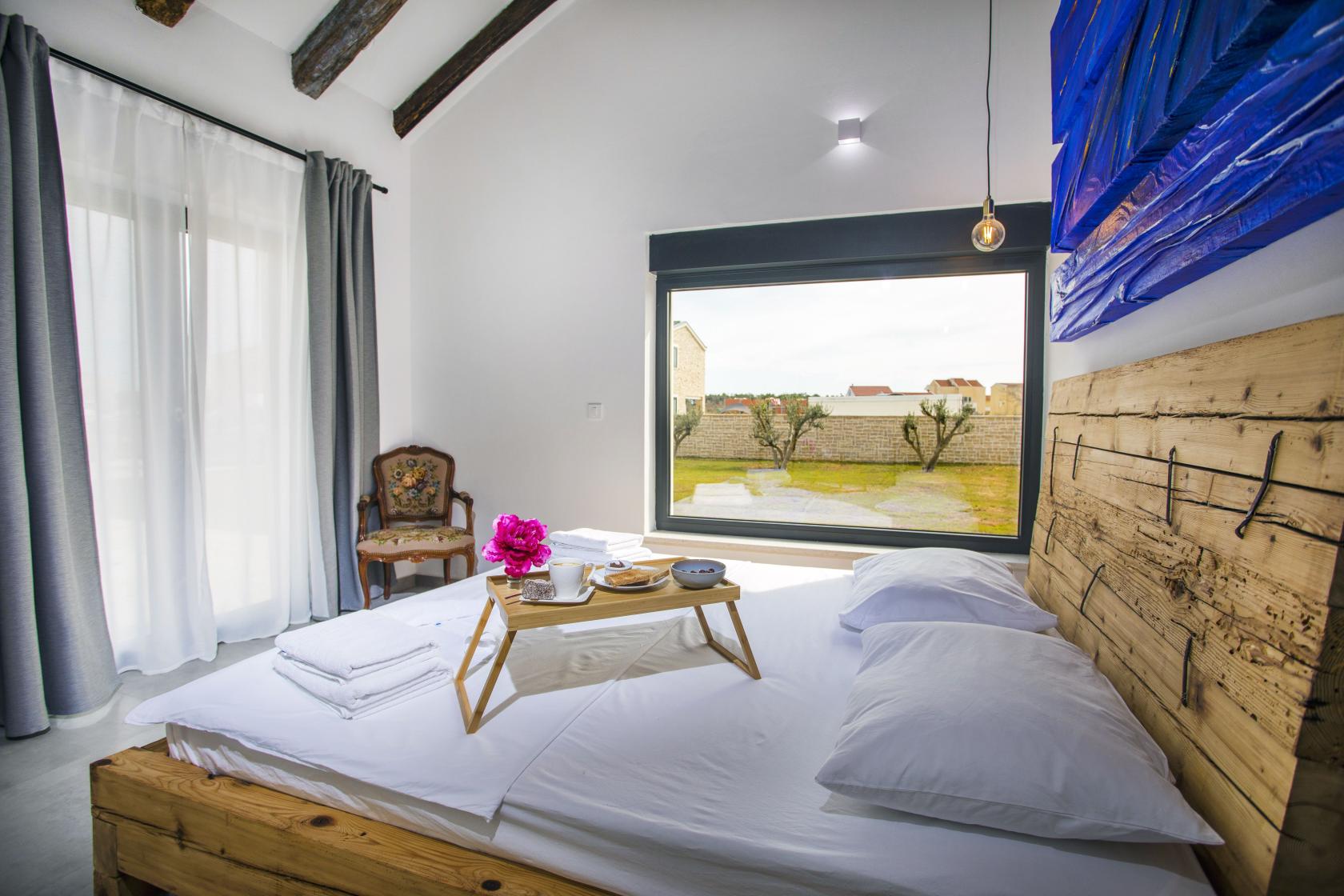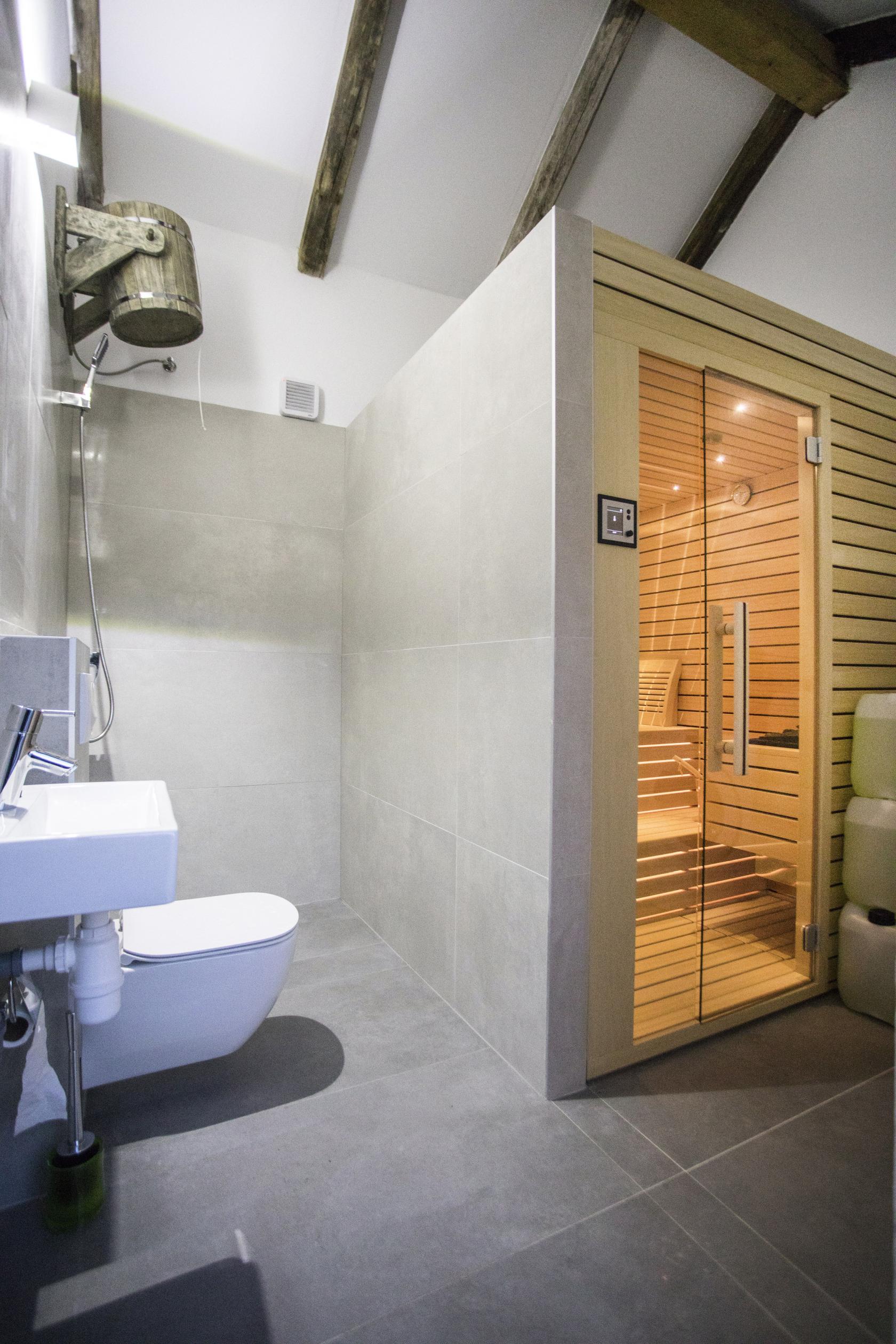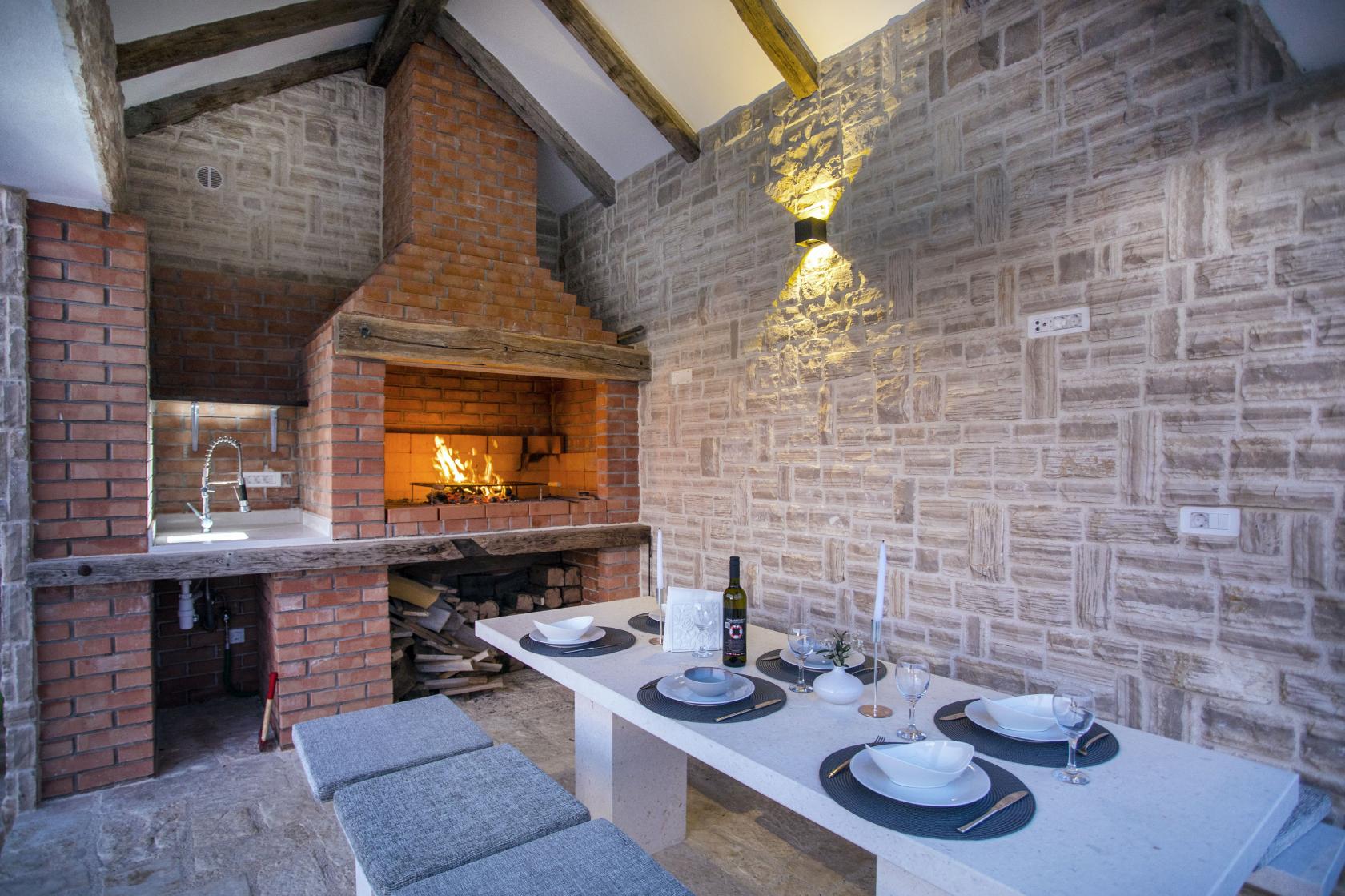 VILLA QUINCE, MURVICA, 16 PERSONS
Luxury villa Quince is located in a small place called Murvica. The house is situated in an excellent location, only a few minutes drive from city of Zadar. Exterior of the villa is pretty amazing. Villa offers barbecue with covered dining area, terrace, extra-large heated pool (10x8m), sauna and jacuzzi. For those who like to be active during the holiday season, there is a gym in the house.
Unique part of this house is a tavern with a large wood stove where you can sit, enjoy and have a fun with your friends and family. Also, the summer kitchen is placed next to the swimming pool with 2 toilets. Interior is separated in 3 units. On the ground floor is placed a large living room with 3 bedrooms, and on the first floor are placed 2 separated apartments. All units are air-conditioned. House is ideal for large groups; it can accommodate up to 16 people. Everything is decorated in traditional rustic style. Dark wood dominates in the rooms with old ceiling beams.

VILLA LAVIE, ZADAR, 16 PERSONS
Luxury villa Lavie in Zadar is a unique place to spend your holiday in.
The villa has 6 large bedrooms, each one with it's on private bathroom.
The kitchen is rustically and fully equipped and gives you a feeling of traditional Dalmatian cuisine.

Every room has a touch of the jet-setter lifestyle so you will feel like a royalty.
In the side yard is a lounge area where you can relax with your family or friends.
On the top of the villa you can find a huge terrace with heated pool, bar and dj pult with laptop. Watching the sunrise during breakfast, sunset with a glass of wine or partying with your friends villa Lavie gives you the opportunity to do so in an urban Zadar setting. Jacuzzi in brown room and sauna in golden gives you a unique experience that you will never forget.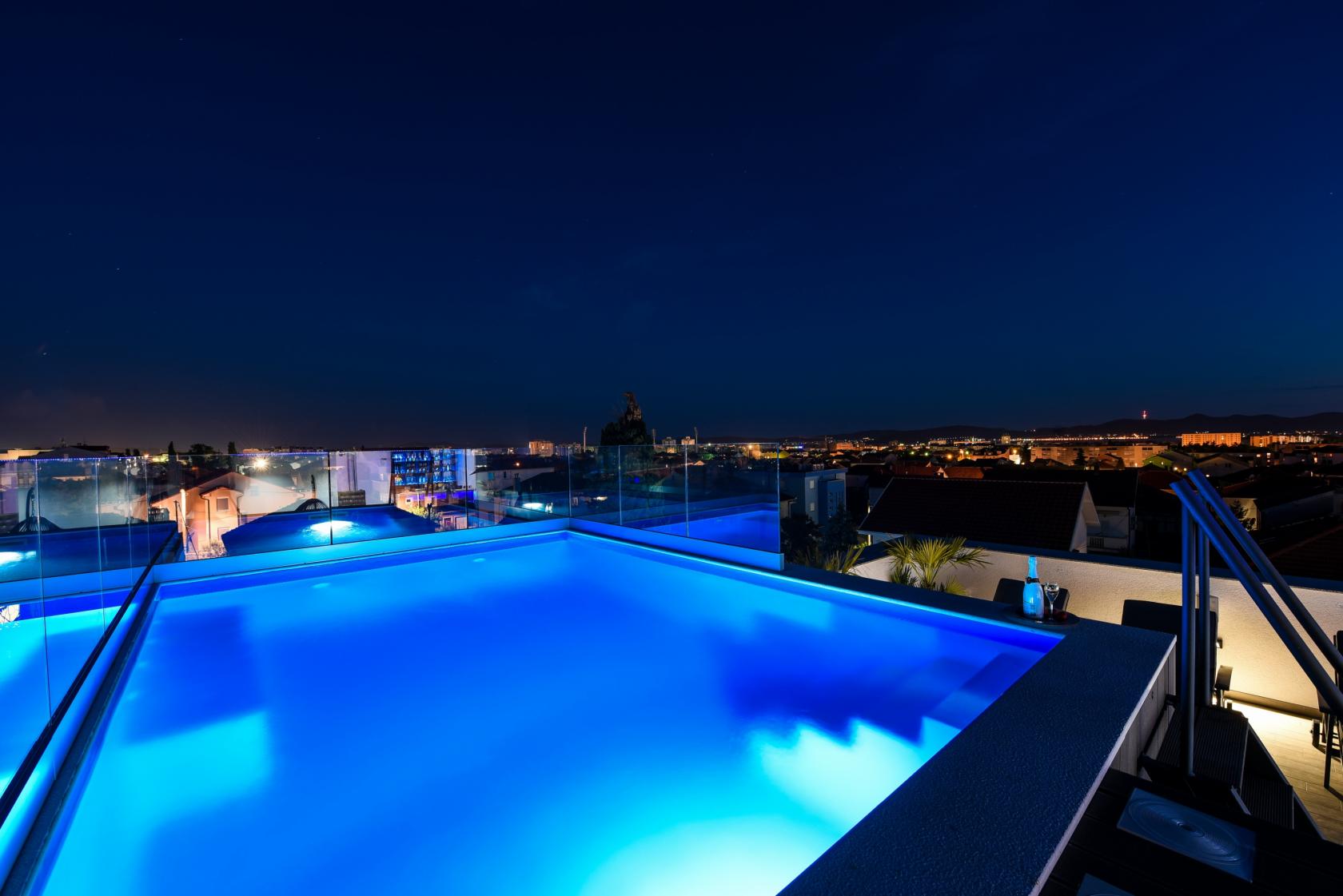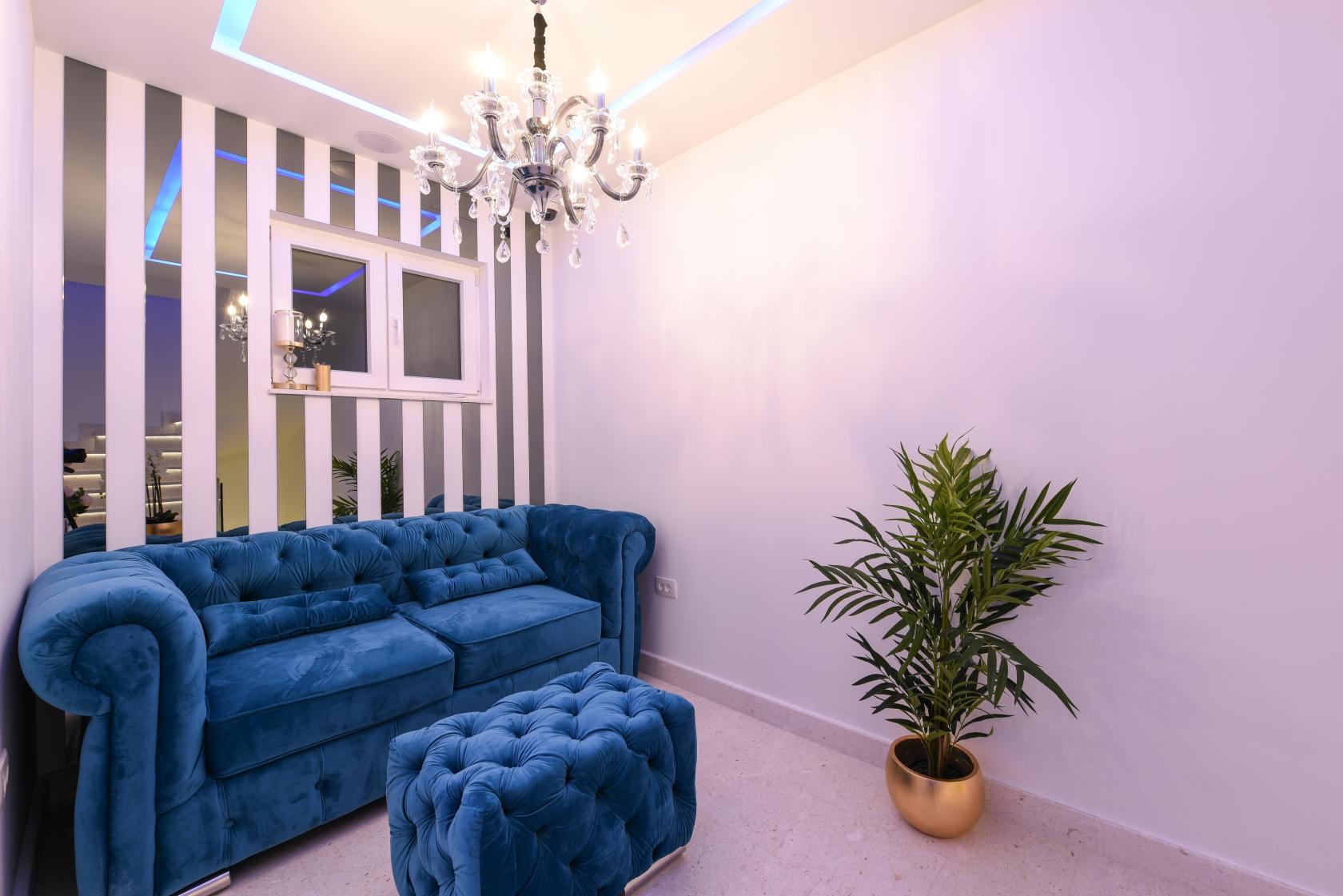 VILLA ROSEMARY, DRAČEVAC NINSKI, 6 PERSONS
Our villa is located in a small charming village called Dračevac Ninski, just 17 km from center of old town Zadar. Villa is close to shops, restaurants and a lot of beaches.
It is surrounded by 4 National parks.
Exterior of the house is amazing. You will enjoy in large garden with a lot of olive trees and vineyards. Also, there is a heating swimming pool with massage system, barbecue and playground for traditional Dalmatian game called bocce. The property is surrounded by walls so you will have total privacy. Besides that, villa is on a secluded place with vineyards and olives all around so you will feel united with nature.
Interior is decorated in old rustic style and equipped with a lot of old priceless details. On the ground floor is rustic kitchen, 2 bathrooms and 2 bedrooms. One bedroom is directly overlooking on the pool. On the first floor is balcony with amazing view on whole property and nature. Also, there is one bedroom and one bathroom.
Get cozy in some of our villas and feel free to contact us any time!
your Zadar Villas team